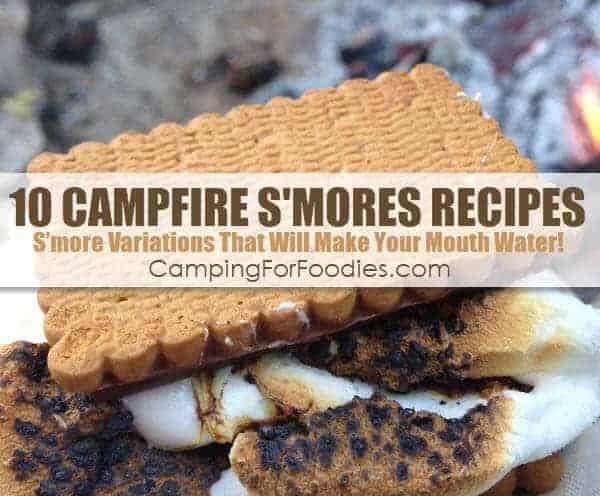 We've changed out the cookie and candy layers to come up with our own family favorite smores camping variations!
When we're talking about camping dessert recipes we have to mention s'mores! The traditional campfire smores recipe is certainly a classic but why stop there? We added a little extra camping fun!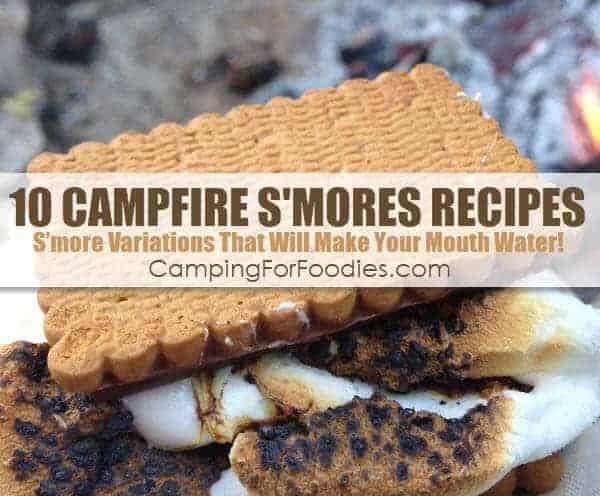 Psst we're compensated…see our disclosures.
Campfire Smores Recipes: Top 10 Smore Variations
The one we call "Tropical Therapy" is my personal favorite.
The great thing about making s'more variations is that each creation is a unique, individual dessert … which is great when you are planning camping meals for two.
---
Marshmallow Roasting Sticks
Camp Cooking Tip: Don't burn the marshmallows (unless you prefer them that way LOL), I personally like my smores marshmallows roasted to the point of being dark brown and very gooey but not charred and burnt.
My husband does not have the patience to roast marshmallows and he tends to deliberately set them on fire to make them cook faster … ugh!!!
These Telescoping Rotating Smores Skewers are so cool because they extend to 30 inches (not just the common 22 inch length) which keeps kids (and adults) a safe distance from the campfire.
Telescoping Rotating Smores Skewers
There are 10 telescoping and spinning forks, a canvas travel bag and 10 bamboo skewers in this set.
A good set of roasting sticks is considered essential campfire cooking equipment at our campsite!
---
Our Favorite Variations Of Campfire Smores Recipes
The great thing about making s'mores as one of your winter camping recipes is that you get to warm your body around a hot campfire as you make this sugary treat!
Even though some kids might say s'mores are the only thing they want to eat while they are camping … we all know kids can't live on sugar alone!
That includes kids that are old enough to carry AARP cards! LOL 
I really do prefer to roast my marshmallows over a campfire but if we are stuck with fire bans while we are camping, we use camping propane as a substitute.
Camp Cooking Tip: Create a "s'mores bar" by spreading out an assortment of ingredients on a table and let campers create their own unique flavor combinations. With so many unique flavors, this is a great option to round out your easy camping meals for large groups.
This is really fun paired up with campfire games for large groups.
---
Camping Smores Dutch Oven Brownies
If you just can't get enough of the chocolate, graham cracker and toasted marshmallow treats … you've gotta try these totally yummy Dutch Oven Brownies on your next trip! These sweet treats are great smores alternatives when you want the classic flavors in a recipe that will serve more people.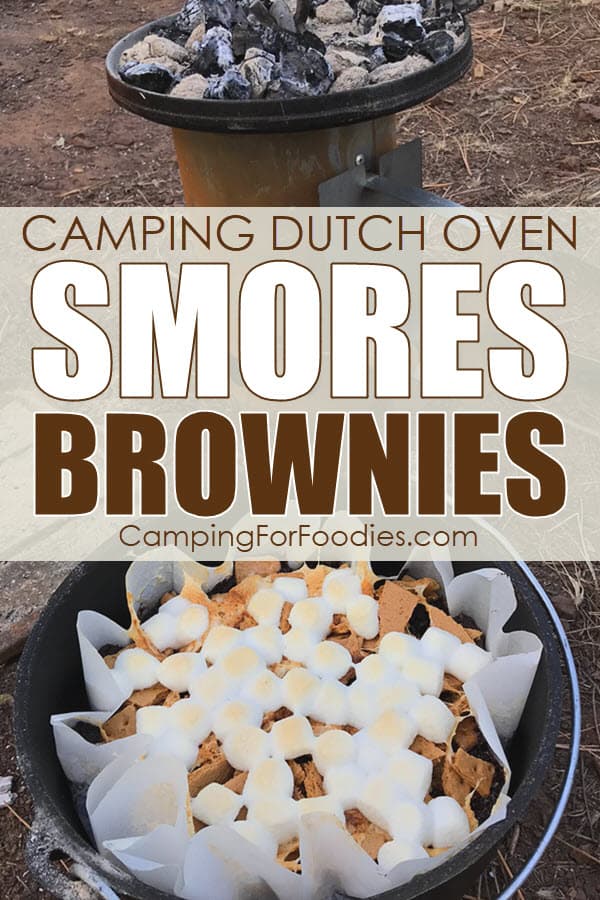 These brownies provide the taste of traditional s'mores but use a boxed brownie mix to add the chocolate flavor instead of using a piece of chocolate. You still get that ooey gooey texture from the golden-brown mini marshmallows and the crunch of graham crackers. Most s'mores recipes are single serving treats but you bake this version so it can easily be made in a backyard using a Dutch oven and charcoal briquettes if you don't have a fire pit!
---
Make A S'mores Board
Charcuterie boards are yummy and filled with a variety of meats and cheeses. Take that idea to the sweet side and create a smores board with a variety of ingredients. Let everyone create their own gourmet s'mores with their favorite combo of flavors.
To create your ingredient bar, use small bowls to hold things that need a container, like sauces, and place them on a larger cutting board or platter with the other ingredients in small piles.
Arrange items so the colors are appetizing by placing the brightly colored ingredients among the darker colored ingredients.
Here are some delicious options to place on your board:
Any kind of berries make a great addition to this dessert. Try raspberries, blueberries, blackberries and sliced strawberries.
Change up your graham crackers by using things like chocolate chip cookies, fudge stripe cookies, Girl Scout Samoa Cookies, cinnamon graham crackers or even rice krispie treats!
Substitute different candy for the traditional Hershey chocolate bar. The Hershey white cream bar with almonds is perfect for white chocolate lovers! Mini chocolate chips melt faster than bars.
Sauces are great for drizzling if you don't want to wait till chocolate melts. Try a nice chocolate or caramel sauce, I like the thicker varieties used as ice cream toppings.
Smores Dip
Another interesting way to make s'mores is using a tin foil packet to make a dessert dip. Get that recipe and other yummy campfire meals in foil!
---
National S'mores Day
I can't think of a better day to try some new campfire smores recipes than on National S'mores Day … YES, there is such a thing!
It occurs every year on August 10 which is smack dab in the middle of camping season!
Celebrate the day by creating your own unique s'more creation or try one of our favorite smore variations and let us know what you think!
---
Print This Recipe
Campfire Smores Recipes: 10 Mouth-Watering Smore Variations
Camping For Foodies Dessert Camping Recipes: Campfire Smores Recipes: 10 Mouth-Watering Smore Variations
1

graham cracker

split in half

3/4

oz.

milk chocolate candy bar

about 1/2 of a single serving 1.5 oz. bar

1

marshmallow
Prevent your screen from going dark
Get your campfire going.

Place marshmallow on roasting stick.

Toast marshmallow over campfire flames to desired level.

Place marshmallow and chocolate bar between split graham cracker to make sandwich.
Campfire Smores Recipes Variations
The classic smore is always yummy but these Campfire Smores Recipes Variations make the common campfire treat even more exciting! Wild For Chocolate = Roasted Marshmallow + Dark Chocolate Candy Bar + Chocolate Graham Crackers (We have one chocolate freak in our family who always wants the darkest chocolate on the planet! For "normal" chocolate lovers, just a nice smooth dark chocolate is the goal for the candy bar in this smores variation recipe.) Tropical Therapy = Roasted Marshmallow + White Chocolate Coconut Candy Bar + Graham Crackers (Hands down, this one is my personal favorite. 🙂 Sort of funny because I would rather be in the mountains instead of the tropics but there is just something about that coconut … yum!) Crazy For Bacon = Roasted Marshmallow + Salted Caramel Chocolate Candy Bar + Crispy Bacon + Graham Crackers (Have I ever told you how much my husband loves BACON?!?! I won't mention how many pounds of it he wants me to bring on a camping weekend!) Chocolate Covered Strawberry = Roasted Marshmallow + Sliced Strawberry + Dark Chocolate Candy Bar + Graham Crackers Sweet And Salty = Roasted Marshmallow + Milk Chocolate Candy Bar + Pretzel Crisps (Pretzels are one of my favorite ways to add salt to a sweet dessert. Just make sure you use the flat pretzel crisps for this smores recipe because they make the perfect hand-held sandwich.) Amazing Andes = Roasted Marshmallow + Andes Mint And Chocolate Candy + Chocolate Graham Crackers Shortbread Sensation = Roasted Marshmallow + Milk Chocolate Candy Bar + Shortbread Cookies (Some people think using a cookie instead of a graham cracker makes this campfire smore variation "disqualified" but we have to think outside the box once in a while … right? We're glad we did!) Nuts Over Nutella = Roasted Marshmallow + Nutella Spread + Graham Crackers Remarkable Reese's = Roasted Marshmallow + Reese's Peanut Butter Cup + Graham Crackers (Word Of Warning: I have to hide the Reese's otherwise I find myself yelling across the campsite, "Hey, those are for a recipe! Are there any left?" The first time the answer was "NO", I learned a lesson! Hide the Reese's until it is smores night! 😉 ) Cozy And Classic = Roasted Marshmallow + Milk Chocolate Candy Bar + Graham Crackers (We had to tip our hat to the old fashioned classic campfire smore! And, yes, we do still enjoy this version!) Here are a few more useful links: Dutch Oven Temperature Chart https://www.campingforfoodies.com/dutch-oven-temperature-chart/ Camping For Foodies Recipes List https://www.campingforfoodies.com/camping-recipes-list/ Our Products https://www.campingforfoodies.com/shop/
Serving: 1gCalories: 335kcalCarbohydrates: 45gProtein: 5gFat: 15gSaturated Fat: 9gPolyunsaturated Fat: 5gCholesterol: 12mgSodium: 121mgFiber: 2gSugar: 31g
---
Candy To Roast Over A Fire
Why not roast some candy alongside your marshmallows? Here are some of the most popular options:
Starbursts
Gummy Worms
Laffy Taffy
Gummy Life Savers
SweeTARTS Ropes
---
Pair Up Making Smore's With Other Campfire Activities
Making (and eating) these yummy campfire smores recipes is not the only way to enjoy your campfires!
Get more ideas for fun campfire games and activities the entire family will enjoy on your next camping trip!
One of the sweetest RV tips and hacks is to remember to pack the smores ingredients!
Make sure your family is fully nourished and satisfied by the camping food ideas you serve them (and, you'll be sane because they are not bouncing off the tent walls at night because they are on a sugar buzz). Ha ha!
Did you know there is a s'mores scented citronella candle?!?!
See how to keep bugs away from your campsite so you can enjoy your sweet treats in peace!
You can't roast your marshmallows over your fire if you don't know how to start a campfire … so we've got tips for you!
---
Gift Ideas For S'mores Lovers
Because some happy campers just can't get enough of smore campfire treats, here are some really cute smores themed gift ideas!
 Squishable / Mini Smore
 S'Mores Camper RV Travel Spare Tire Cover
 Smores Citronella Candle, Wooden Crackle Wick
 Smores Country Candle
 S'Mores & More Checkers Game
 Smores Vinyl Wall Art Decal Sticker
---
Food Ideas To Go With Your Sweet Endings
Campers cannot live on sugar alone! Try some new recipes on your next trip.