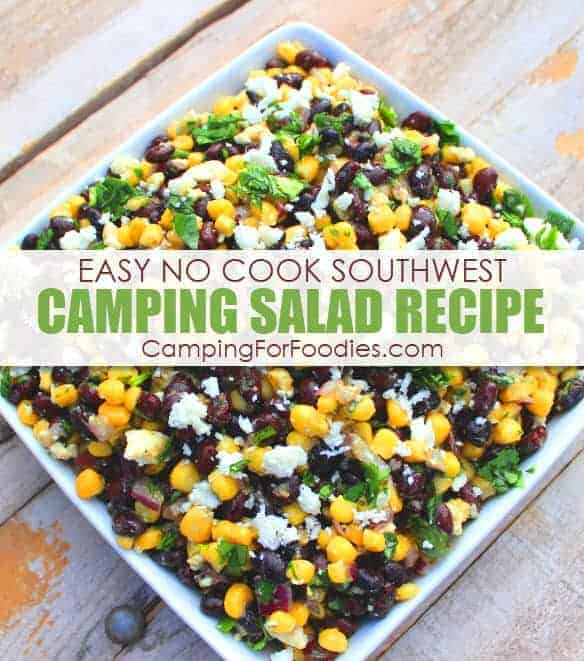 What's your favorite way to cook your camping food? If your answer is "none" these no cook camping meals are perfect for you! If you're dealing with fire restrictions or just feeling lazy, these no-cook food ideas and recipes will satisfy your hunger and taste buds!
Psst we're compensated…see our disclosures.
No-Cook Camping Food Ideas
This is a great food list of items to take camping, no cooking required!
Deli cold cut meats and cheeses
Deli prepared chicken salad and tuna salad
Pre-popped popcorn
Fresh fruit
Prepared fruit dip
Fresh veggies (cherry tomatoes and baby carrots are nice bite-sized options)
Prepared veggie dip
Hard boiled eggs
Energy bars
Dry cereal and milk
Bagels and cream cheese
Canned tuna
Nuts
Tortillas
Canned sardines
Tortilla chips
Crackers
Prepared hummus
String cheese
Canned salmon
Beef jerky
Peanut butter and jelly
---
Charcuterie Boards
Prepare a charcuterie board from common items available at any grocery store. You can buy small quantities of items at the fresh salad bar that will give you a lot of variety on your cheese board with nice sliceable hard cheeses and spreadable soft cheeses. Look for items like artichoke hearts and red bell peppers marinated in olive oil and condiments like fancy mustard varieties and unique jelly selections. Don't forget to pick up a few fancy olives, summer sausage and assorted crackers. Wedges of pita bread are a nice addition to turn an appetizer tray into full no-cook meals.
---
No-Cook Recipes
---
This southwest salad is one of our favorite vegetarian camping recipes that can be eaten with a fork or rolled up in a tortilla to make a hearty wrap. The black beans provide fiber and protein, the corn provides sweetness and the cayenne pepper adds a little heat.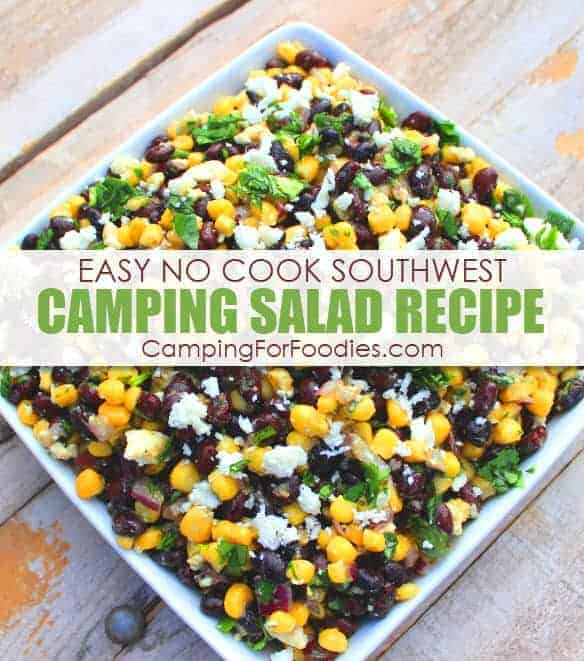 Camp Casual Bowl & Servers Set
3. Overnight Oats
Try this easy recipe for breakfast or dessert on your next camping trip. Place coconut milk, oats and whatever flavorful fruit you want mason jars or any container with a tight-fitting lid. Stir, cover and refrigerate overnight (or at least 5 hours). I like topping it off with a drizzle of maple syrup or a few small pieces of dark chocolate when I want a really special treat.
---
---
5. Bagel Sandwiches
Get your favorite flavored bagel and top it with cream cheese, a slice of tomato and a sliver of red onion.
The best food for camping with no cooking meals still requires you to know how to keep food cold while camping.
---
Fresh guacamole is an awesome camping snack that uses mostly non-refrigerated ingredients and requires zero cooking … yum!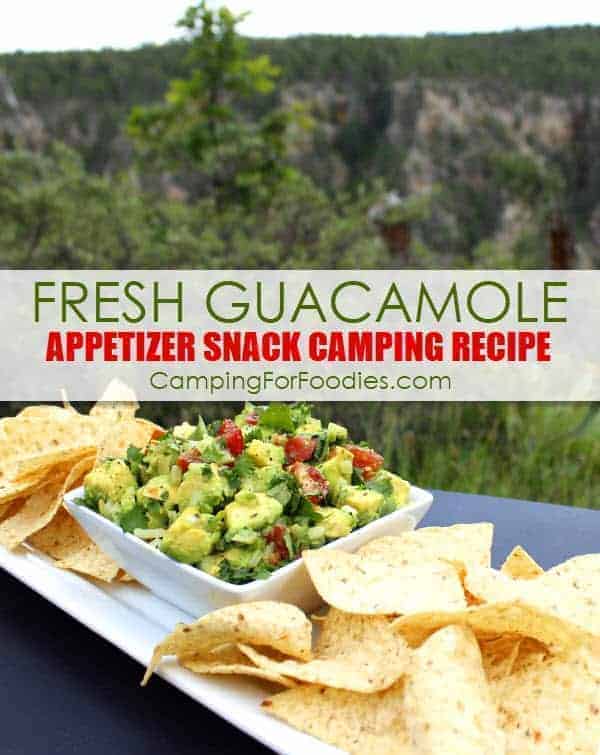 ---
I love putting my favorite salads in a tortilla to make a speedy meal. Many of these ingredients are perishable so make sure you know how to pack a cooler efficiently.
Salad wraps are great no cook options that use good food to make a delicious meal. You can change up this recipe by swapping out the ham and using turkey with the lettuce and fixings. You can also change up the dressing to make it a more savory flavor profile.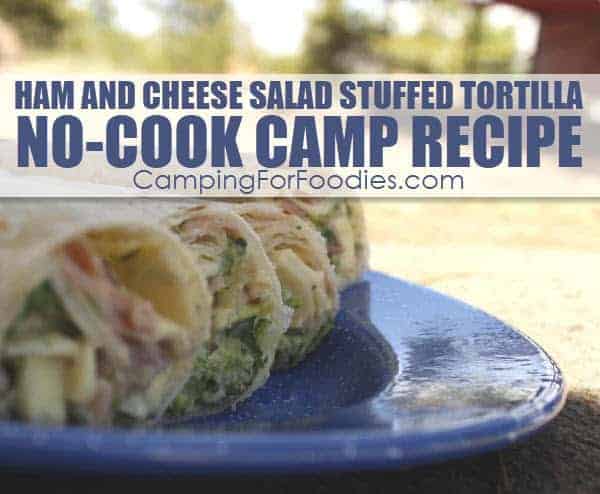 ---
8. Yogurt And Fruit Bowl
Take some yogurt and top it with fresh fruit and granola for an easy camping breakfast, no cook needed!
---
This panzanella salad is one of my favorite no cook dinners for hot days. It is also one of my favorite summertime recipes that I scale down when making camping meals for two. Get our tips on how to keep food fresh while camping when you are making meals heavy with fresh camping veggies.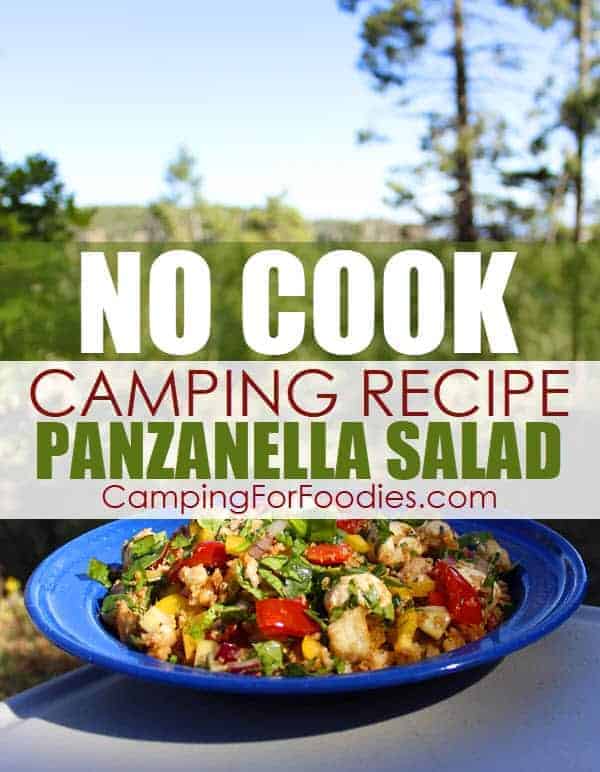 ---
---
Use shredded rotisserie chicken, canned chicken or chicken you cook, shred and freeze for later use at the campsite to make this quick and simple wrap.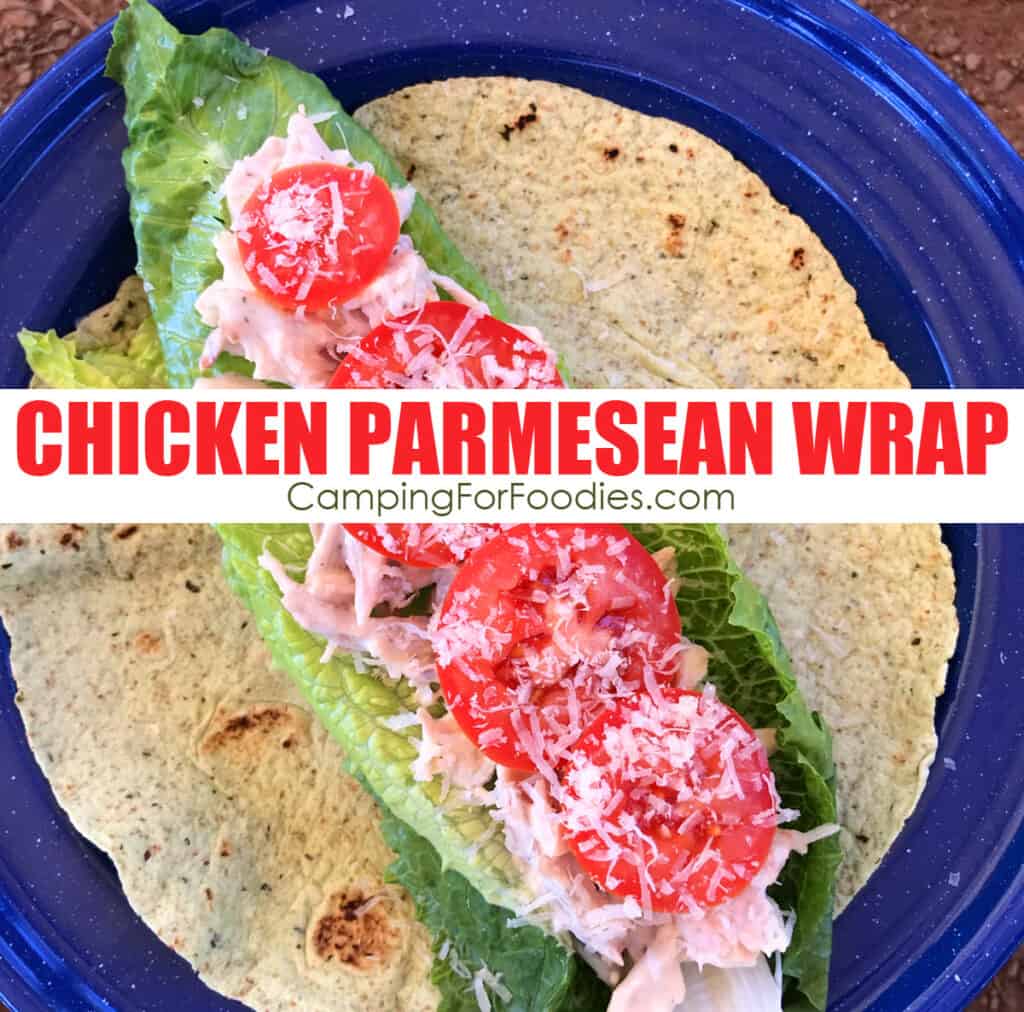 ---
12. Veggie Wraps
Take a flavored wrap (like spinach or sun-dried tomato), spread on a little hummus, feta cheese and fresh veggies (like spinach, tomato and red onion) for healthy camping food, no cooking necessary.
---
---
---
Fresh quality ingredients are the secret to awesome salsa. It's an awesome snack or appetizer for Mexican meals.
---
17. Nutty Berry Trail Mix
Trail mix is a great snack to take on day hikes. Combine your favorite ingredients like mixed nuts, chocolate chips, sunflower seeds and dried fruit like pineapple, raisins, cranberries, blueberries, banana chips and apple chips.
---
Make-Ahead Cook Meal Options
---
---
---
Cold pasta salads make really nice summer lunch meals at the campsite. This recipe is meatless but you can also add cubed chicken to make it a bit more filling.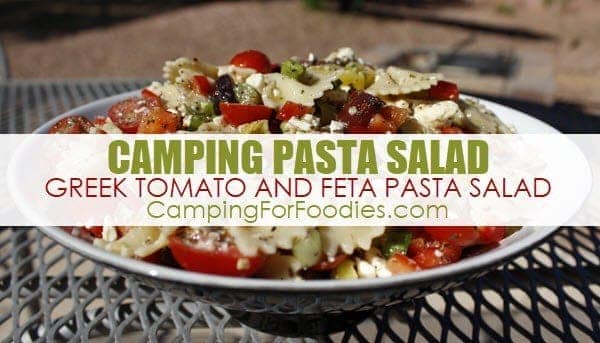 ---
Camp Chef Dutch Oven Carry Bag
---
Make ahead meal prep can consist of just prepping food at home that needs to be cooked at the campsite … but … other recipes can be fully prepared in your home kitchen. This potato salad is loaded with bacon and is one of my husband's favorite make ahead camping meals that actually tastes better after the flavors marry for a couple of days.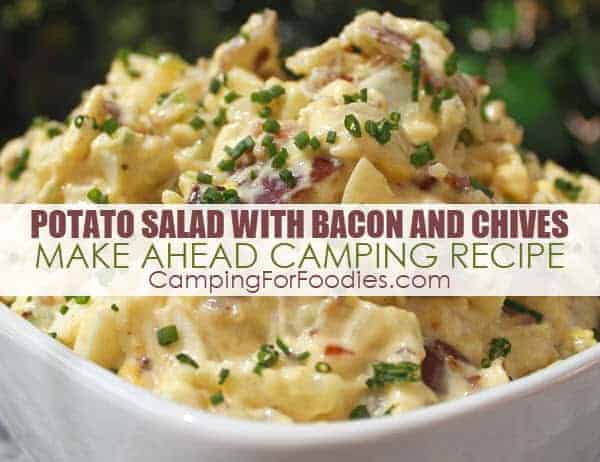 ---
---
---
---
Nuts with a slightly hot spice are fun to eat as a happy hour snack at camp.
---
More Camping Meal Ideas
Make every meal exciting on your next trip!