There are so many types of camping gifts, it can be hard to pick just one! Nothing feels more special than getting personalized camping gifts! Don't forget, you need to order personalized camping gear a little early so your customized present arrives on time!
Psst we're compensated…see our disclosures.
Unique Personalized Camping Gifts For RV & Tent Campers
I have to say, it might be even more fun giving these unique presents than receiving them! Customized camp flags are most popular with our friends who RV camp. But there are so many more options than that!
From games to water bottles, BBQ sets, custom doormats and beyond … these are some of the best personalized gifts for campers!
---
---
---
---
---
---
---
---
8. Personalized Pocket Compass
So many campers like to carry a compass when they are hiking and this Personalized Pocket Compass is a really unique one! It is a vintage style working compass that has 6 inspirational designs to choose from that are engraved on the front … then you can also add a short personalized message on the back of the compass. Oh, and it also comes in gift packaging!
Personalized Pocket Compass (6 designs) – Inspirational Quotes Engraved on a Brass Compass – Gift for Graduation, Anniversary, Baptism, Retirement, or Christmas – Vintage Style Working Compass
---
---
---
11. Personalized Pakkawood Handle Pocket Knife
What camper doesn't carry a pocket knife with them? It seems like we use ours at least a dozen times during a camp weekend! This Personalized Pakkawood Handle is a really popular knife but there are tons of other material and color options too. 
Free Engraving – Quality Elk Ridge Pakkawood Handle Folding Knife
---
Sport And Hobby Personalized Camp Gifts
---
---
14. Personalized Engraved Wooden Hummingbird Bookmark
For my family, camping is a time to unplug from our electronic devices … including e-books. It's also an opportunity to catch up on reading real books with words printed on paper. This Personalized Engraved Wooden Hummingbird Bookmark makes unique personalised camping gifts for your camping friends who like to read!
Personalized Hummingbird, Engraved Wooden Bookmark with Tassel
---
---
Personalized Sign Camping Gifts
---
---
Personalized Water Bottle Gifts
---
---
Personalized Camping Chairs & Sleeping Bags
---
---
---
---
Personalized Keychain Camp Gifts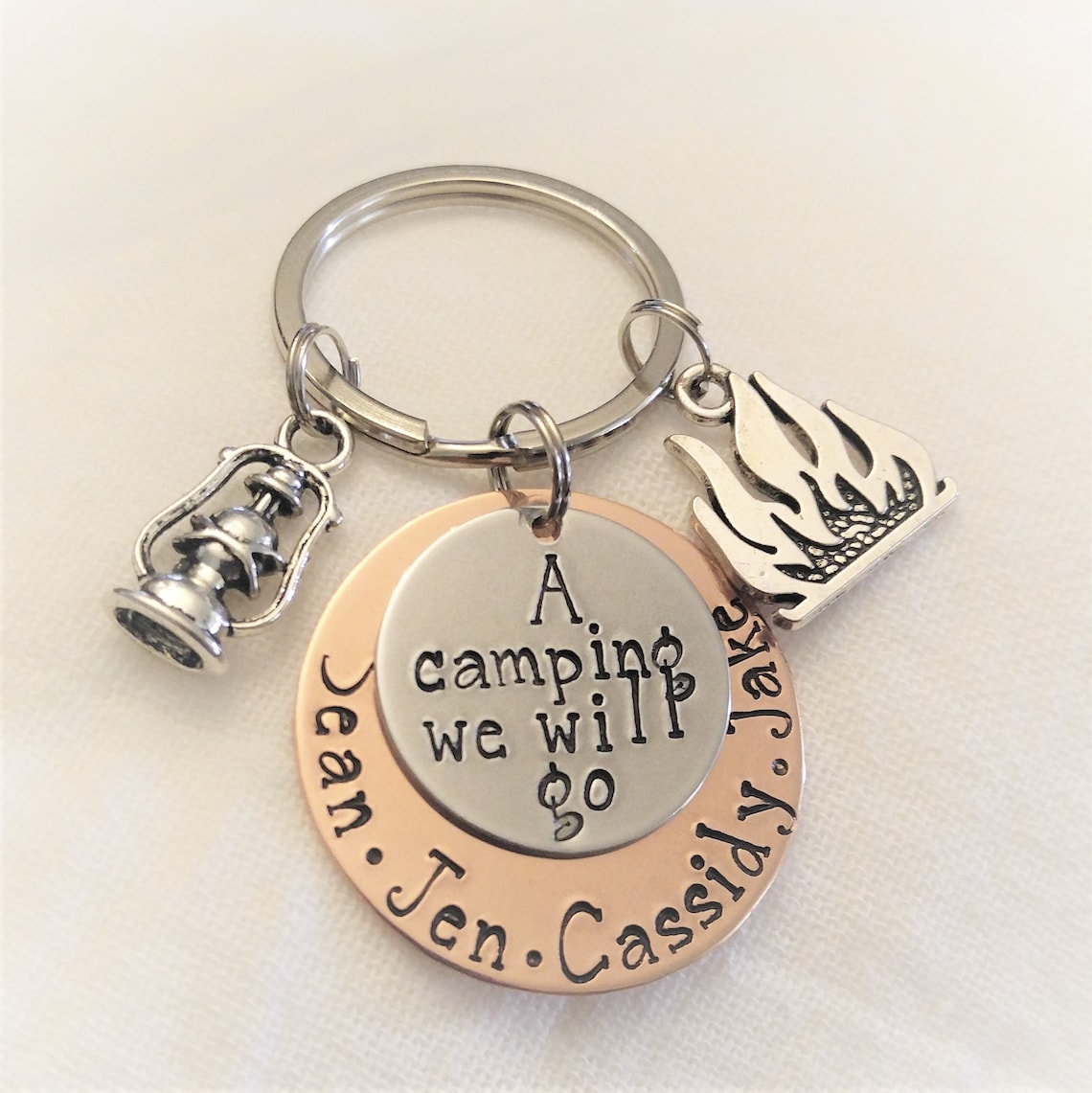 A Camping We Will Go Personalized Keychain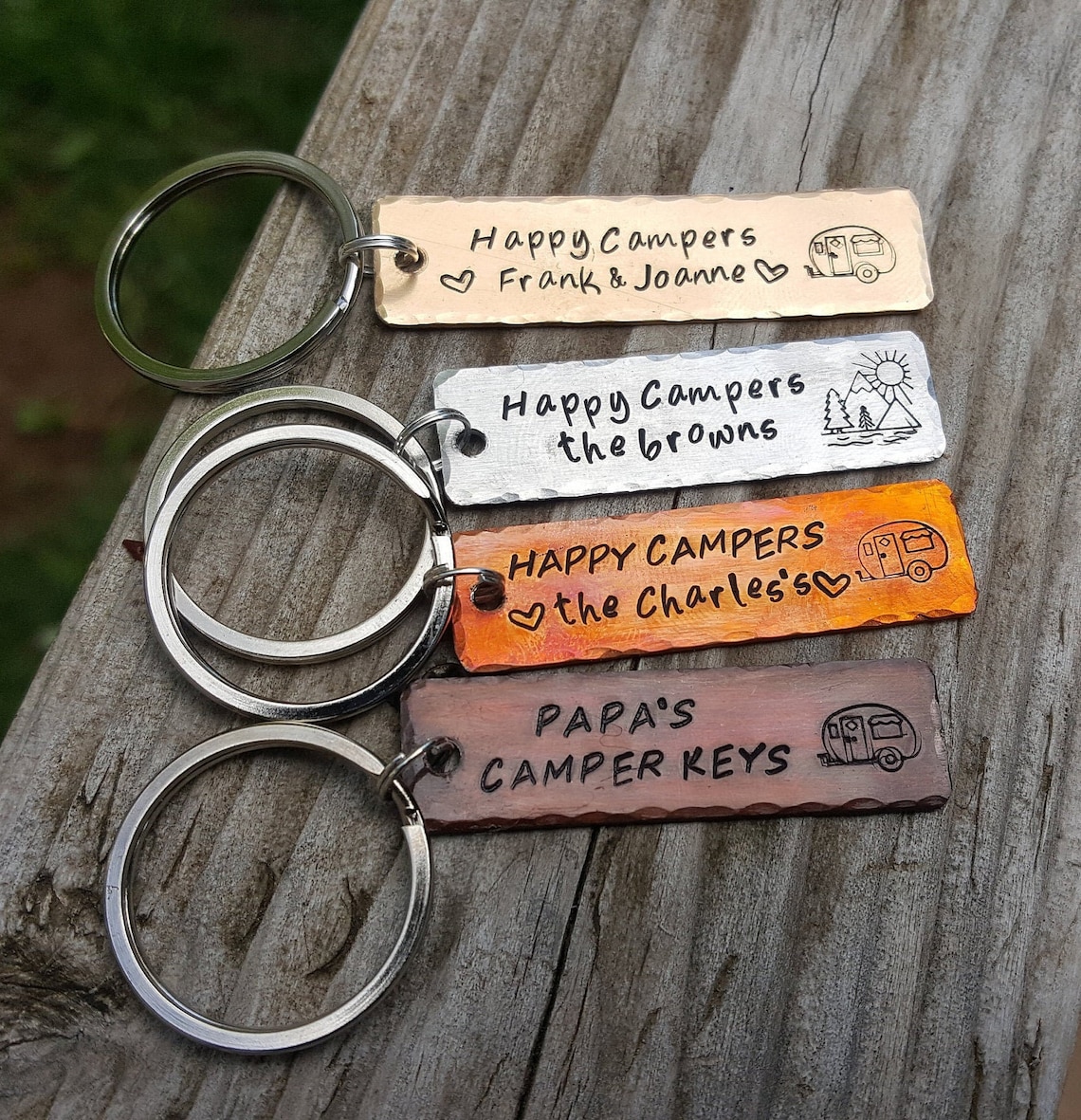 Custom Text Happy Camper Keychain

---
Personalized Kitchen And Bar Camping Gifts
---
---
---
---
---
---
---
---
---
Personalized Houseware Camping Gifts
---
---
---
Personalized Making Memories One Campsite At A Time Decorative Throw Pillow
---
---
---
---
---
We have awesome stocking stuffer gift ideas that are so cool, they work year round! In our 100+ Camping Stocking Stuffers For RV And Tent Campers post, you'll find camping gift ideas for men, women and kids starting under 10 bucks (a few are actually under $5 dollars)!
---
Thinking you might want to do a little DIY camping gift holiday giving? Check out our Campfire Hot Cocoa post! Mix a small bag of the dry ingredients in our yummy homemade hot chocolate recipe. It's the perfect solution for cold weather camping and picnics. It's warm, yummy and makes a thoughtful, inexpensive and unique Christmas gift for people who love to camp!
---