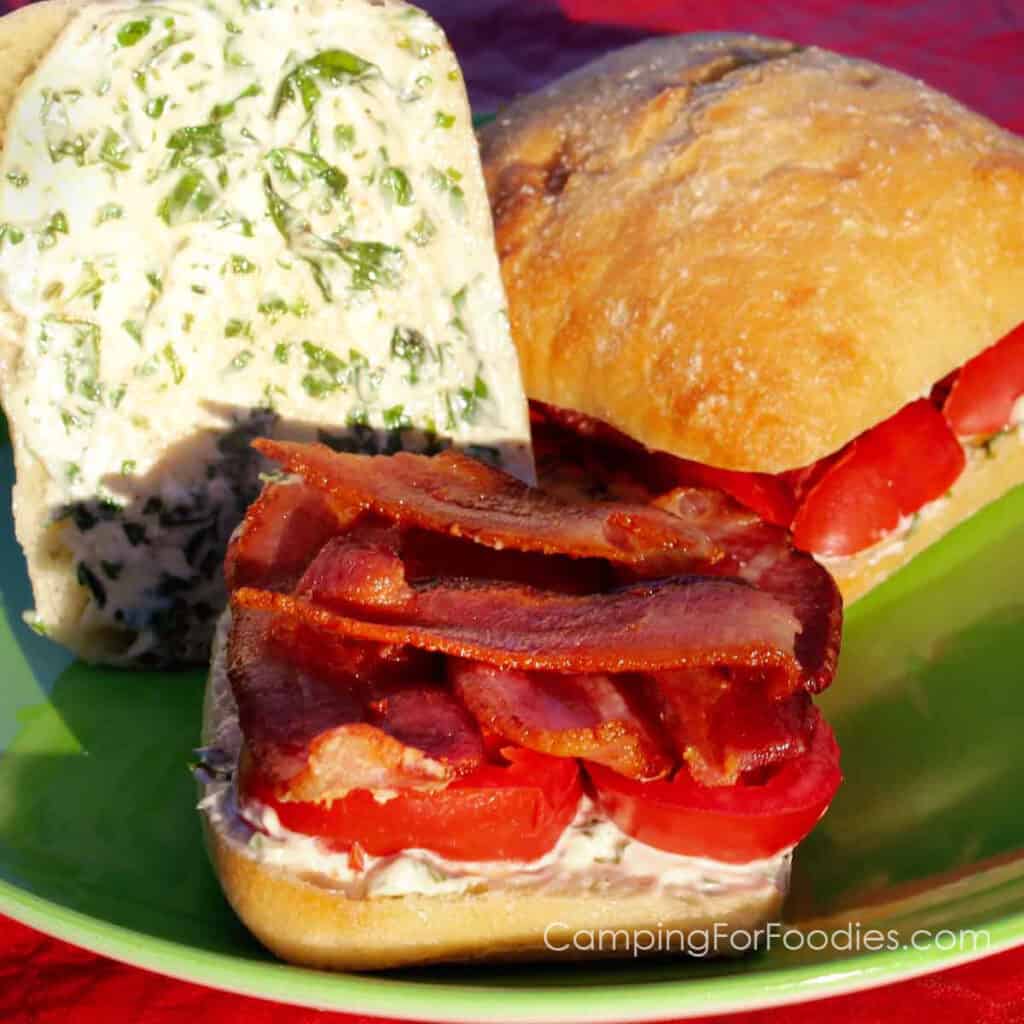 What type of camping food do you like during the day? If you are hiking and away from camp for a majority of the day, you want easy camping lunches to enjoy on the go.
Staying closer to camp? Try these simple camping lunch recipes on your next trip!
Psst we're compensated…see our disclosures.
Best Camping Sandwiches And Wraps
If you make extra bacon for breakfast, you can quickly assemble this easy BBT sandwich for a substantial lunch.
---
If you have a daytime campfire going (or have access to a microwave), you can make these classic deli sandwiches that require no clean up.
---
---
You'll find my whole family enjoying a breakfast sandwich for lunch. I guess that could be considered BRUNCH! Lots of people eat a fried egg on top of something at all hours of the day but if you want to just skip the egg, prepare this easy meal with only bacon and cheddar cheese.
---
---
---
If you want a healthy lunch for your day-hike, try this stuffed tortilla. It makes a wonderful breakfast, dessert or snack too! The tortilla holds the peanut butter, banana, dried fruit and nuts perfectly when rolled like breakfast burritos so you can eat on the go.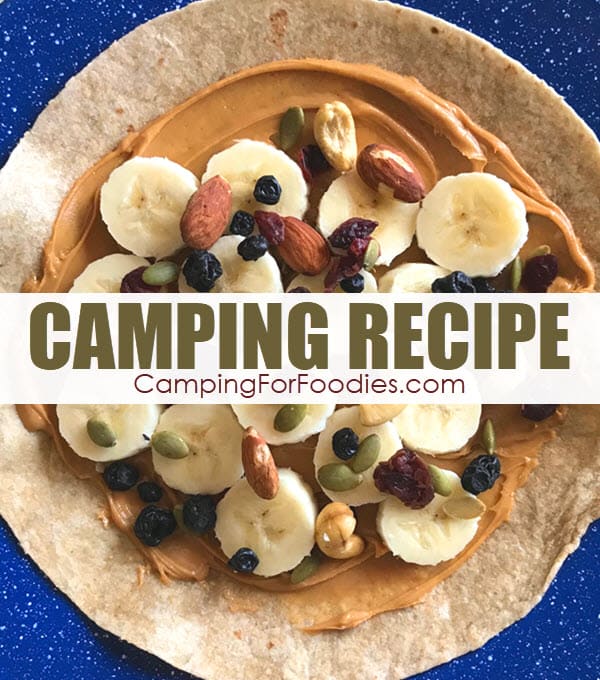 ---
---
---
Cook a little extra bacon for breakfast and reserve it for a fast BLT lunch wrap. Technically this is a BST because I use spinach rather than lettuce. It is one of the best leafy greens that stands up well to travel and storage in coolers.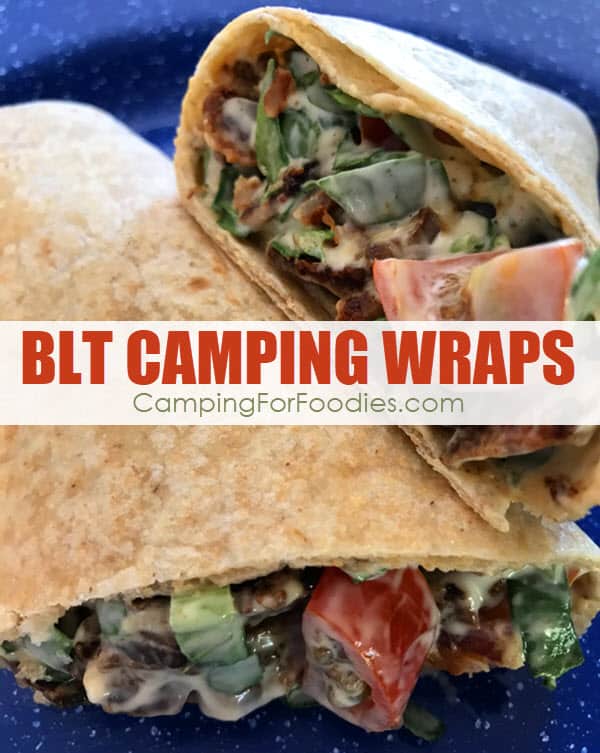 ---
I love no-cook lunches for camp trips. For this recipe you can uses leftover shredded chicken, rotisserie chicken or canned chicken. The creamy prepared salad dressing brings together the meat and veggies, while the spinach tortilla provides a nice hand-held meal.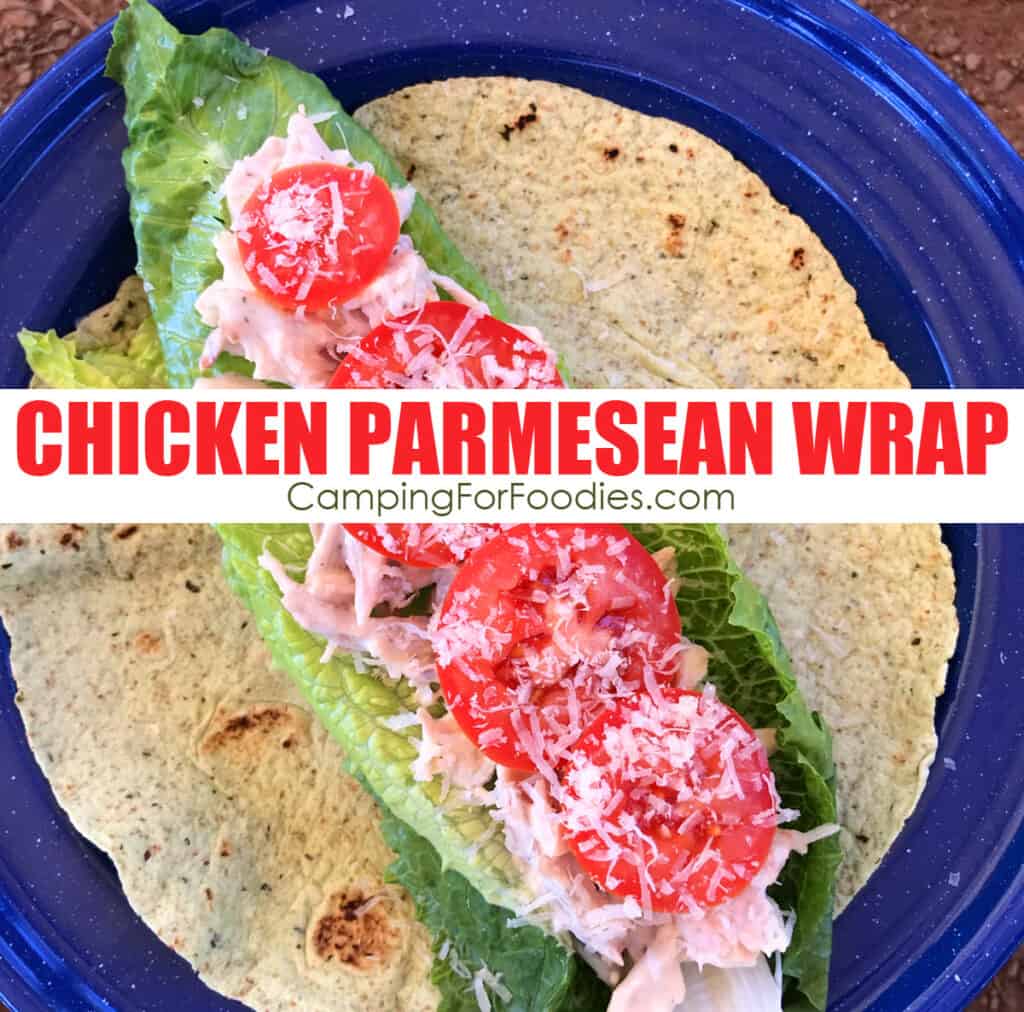 ---
12. Mini Campfire Pizzas
Butter two slices of bread and place them in your pie iron, slather on some pizza sauce, garlic powder, pepperoni slices and mozzarella cheese. Close iron and toast over hot campfire coals. If you are packing light and don't have pie irons, just cook the pizza in a foil packs.
---
Camping Salads
---
We usually serve this fresh salad on the side with main meals, but it is packed with protein, carbs and fiber so it works well as easy camping lunch ideas too. The sweet and salty combination comes from bacon, red onion, sweet raisins, sunflower seeds and broccoli tossed in a simple homemade dressing.
---
The fresh ingredients in this salad are perfect for hot summer camp trips! You'll grill some shrimp and pile it on top of a nice bed of spinach along with juicy orange segments, yummy grapefruit slices and creamy avocado wedges. Then you'll top it off with a simple homemade dressing and lunch is on the table.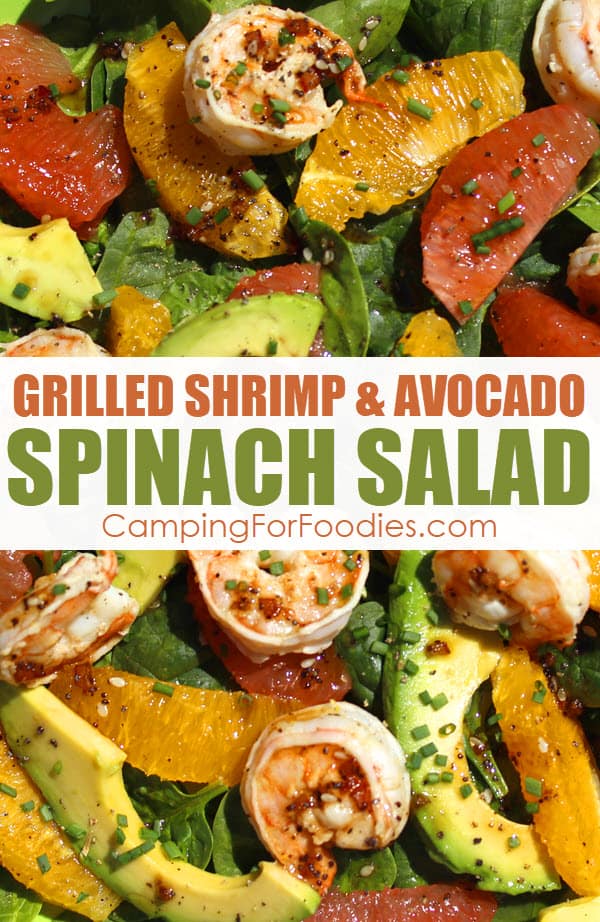 ---
This mason jar salad is perfect for make-ahead meals because the pickles need to sit in the brine for at least 6 hours but taste better after the flavors marry for a few days. Serve it as a stand-alone or as a side dish with a quick sandwich camp meal.
---
---
---
---
---
---
Fun Camping Lunch Recipes
These yummy nachos can be made as one of our easy campfire recipes or as one of our camp stove recipes. And, you can use a Dutch oven or cast iron skillet. This meatless meal starts with tortilla chips and uses canned refried beans, green chile peppers, fire roasted tomatoes and black olives. Add a little onion, cheddar cheese, sour cream and cilantro for the best camping food you'll eat on your camping trip!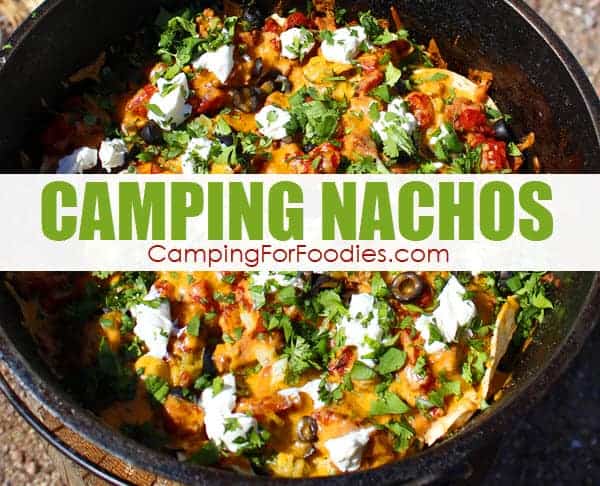 ---
There are plenty of ways to cook it, but my favorite way to make corn on the cob is in the husk over a campfire. It you've got a midday campfire going when corn is in season, you have to try this recipe. It's also one of the best easy camping meals for large groups because it's affordable and delicious!
---
---
---
---
27. Overnight Oats
If you're not careful, these treats can almost taste like ice cream! Combine coconut milk and oats in a container with a tight-fitting lid. Stir, cover and refrigerate overnight (or at least 5 hours). Top with your favorite dried fruits, nuts, syrups, chocolate chips or candy. This is one of my favorite vegan camping meal ideas.
Dried pineapple, mixed nuts, a spritz of lime and crumbled graham crackers for my favorite Island Breeze combination!
---
Leftovers For Lunch
If you make simple one pot camping meals for dinner, you can reheat or reinvent leftovers for lunch. Try topping simple hot dogs with a spoon of leftover chili.
---
19 Quick Camping Lunch Ideas No Cook
The best camping lunches for activity-filled afternoons and day-long hikes include super quick ideas for no cook lunches like these…
Yogurt with fruit and granola
Deli meats and cheeses on crackers
Bagels with cream cheese
Peanut butter and jelly sandwiches
Veggies and dip
Hummus and pita chips
Avocado on crackers
Apple slices with peanut butter
Energy bites
Trail mix
Canned sardines on crackers
Dried fruit and nuts
Jerky
Canned tuna on crackers
Hard boiled eggs
Celery sticks and peanut butter
Summer sausage and slices of your favorite cheese
Ramen noodles
Granola bars
---
There is a better way to stay organized and keep kids & adults happy with the easy camping food ideas you prepare at the campsite. Get my FREE printable menu template before your next camping trip. It will save you a ton of time and help you prepare the best food your family will eat on your camp trips in the great outdoors. Happy Camping!
---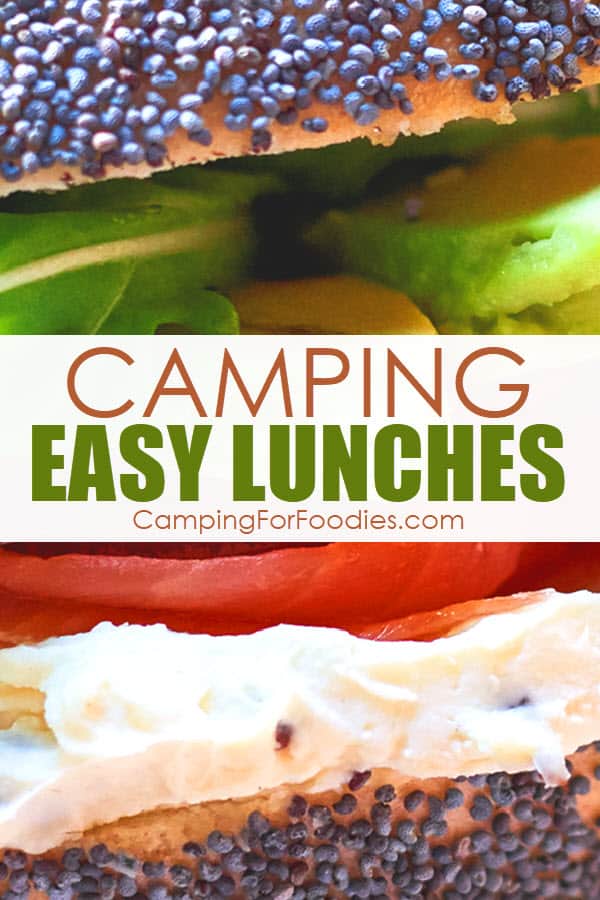 ---
More Camp Food Ideas For Other Meals
Don't stop at yummy lunch recipes … try these other ideas for breakfast, dinner and dessert too!