All camping food does not have to be part of a big meal. Looking for fun campfire, make ahead or no cook ideas to make the best camping snacks? We've got them and they'll make you a rock star in your camp kitchen!
Psst we're compensated…see our disclosures.
Easy Snack Recipes
Try some of these fun snacks for camping trips that you can make ahead … or … right at your campsite.
Fresh quality ingredients make all the difference when it comes to salsa. It's one of our favorite snacks we enjoy as the perfect appetizer for our Mexican meals. See the VIDEO where my bro-in-law shares his secret to this tasty snack. Spoiler alert: he uses lemon juice instead of lime juice for the acid in his dish.
---
In the summer it is really nice to have no-cook snacks on your menu. If you are interested in entire no cook camping meals, we have those too! You'll be combining some avocados, tomato, jalapeno pepper, garlic, onions and cilantro together and scooping it up with tortilla chips. One really good thing about this homemade guacamole recipe is that you don't have to refrigerate any of the ingredients until after they're chopped.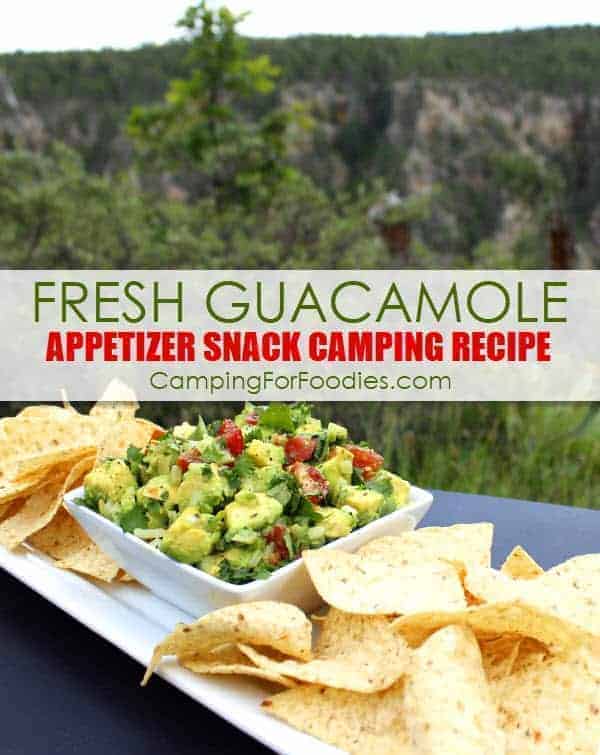 ---
It is good to have a few non refrigerated snacks for camping like these spiced nuts. Foil packets are an easy way to toast nuts. These are tossed with a little chili powder, cumin, honey and olive oil for a slightly spicy and sweet combination.
If you are short of cooler space, try these camping food recipes no refrigeration for all of your meals.
---
As one of our simple camp stove recipes, these nuts make wonderful vegetarian snacks that are packed with flavor and 3 grams of protein. I like using a cast iron skillet to make this easy treat. You'll melt the butter and brown sugar together, then toss in mixed nuts, chipotle chili powder, cumin, allspice and the most important ingredient: fresh rosemary.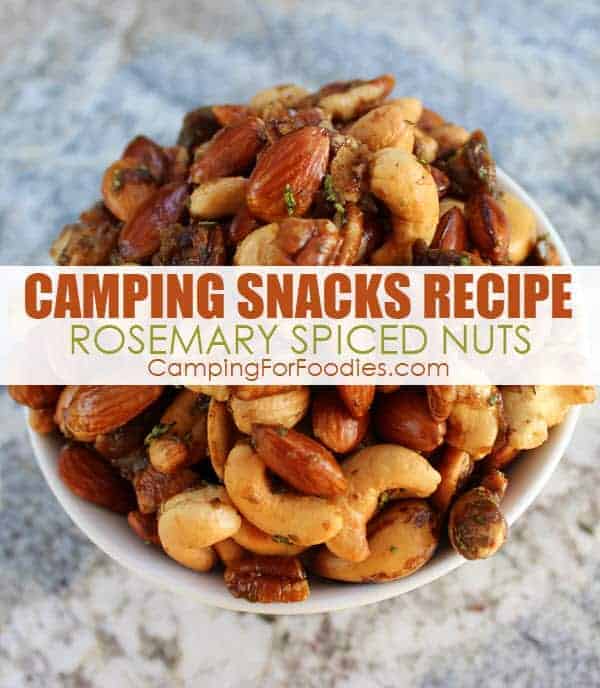 Even though this recipe serves 4, it stores well in a sealed container so it is a great option when you are just making camping meals for two!
---
Whole pieces of fruit are easy but fruit salads take a bit more prep time. They can be made ahead so they are ready on hot summer days. Cube your favorite fresh fruit and toss it with the syrup that is made with honey, fresh mint and the zest and juice of an orange, lime and lemon.
Got kids who would rather eat a candy bar with no nutritional value that fresh fruit? A great way to get kids to eat fruit is to thread chunks onto skewers and make it a fun snack!
Camp Casual Bowl & Servers Set
We like this as a nosh throughout the day but it is also one of our easy camping breakfast ideas.
---
This healthy, protein-packed stuffed tortilla makes a great snack but also works for breakfast, lunch or dessert! I like wrapping these into individual foil packs to enjoy as trail snacks. The calories, carbohydrates and healthy fats provide energy for a long day of hiking and the natural sugar satisfies the sweet spot on your taste buds.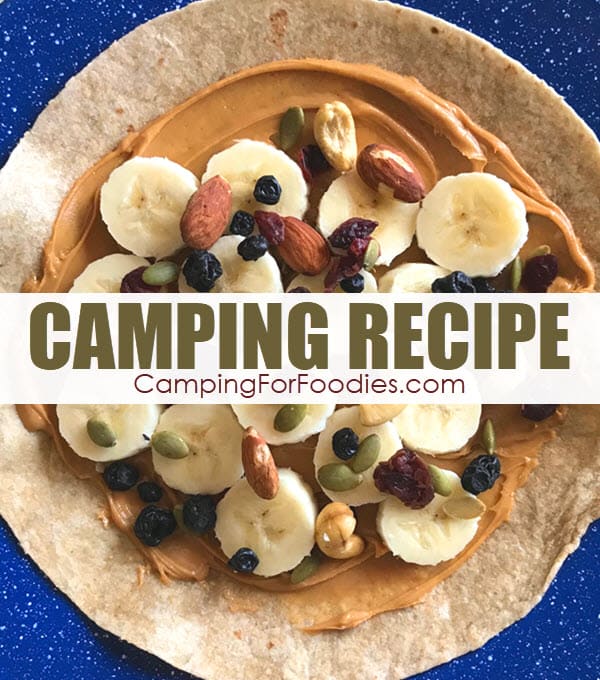 ---
---
Dutch oven baked goods are the best snacks because they can stand alone or accompany one of our camping dinner recipes like campfire chili. Make a double batch of this cornbread so you have leftovers, then after having a long day in the great outdoors, you'll have a treat ready when you return back to camp. Add a little butter or honey to a slice and you'll be satisfied.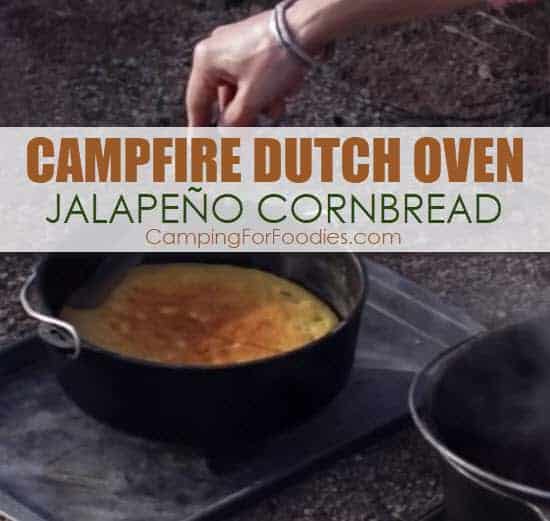 ---
Prefer a cornbread with more classic flavors? Try this easy one that is made with cornmeal and canned cream-style corn.
Camp Cooking Tip: It's a great idea to make two batches of food essentials on your next camping trip. Intentionally preparing too much food means you'll have leftovers … plan for them when you're creating your camping food list. Cornbread is the perfect side to a main dish on night one. Use the leftovers as breakfast or dessert the next day by adding a little sweet jam, honey or simple frosting.
---
Smores with graham crackers, chocolate bars and roasted marshmallows are awesome but sometimes you want to change up the original. I came up with unique variations on the classic. My personal favorite is "Tropical Therapy" … and if you try it, you'll know how it got its name!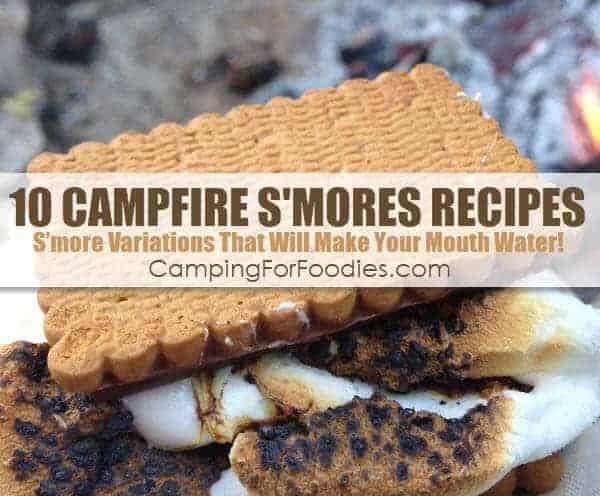 Some people think roasting marshmallows is the best part of camping. Others could skip the entire experience. So, I've turned one of the most favorite camping snacks into a one-pan brownie recipe. I think you'll love these Camping Smores Dutch Oven Brownies!
And, don't forget to serve your smores with a nice warm cup of campfire hot chocolate! When it's the last thing you enjoy before you hop in your sleeping bag for the night … all is well with the world.
---
11. Homemade Beanie Weenies
The whole family can pitch in making this campfire classic. Combine canned beans with sliced hot dogs and add your favorite spices. Lots of people like a tangy barbecue sauce, or make their own version by throwing in a bit of brown sugar and ketchup or tomato sauce. Anytime you're heating easy food over a campfire, make sure you are using fireproof pots.
---
12. Campfire Cones
This kid-friendly treat is fun to make and eat! Stuff your favorite ingredients in a sugar cone, wrap it in aluminum foil and place over campfire coals until it is warmed through. Some of my favorite options for filling include fresh strawberries, banana slices, milk chocolate chips and mini marshmallows.
---
13. Bean Dip Burritos
Open a can of bean dip, smear a few tablespoons on a tortilla, sprinkle on a handful of cheddar cheese, roll it up, wrap in foil and heat it over a campfire. It's a fun twist on easy snacks you may normally pick up at a fast food drive through!
---
14. Walking Tacos
You can make these walking tacos by using a bag of corn chips (like Fritos) instead of taco shells and topping them with traditional taco ingredients … you eat them with a fork right out of the bag!
---
15. No-Bake Energy Bites
One of the most popular healthy camping snacks are energy bites. These no-bake energy bites feature ginger and turmeric.
---
16. Slow Cooker Chex Mix
Cereal mixes are tasty snacks to make at home or at the campsite. This chex mix is made in a slow cooker!
---
Heavy Snack & Appetizer Recipes
---
---
---
Fancy toppings on toasted bread are delicious for happy hour. Here you'll top Italian bread slices with goat cheese and a mixture of balsamic vinegar, olive oil, a little sugar, fresh strawberries and basil leaves. Get more of our awesome vegetarian camping recipes for every meal of your trip!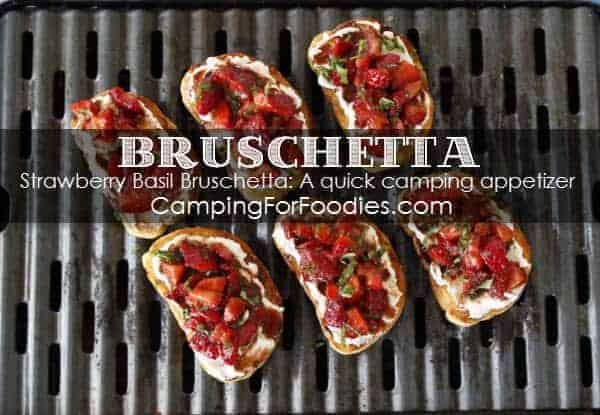 ---
---
We think flatbreads are the perfect food because they can be topped with just about anything. They're great for a yummy nosh, or actual camp meals like lunch or a light dinner. Char some cherry tomatoes and flatbread then top it with prosciutto, fresh mozzarella and basil. You're eating like a king in 15 minutes.
---
Our favorite way to cook camp fire snacks is making our Dutch oven camping recipes. These adorable baby bell peppers are stuffed with a mixture of Italian sausage, garlic, onion, cream cheese and cheddar cheese. Then they're baked using hot coals from a campfire or charcoal briquettes. They take a little extra time but your hungry campers will thank you for them!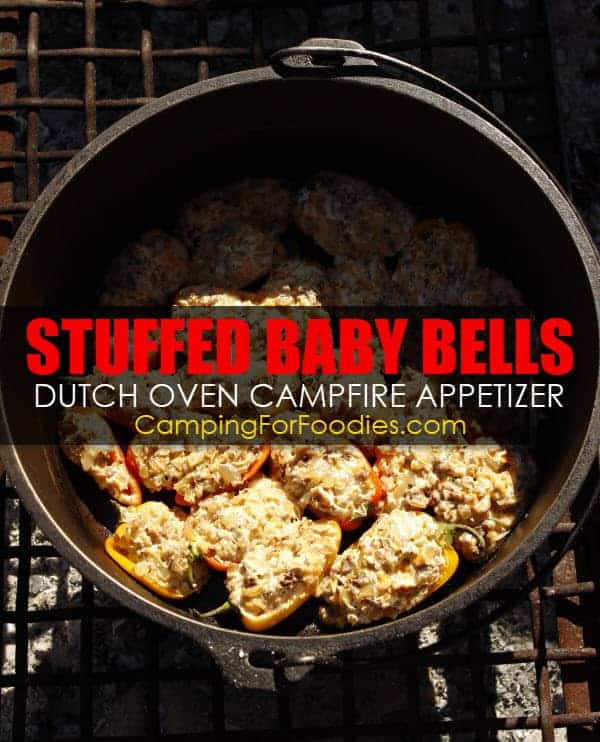 ---
---
These simple biscuits are flaky and make a savory snack … or … a sweet one if you spread on a bit of your favorite jam.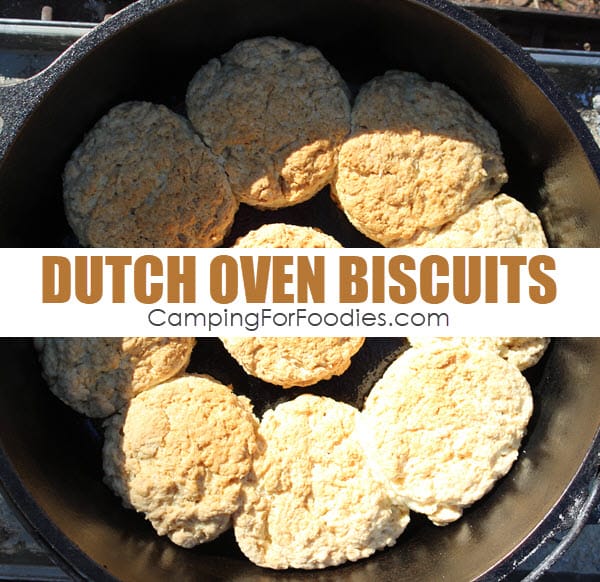 ---
16 Awesome Grab And Go Snacks
If you don't feel like making these easy recipes, here are some good camping snacks that are traditional grab-and-go treats for your trip!
Yogurt: Try adding some mixins like shredded coconut, walnuts and chocolate chips. I also like topping mine with nut granola dry cereal.
Beef jerky: The best camping snacks let you enjoy meat that does not require refrigeration. You can get different flavors and meats if you get a variety pack, like teriyaki turkey jerky.
Dried fruit: Whether you want sweet or tart fruit, carrying it is easy and requires no refrigeration. I pick up our favorites when shopping for my Costco camping food. We love mangoes, tart cherries, sweet pitted dates and raisins. An added bonus is being able to fill our RV tanks using the Costco propane refill service.
Granola bars: They come in yummy combinations like cinnamon sugar and vanilla almond crunch. The quality brands are just as good as making homemade granola.
Energy bars: Kind Bars and Clif Bars are commonly found in grocery stores but there are tons of brands that make lots of different flavor combinations. Many are organic, gluten free, vegan and use nut butters.
String cheese: Mozzarella and colby-jack cheese sticks are my go-to picks.
Potato chips: You can get plain chips or you can go to Trader Joe's and get something crazy like their "Everything But The Bagel Seasoned Potato Chips" and be really happy.
Trail mix: It's always a great choice. Now you can find it in "chunks" called Trail Mix Bites.
Fresh fruit: Oranges, bananas, strawberries, blueberries, whole apples and apple slices, are great for eating plain or sprinkling on top of cold cereal or overnight oats made in mason jars.
Fresh vegetables: On their own, cherry tomatoes, cucumbers, celery, broccoli and carrots are healthy snacks but you can pour a little ranch dressing in a bowl for dipping and you have a quick veggie tray.
Charcuterie board: Load up a serving platter with dry foods and cured meats. A few of our favorites include summer sausage, cured ham, sliced cheeses, fancy crackers, smoked almonds, honey roasted cashews, maple syrup glazed bacon and blue cheese stuffed olives.
Cup of noodles: You know, the kind that you just have to boil a little water, pour it in the cup and let it stand for a while before you dig in. You can find lots of different flavor options too.
Tortilla chips and salsa: This is a staple for my family at home and on camping trips.
Hummus: It's a delicious snack when served with soft pita rounds or crunchy pita chips but it is also great used as a condiment when spread on wraps and sandwiches.
PB&Js: You can't find a great meal with fewer ingredients. Peanut butter and jelly sandwiches are perfect for outdoor adventures. They seem to get better after sitting in a backpack on a long hike.
Ice cream: Oh my goodness, why wouldn't you want this sweet summertime treat!?! Ice cream is a great camping snack for RV campers with freezers but it can also be enjoyed if you camp in a tent. Check out my tips on how to pack a cooler for camping, which includes how to keep frozen foods … FROZEN!
---
Baking your favorite camping food snacks in your Dutch oven is simple if you know how many coals to use to maintain the proper temperature.
---
More Camping Food Ideas
You know you need to eat more than just snacks and appetizers! Check out our other recipes for breakfast, lunch, dinner and dessert!