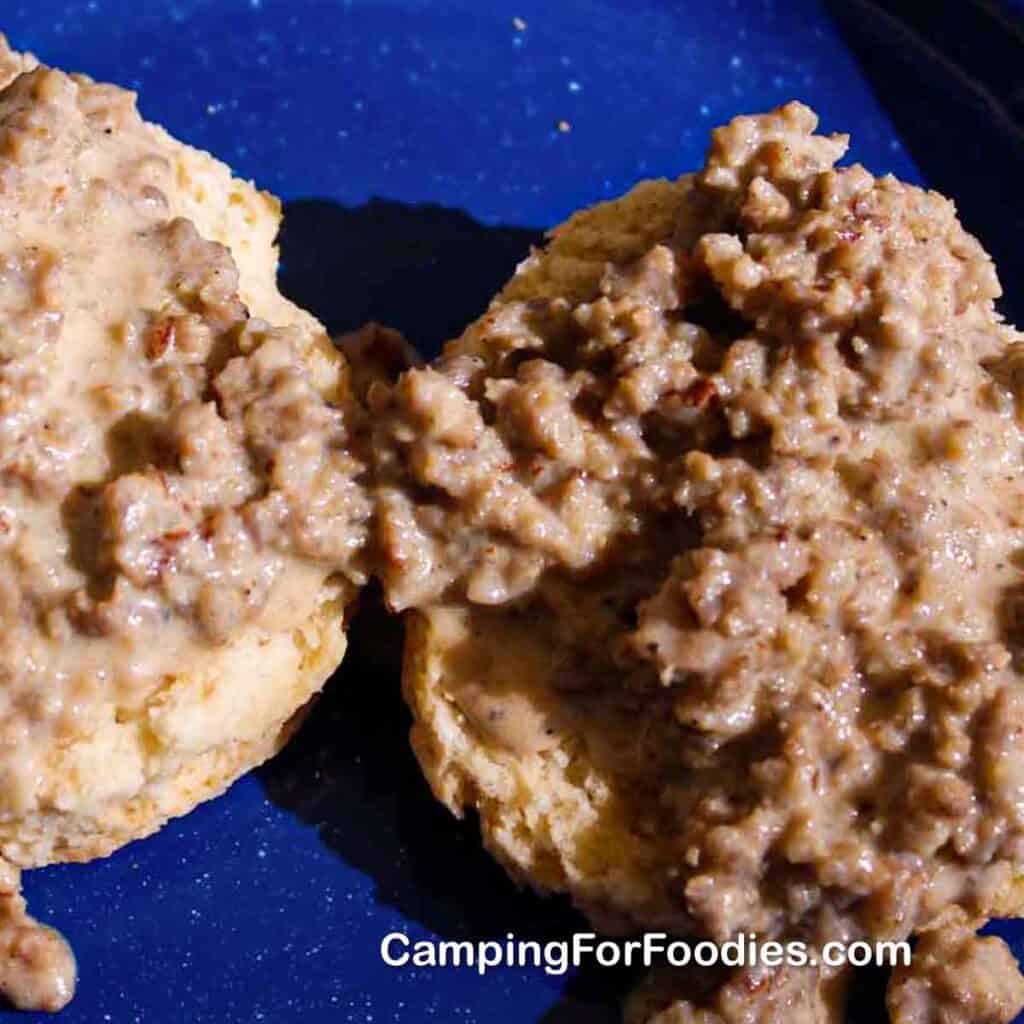 Old fashioned Camping Biscuits And Gravy is a family-favorite breakfast that should regularly appear on your menu. If you're looking for camping breakfast ideas the kids and adults love eating, you're in the right place!
Psst we're compensated…see our disclosures.
Recipe Prep
This is one of the best easy camping meals that requires no prep. Just gather your ingredients, no chopping is required!
---
Cooking Methods & Equipment
If you are making this as one of our easy campfire recipes, get your hot coals ready as well as a cast iron skillet.
This is one of our awesome camp stove recipes that uses bottom-only heat so you can use cast iron or a non-stick skillet here.
---
Recipe Steps
Step 1. Prepare your ingredients, heat source and equipment as directed.
Step 2. Cook the sausage. You'll need to fully cook the sausage in a large skillet, as it cooks, break it up into crumbles.
Step 3. Add the flour. Keep stirring the pot as you slowly add the all-purpose flour to the sausage. You want to cook out the flour taste and pasty texture before moving on the the next step.
Step 4. Add the milk. Continue stirring as you slowly add the milk to the pan. You'll want to bring the mixture to a boil, then, reduce the heat as you keep stirring.
Step 5. Simmer the sausage gravy. Bring the heat down and let the gravy thicken, occasionally stir the pot.
Step 6. Season. Add salt and pepper to the mixture, season to taste.
Step 7. Prepare biscuits. One biscuit serves one person, slice it in half and place on serving plate.
Camp Cooking Tip: To make this recipe really simple, we're using pre-baked biscuits. You can make them at home or just pick up prepared biscuits from your grocery store. But, to make this breakfast recipe even better, make our easy Dutch Oven Biscuits right at your campsite.
Step 8. Serve. Top biscuit halves with sausage gravy and serve hot. This is one of those stick-to-your-ribs winter camping recipes that is great for cool mornings. Just make sure you serve it right away while the gravy is still hot.
---
What To Serve With This Recipe
Some campers enjoy a huge plate of this rich and hearty meal. Others, like a half order alongside over-easy or scrambled eggs.
I also like serving fresh fruit on the side with a pot of camp coffee and pitcher of orange juice.
---
Scaling Servings
If you need easy camping meals for large groups, keep this one on hand. This recipe easily scales up to feed huge crowds and it's easy on the budget too!
---
Leftovers
Place leftovers in a plastic food storage bag, then, seal bag and place in refrigerator or cooler. Reheat in a pot over low heat and add a little milk it necessary for thinning. You can spoon it over more buttermilk biscuits or reinvent it for dinner by mixing with hot pasta to make a quick goulash-type of meal.
---
Print This Recipe
Similar Recipes
---
More Yummy Meal Ideas
Give yourself a pat on the back after you try a few new recipes on your next trip!