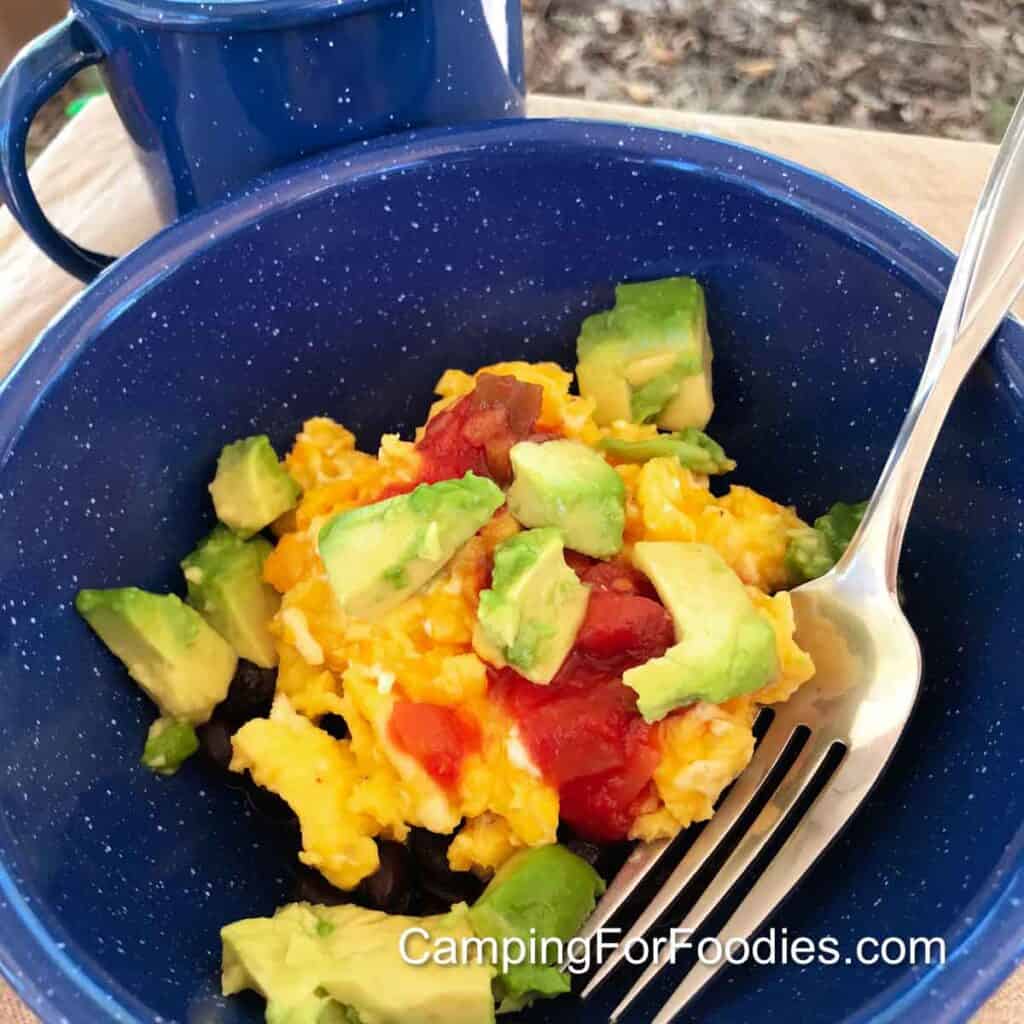 This is one of our really quick and simple camp stove recipes that makes a nutritious and delicious start to your day! You'll be enjoying these camping breakfast burrito bowls in about 15 minutes so don't blink or you'll miss the entire cooking experience!
Psst we're compensated…see our disclosures.
How To Make Camping Burrito Bowls For Breakfast
If you want a hearty but quick morning meal, try throwing healthy ingredients into a bowl, get a fork and dig in!
Step 1. Heat the beans. Not many of our camping breakfast ideas start with a can of beans but this one does and it is not only because they are great for providing fiber and protein … they taste awesome too! You'll dump a can of black beans into a pot to get them heating over a medium heat.
Step 2. Cube the avocado. Now, cube the avocado and toss it in a bit of lime juice so it doesn't turn brown.
The avocado is so fresh and creamy … making a perfect topping to this breakfast dish.
Step 3. Cook the eggs. I like making scrambled eggs in a non-stick pan when I am cooking with my camp stove because you can cook them slowly over a low heat and they turn out velvety smooth. You are going to melt the butter first then add the eggs, salt and pepper.
Step 4. Add the cheese. You don't want the eggs to cook through … just cook them till they are just about set and then add the cheese. As you are cooking the eggs you will be gently and continuously stirring them so they don't get that rubbery texture.
Step 5. Build the bowls. Get your bowls ready for plating. Remove the beans from the liquid and divide them between the bowls. I like using a slotted spoon for draining the liquid. Now add the scrambled eggs, avocado, and salsa. In about 10 or 15 minutes … you'll be eating! You gotta love easy camping meals when you are hungry and want food on the table in a hurry!
Step 6. Serve hot. These breakfast bowls have a wonderful Mexican flavor profile. You can serve them with toast but I like serving them with some fresh fruit on the side.
This GF recipe is great for campers with dietary restrictions, see all of our gluten free camping food.
---
Pairings For Breakfast Burrito Bowls
In the summer I like making this yummy camping fruit salad that has a scrumptious honey mint syrup.
---
Substitutions
I like using black beans because of their color and texture. You can swap with any type you have on hand … kidney and pinto beans are great options.
If you prefer using fresh ingredients instead of a prepared salsa, just make a quick pico de gallo by combining a few chopped tomatoes with a bit of onion, garlic, fresh cilantro, sea salt and black pepper. Or, you can make my amazingly delicious Sweet Onion Salsa Recipe!
One of my favorite things to serve with our Mexican dinners is this Fresh Guacamole. If I have leftovers, I replace the cubed avocado with a scoop of guac.
---
Make It A Brunch
Breakfast bowls are perfect brunch meals. Take a medium bowl, add a large handful of chopped lettuce then top with this recipe. You can even drizzle a little sour cream and hot sauce too.
---
Try All Of Our Camping Breakfast Burrito Recipes
If you like this meal, you'll love these camping breakfast burritos that I call a "walkable feast" that does not require a fork! It has a meaty and cheese style with a Southwestern twist that includes chorizo sausage, sour cream and cilantro.
If you really like the flavors in these burrito bowls but would prefer them in a tortilla, try these California-Style Camping Breakfast Burritos With Avocado, Eggs & Chorizo. They include cubed potatoes creating a really filling meal packed with protein, fiber and carbs … giving you all the energy you need for an awesome day-hike!
Rather have a crispy, golden brown tortilla? Try these simple Camping Breakfast Quesadillas.
An open-faced tortilla is the star of the show with this New Mexican Huevos Rancheros Recipe. The tortilla is fried and topped with beans, a fried egg and warmed salsa.
---
---
Similar Recipes
If you love the flavor combination of this breakfast bowl recipe, try some of these camping dinner recipes too.-https://www.campingforfoodies.com/camping-dinner-recipes/
These tacos are easy and fast. If we have leftovers we make breakfast tacos by adding a fried eggs and a slice of bacon … then … roll it all up in a soft tortilla.
I use pre-cooked shredded chicken and two types of canned enchilada sauce to make this family-favorite dinner.
If you like one pot camping meals, try this one. Use cauliflower rice instead of white rice to make it keto-friendly.
This recipe combines veggies, beans and spices to make a satisfying meatless meal. You'd be amazed how easy it is to turn plain veggies into flavor-packed ingredients with the addition of just a teaspoon of cumin!
These tacos use a blend of flavors and textures to make the most tasty meal that cooks in minutes!
The sweet potato is the secret ingredient that makes this meal so special. You can make it vegan by using tofu instead of chicken and vegetable broth instead of chicken broth.
---
More Yummy Meal Ideas
If you want to try more easy and delicious camp recipes, we've got tons of options!