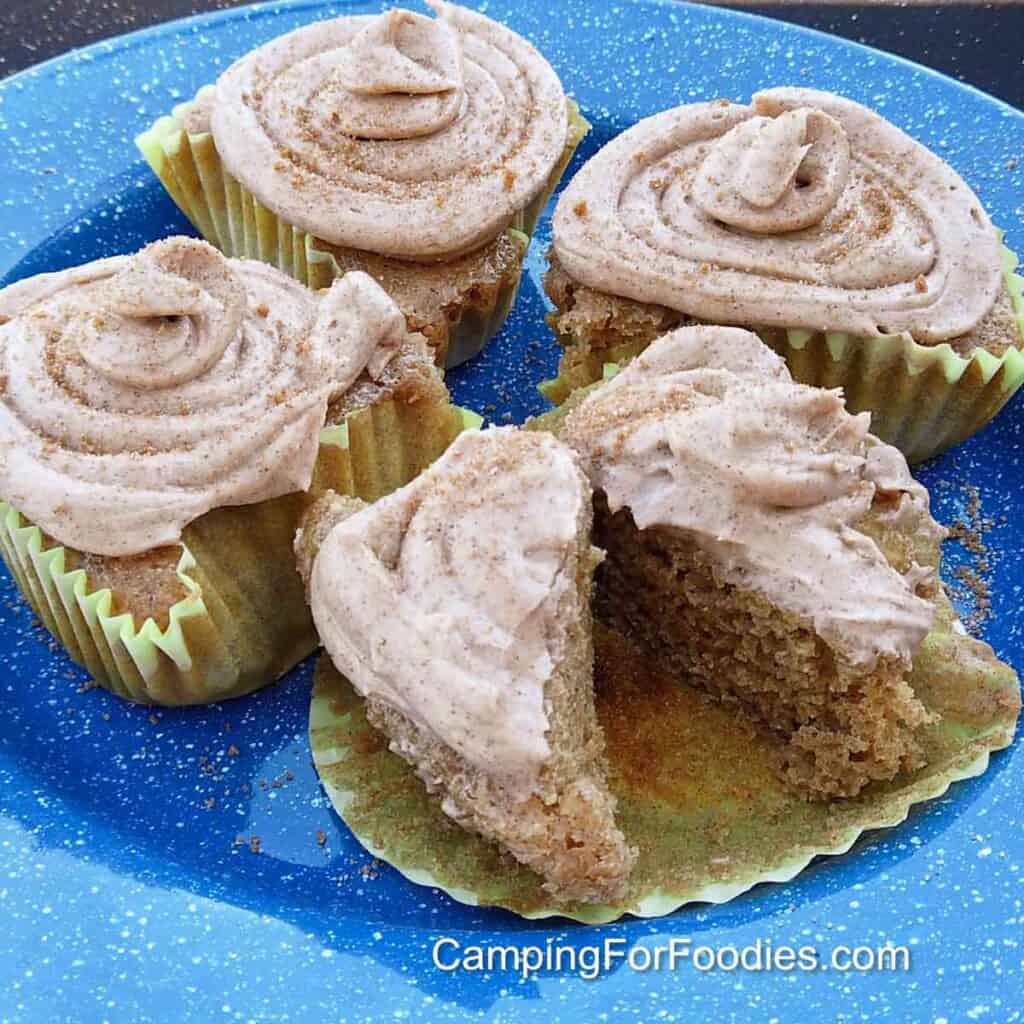 Psst we're compensated…see our disclosures.
Recipe Prep
It's easy to make moist cupcakes when you're baking from scratch but the full list of ingredients for homemade Dutch oven baked goods can seem overwhelming.
Don't let that happen, it's an easy recipe if you do measuring and mixing of dry ingredients at home.
Get three food storage containers and label them as follows, then, measure the ingredients into them so you just need to mix the dry ingredients with the liquid ones at camp:
"Cinnamon cupcakes recipe dry ingredients"
"Cinnamon buttercream frosting dry ingredients"
"Cinnamon sugar swirl dusting dry ingredients" (dusting is optional so omit this one if you don't want to dust the top of the frosting)
---
Cooking Methods & Equipment
To make this as one of our easy campfire recipes, you'll need to get your fire going to create hot coals for baking. Or, you can use charcoal briquettes. For quick and efficient briquette lighting without the use of lighter fluid use a chimney starter. We've got tips and a VIDEO on how to use a charcoal chimney.
---
Recipe Steps
We're keeping it simple by making this dessert in 3 stages:
Make the cupcakes
Make the frosting
Frost the cupcakes
Make the cupcakes
Step 1. Prepare your ingredients, heat source and equipment as directed.
Camp Cooking Tip: If you are baking Dutch oven camping recipes that call for a 10-inch Dutch oven but you don't have that size, you can use a larger oven and insert a muffin tin or pie plate and continue with the recipe. Just make sure you adjust the number of coals for cooking with a larger oven so you maintain the proper baking temperature.
If you are using a different oven size, check our Dutch oven temperature chart to see how many coals you will need.
Step 2. Preheat the oven. Line 10-inch cast iron Dutch oven with 8 empty cupcake liners and preheat oven to 350 degrees F. (21 total coals = 14 on top of the lid / 7 below the bottom of the oven.)
Camp Cooking Tip: For baked goods, place a ring of coals under the outside edge of the oven and place the upper coals on the lid in a checkerboard pattern.
Camp Cooking Tip: Foil cupcake liners hold their shape better than paper ones when baking "free form" in a Dutch oven rather than using muffin tins. The rustic shape is a good thing when baking homemade sweets in a rugged outdoor environment.
Step 3. Prepare the dry ingredients. Place the cupcake dry ingredients in a large bowl and whisk mixture together.
Step 4. Prepare the wet ingredients. Beat the cupcake wet ingredients together in a small bowl.
Step 5. Mix wet ingredients with dry. Pour egg mixture into the flour mixture bowl, gently stirring together.
Step 6. Pour batter into liners. Using half of the mixture (for the first batch), divide batter evenly into the liners. They should be about 3/4 full. Don't burn yourself, the oven is hot!
Camp Cooking Tip: A liquid measuring cup makes pouring batters easy, quick and clean.
Step 7. Cover and bake. Place lid on your Dutch oven. When a toothpick is inserted in the center and comes out clean, they are done. It should take about 15-18 minutes.
Camp Cooking Tip: For even baking, turn the oven and the lid 1/4 turns in opposite directions every 5 minutes.
Step 8. Cool before frosting. If you placed the liners directly in the Dutch oven, remove the oven from the heat and remove the lid. Let stand about 5 minutes then remove the cakes from the oven and let cool fully before frosting. If you placed the liners in a pie plate, lift it out of the oven and let the cakes cool before frosting.
---
Make the frosting
While the cupcakes are cooling, make the frosting.
Step 1. Cream the wet ingredients. Use a fork to cream butter, vanilla extract and milk together in a medium bowl.
Camp Cooking Tip: Use room temperature ingredients when creaming by hand.
Step 2. Mix in dry ingredients. Add cinnamon frosting dry ingredients into the butter mixture, sprinkle small quantities because it is easier to mix by hand.
Camp Cooking Tip: At home you would probably use a stand mixer with a paddle attachment to mix the frosting to perfection. At camp, take your time to mix the ingredients together, I find a rubber scraper works well but a plain fork or spoon will do the job too.
---
Frost the cupcakes
Step 1. Frost the cinnamon roll cupcakes. Wait for them to be totally cooled and apply frosting with a spoon or knife.
For a prettier presentation, spoon frosting into a piping bag made from a sheet of parchment paper or a plastic freezer bag then pipe as much frosting as you'd like on the moist cakes.
If desired, sprinkle about 1/8 teaspoon of the cinnamon-sugar mixture over the frosting to create an icing sugar type of presentation.
---
What To Serve With This Recipe
For dessert, I like serving my vegetarian camping recipes with a nice warm cup of black coffee.
Need tips for making an awesome cup of java? Here's how to make coffee when camping.
I really enjoy a cold glass of milk with sweet desserts but if the right amount of sugar is "more", then serve a mug of Campfire Hot Cocoa on the side.
---
---
More Yummy Meal Ideas
Try new and exciting meals on your next trip!