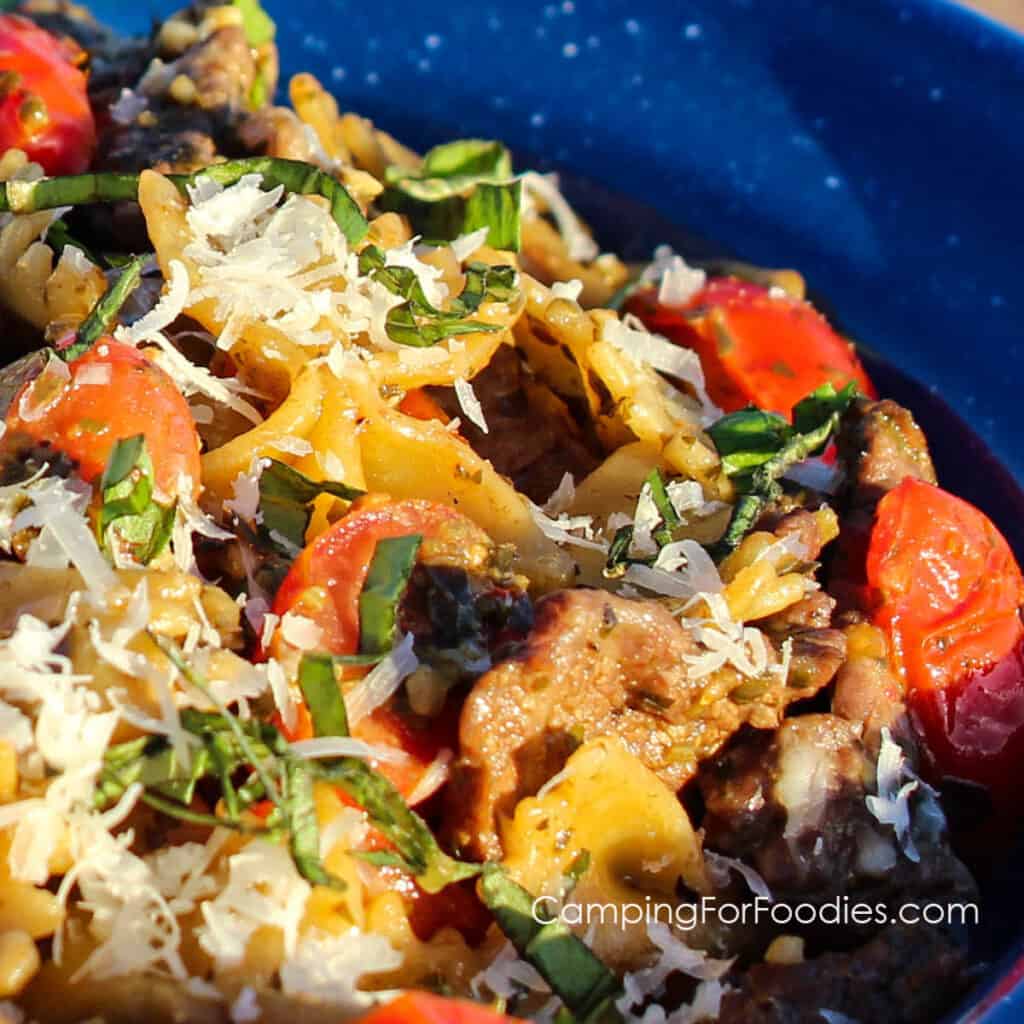 Pesto Steak Pasta sounds yummy but difficult, right? Not this version! It is one of the best one pot camping meals you'll ever eat!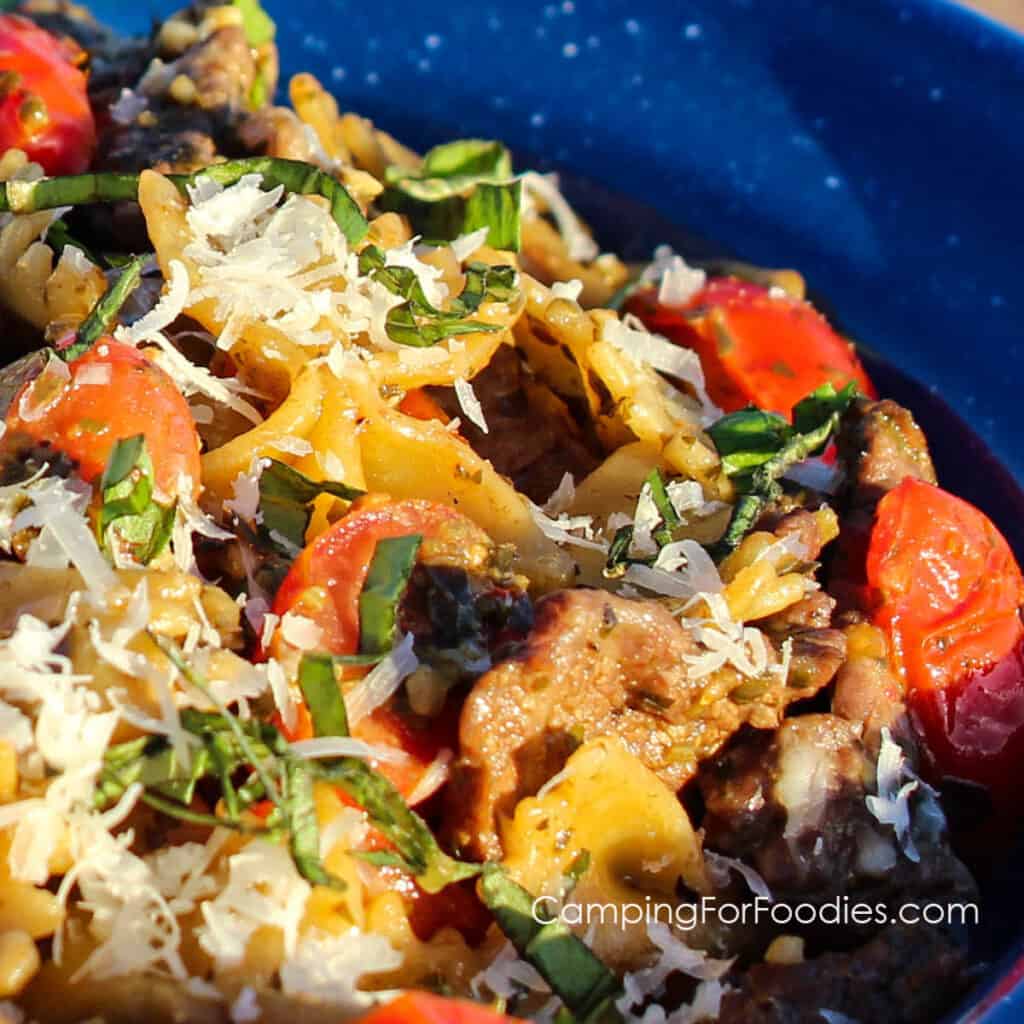 Psst we're compensated…see our disclosures.
How I've Made It Easy
Whether you are using dried or fresh pasta (like Buitoni pastas you find in the refrigerated section in the grocery store), you normally have to cook pasta according to the packet instructions which includes boiling a large pot of water, cooking it, then, drain pasta water before you combine pasta with other ingredients.
At the end of a busy day at camp, you want a simple recipe that only uses a handful of ingredients to get an easy meal on the dinner table the whole family will enjoy without using a lot of pots and pans … and carrying a bunch of water only to boil pasta and then just discard it.
Do This Instead…
I need easy dinners at the campsite, so, I created this recipe that:
Uses dried pasta that cooks right in the sauce (no boiling water required).
Uses prepared pesto sauce or an easy homemade sauce that can be made in advance and frozen.
Is made in one single pan, a camp Dutch oven.
Drops ingredients into the pot rather than mixing them in a bunch of separate bowls.
---
Pesto Options
Making easy camping meals requires you to use some prepared ingredients or doing some of the work at home before you get to camp.
For this recipe you can use prepared pesto sauce or make your own homemade pesto by combining fresh basil leaves and parmesan cheese, garlic cloves and pine nuts into a food processor, pulse a bit while drizzling in olive oil. Get my full Fresh Basil Pesto Recipe with tips for making it in advance and freezing it while maintaining a bright, pretty green color.
---
Recipe Prep
You'll need to mince a little garlic and slice the steak into thin slices.
This recipe calls for flank steak or skirt steak which are readily available and affordable, but they can be tough so you'll need to slice the meat into thin strips across the grain.
Camp Cooking Tip: Look for parallel lines of muscle fiber in meat … that is called the "grain of the meat". Slicing against the grain produces a more tender, less chewy finished dish so you'll want to slice perpendicular to the grain lines.
---
Cooking Methods
I like easy campfire recipes, like this one, that only require bottom heat when cooking. You'll want plenty of hot coals from a nice burning hardwood so you can adjust the heat throughout the cooking process. Alternatively, you can use charcoal briquettes.
If you prefer cooking with propane, you can also make this as one of our camp stove recipes so get your stove ready for cooking on a level surface. For RV cooking, a propane or electric stovetop will work with this recipe.
---
Steps To Make This Recipe
Step 1. Prepare your cooking equipment and ingredients as directed.
Step 2. Prepare your heat source for bottom-heat cooking.
Step 3. Heat a 12-inch Dutch oven or large skillet with tight-fitting lid, then heat oil.
Camp Cooking Tip: I prefer making Dutch oven camping recipes but for this particular meal you could use any large pot with a tight-fitting lid because you are cooking with bottom-only heat. You won't have to place any coals on the lid but you will need to use the lid to boil the beef broth. If you are cooking over a campfire, it is best to use cast iron.
Step 4. Season and cook steak. You'll season the strips of steak with salt and pepper then place them into the pot in a single layer to brown all sides of the meat.
Camp Cooking Tip: In order to get a nicely browned color, meat must make contact with the hot oil in a hot pan. Don't overcrowd the meat. Depending on the size of your cooking vessel, you may need to brown the steak in two batches.
Step 5. Remove meat then cook garlic. Use long handled kitchen tongs to remove the meat and set it aside, covered, to stay warm. Add the garlic to the pot, cook it just until it is softened.
Step 6. Bring broth to boil. As soon as the garlic is fragrant, you'll add the beef broth to the pot. Increase the heat and cover the pot with a tight-fitting lid to bring it to a boil.
Step 7. If you are using shelf-stable pesto sauce, that's great. If you are using your own pesto or a prepared brand that is fresh from the refrigerated section of your store, set it on a table so it can reach room temperature while the pasta is cooking.
Step 8. Place pasta in the boiling broth and cook to your desired tenderness. You may need to add a little water to finish cooking the pasta. The goal is to have all of the liquid absorbed by the cooked pasta. You don't want to have so much liquid that you have to drain it from the pot.
Step 9. Return meat to pot with tomatoes. Add the steak back into the pot along with the sliced tomatoes, stir with pasta to combine everything together. Continue cooking until the meat is heated through and the tomatoes are softened.
Step 10. Toss with pesto & serve. Remove the pot from the heat and gently stir in the pesto. Serve hot and enjoy. You can top with freshly grated Parmesan cheese and basil, if desired.
---
What To Serve With This Meal
This is one of my camping dinner recipes that serves 6 but can be stretched to serve 8 by adding a big side salad and a nice crusty bread.
For the salad: I recommend a spinach salad tossed with some red onion, walnuts, cherry tomatoes and a simple Italian salad dressing.
Camp Cooking Tip: Use sturdy leafy green vegetables, like fresh kale or spinach leaves, rather than delicate ones, like arugula or spring mixes. Veggies with a longer shelf life won't wilt as fast in a cooler.
For the bread: Keep it simple by serving a nice crusty bread on the table with a dish containing a little olive oil that is sprinkled with some ground pepper and few splashes of balsamic vinegar for dipping.
---
Leftovers
One of my favorite things to do with leftovers of this Steak And Pesto Pasta Recipe (or any other pasta dish) is to layer the leftovers with mozzarella cheese and bake for a quick "faux lasagna" dinner.
---
Print This Recipe
Pesto Steak Pasta Recipe
Camping For Foodies Dinner Camping Recipes: This Pesto Steak Pasta Recipe is an easy one pot Dutch oven meal.
2

tablespoons

olive oil

1.5

lb

flank steak or skirt steak

cut into thin strips against the grain

1

teaspoon

salt

1/4

teaspoon

black pepper

4

cloves

garlic

minced

1

(32 oz)

carton beef broth + water if necessary (see note below)

1

(10 oz)

carton grape tomatoes

1

(16 oz)

package dried farfalle pasta (bow tie pasta)

1

(8 oz)

jar prepared basil pesto sauce (or 1 cup of fresh)

1

cup

freshly grated Parmesan cheese

optional for serving

4

large fresh basil leaves

thinly sliced, optional for serving
Prepare your campfire, camp stove or RV stove for cooking using bottom-only heat.

Prepare the ingredients as directed.

Heat a 12-inch cast iron Dutch oven or large skillet over medium-high heat. NOTE: Any large pot with a tight-fitting lid will work but if you are cooking over a campfire, it is best to use cast iron.

Add the oil to the pot.

Season the steak with salt and pepper then add it to the Dutch oven stirring to brown all sides and cook to just under your desired doneness. NOTE: Don't overcook the meat, you want it to stay juicy and tender.

Remove the meat from the pot, place steak on a plate or tray, set it aside covered to keep warm.

Reduce to medium heat leaving the remaining oil in the pot, stir in the garlic.

As soon as the garlic begins to soften, add the beef broth to the pot and increase to high heat, cover with tight-fitting lid and bring the liquid to boil.

If your pesto sauce is refrigerated, set it on a table so it can get to room temperature while the pasta is cooking.

Once the liquid is boiling, add the pasta, stirring occasionally until the pasta is cooked to your desired tenderness, I recommend al dente so it still has a bite to it and it's not mushy. This will usually take about 10 minutes cooking time. NOTE: If there is not enough liquid to finish cooking the pasta, add some water, as necessary. You just want enough liquid to cook the pasta … you don't want to have to drain any liquid from the pot after it is finished cooking.

Add the meat back to the Dutch oven along with the tomatoes, stirring to mix all of the ingredients together and make sure the steak is warmed through.

Remove the Dutch oven from the heat and toss with pesto sauce.

Serve hot and top with freshly grated Parmesan cheese and fresh basil, if desired.
Serving: 1gCalories: 271kcalCarbohydrates: 3gProtein: 29gFat: 15gSaturated Fat: 6gPolyunsaturated Fat: 1gMonounsaturated Fat: 7gCholesterol: 83mgSodium: 742mgPotassium: 428mgFiber: 1gSugar: 1gVitamin A: 164IUVitamin C: 1mgCalcium: 176mgIron: 2mg
---
Similar Recipes
Some of my favorite winter camping recipes are pasta dishes.
This Pesto Ricotta Pasta Bake is also called our Lazy Man's Lasagna. It uses oven-ready noodles and three different cheeses.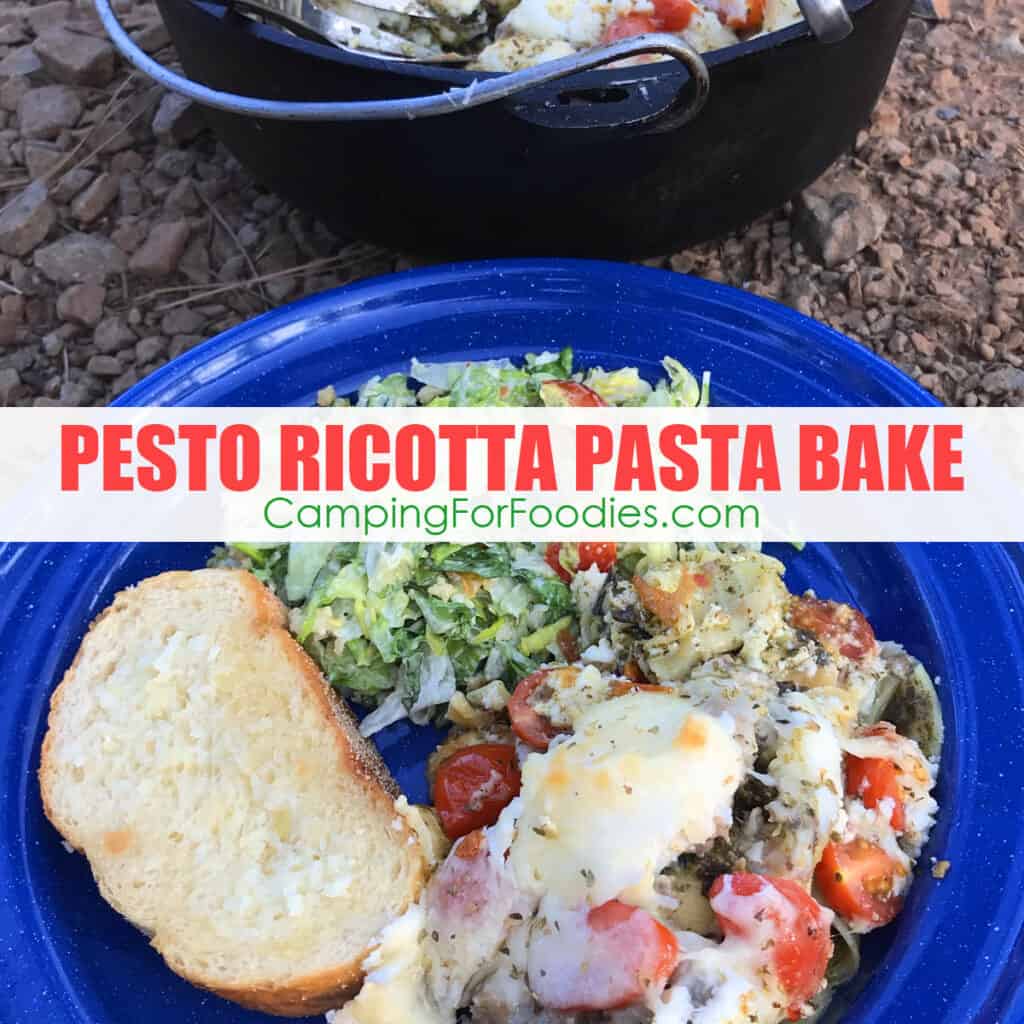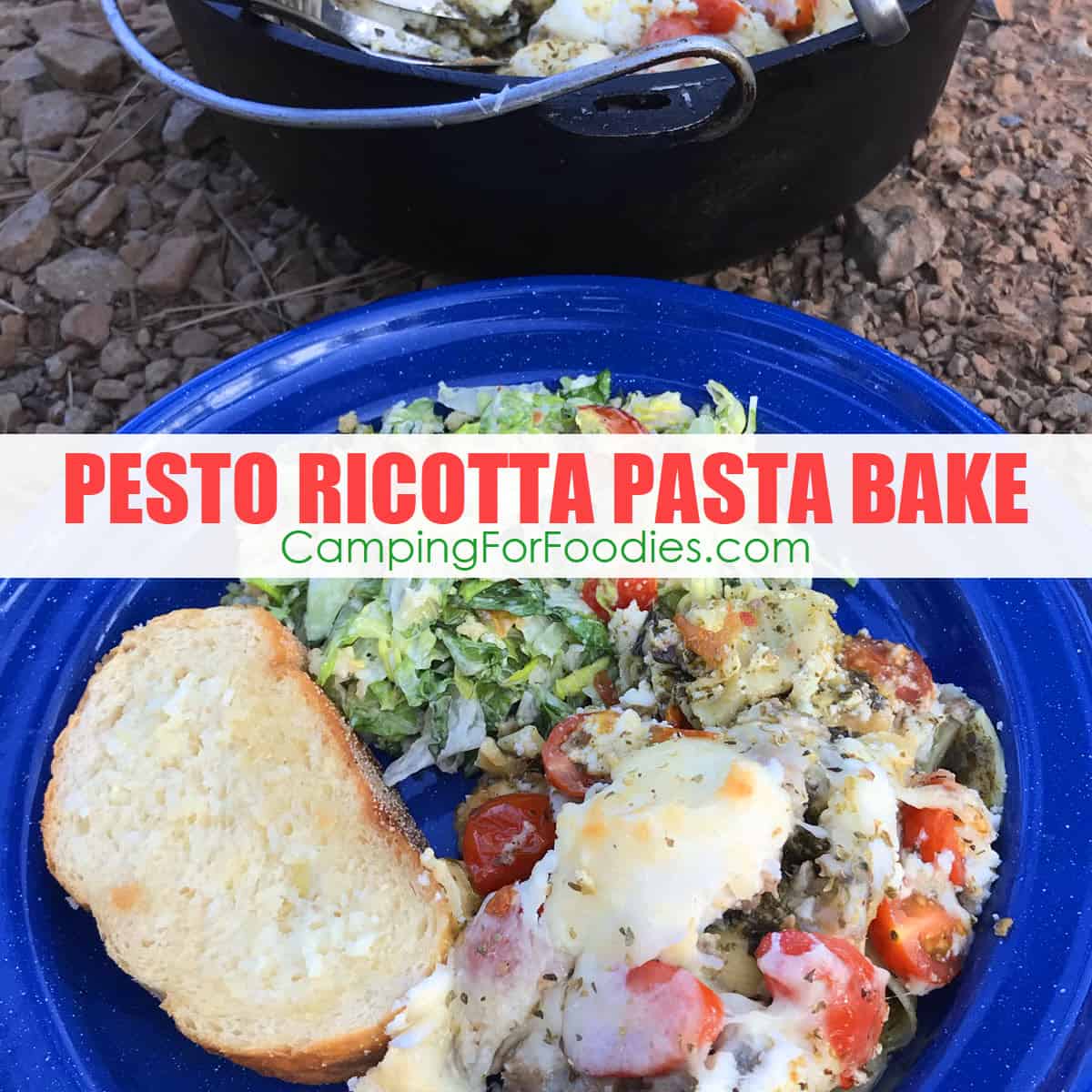 This Dutch Oven Steak is a simple one pot dinner that uses a simple, flavor-packed marinade to create a yummy meal that also includes petite fingerling potatoes.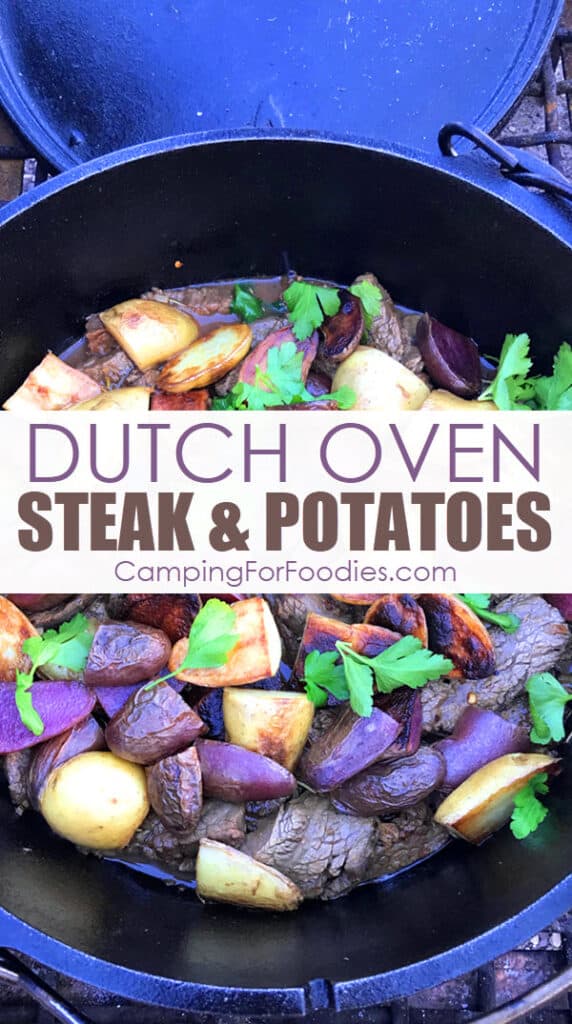 You're gonna love the fresh flavors that come from 5 ingredients that require no cooking when you make these Pesto Tomato Wraps.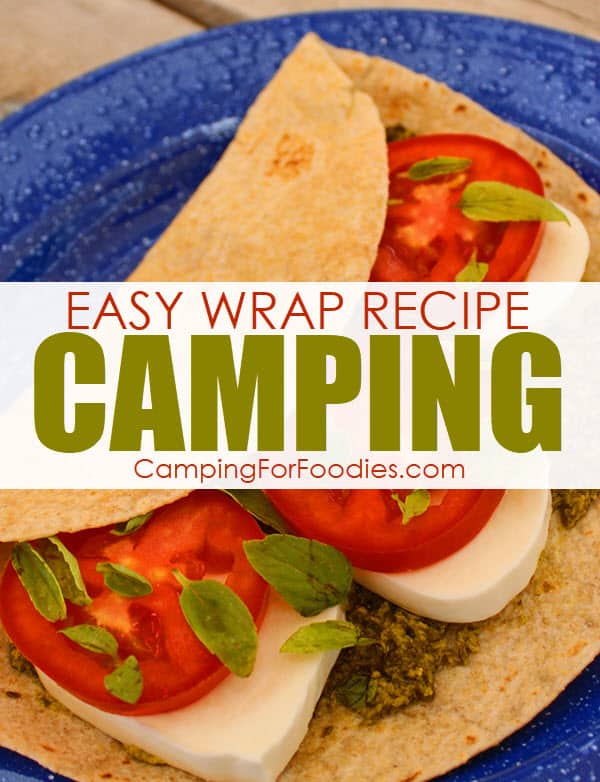 ---
More Yummy Meal Ideas
Every meal of your camp trip can be easy and delicious!