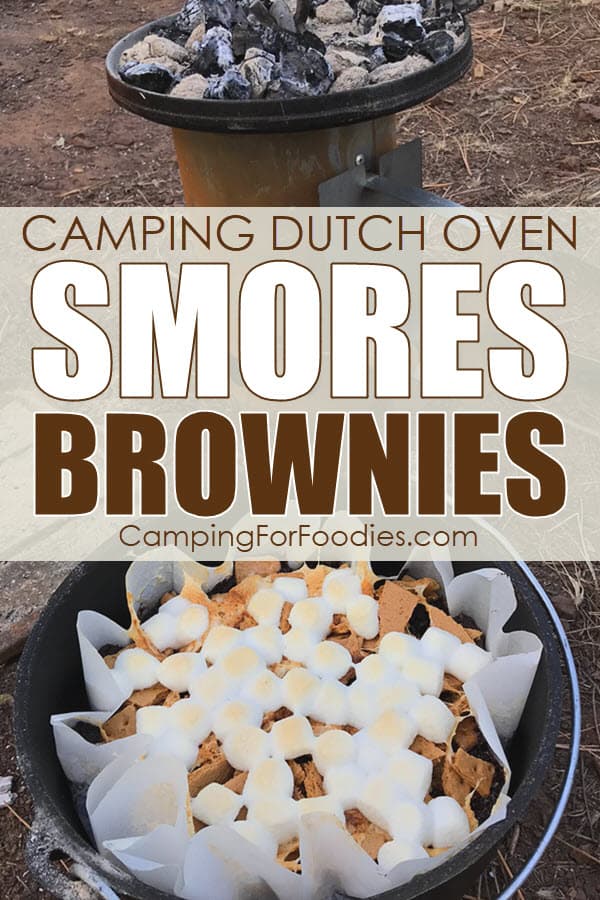 The sweet stuff at the end of a meal filled with awesome camping food is the perfect way to end a day. These are the best camping desserts that'll satisfy your taste buds on your next family camping trip!
Psst we're compensated…see our disclosures.
---
Dutch Oven Dessert Recipes
We love cooking with campfires and these camp oven desserts are some of our favorites.
---
---
---
---
---
Camp Cooking Tip: You can make any flavor of dump cakes by swapping out the pie filling. Peach cobbler is another popular choice.
---
---
---
---
---
---
---
Camp Cooking Tip: You can use any cast-iron skillet or cast iron pan that has a tight-fitting lid when you are making baked goods that don't rise high during the baking process. This makes a wonderful berry campfire skillet dessert too.
---
---
---
---
---
---
Camp Stove Desserts
Camp stove recipes for dessert are so nice! Why? Because it is so easy to just turn your camping propane on and off … rather than dealing with campfires or charcoal briquettes.
---
---
---
Easy No Cook Camping Desserts
When you just don't feel like cooking but want dessert…
---
---
Make Ahead Camping Desserts
If you like baked goods but don't want to do a lot of baking at the campsite, try making desserts that freeze well.
---
Campfire Desserts
Some sweet treats are perfect for campfire cooking!
When you are planning camping meals for two, s'mores are a great option because you can make only the number you want and won't have tons of leftover sweets from a family-sized portion dessert.
---
26. Campfire Cinnamon Rolls
You can't get easier than cooking refrigerator cinnamon buns in your pie irons for dessert! Just spay a little cooking spray inside your irons and cook over your fire, turning every few minutes until they are cooked through, about 15 minutes. Spread on the frosting and enjoy!
Cooking on sticks is just one of our list of 10 fun activities and campfire games the entire family can enjoy together.
---
27. S'mores Campfire Cones
Drop some mini marshmallows and chocolate chips in an ice cream cone, either a sugar cone or waffle cone work well. Wrap them in foil and heat them over a campfire! Kids love this easy dessert that is a fun spin on a classic camping dessert.
---
28. Campfire Banana Boats
Leave the banana in its peel, slice in down the center to split it open, stuff with toppings then wrap it in foil and heat it over campfire coals just long enough to warm it up.
Stuffing ideas: chocolate chips, crushed graham crackers, mini marshmallows, peanut butter, Nutella, nuts and fresh berries.
---
29. Shortcake Skewers
This is a fun twist on the classic strawberry shortcake dessert. Thread pieces of your favorite fruits and store-bought pound cake onto BBQ skewers. Toast over campfire or grill until the fruit is slightly softened and cake is lightly toasted. Top with whipped cream for serving.
---
30. Orange Peel Brownies
Cut a hallowed-out orange peel into a cup and prepare brownie mix according to package directions. Pour brownie batter into orange peel cup and wrap in two layers of heavy-duty foil leaving a little "hook" at the top for grabbing. Set on campfire coals to bake in an upright position until brownies are baked through.
---
31. S'mores Nachos
This easy campfire dessert is a great way to make tasty treats for a group instead of individual servings. Take the ingredients used in classic s'mores and pile them into a cast iron skillet or foil pan. Break graham crackers into bite-sized pieces then top with chocolate chips and miniature marshmallows. Cover with tight-fitting lid or aluminum foil and heat over hot coals until the marshmallows and chocolate are slightly melted.
---
---
33. Foil Packets Apple Crisps
Lay apple slices on a piece of foil, drizzle with maple syrup and top with a little granola. Seal and heat over a campfire until the apples are tender, about 15 minutes. These campfire apple pie packets are a great gluten-free option.
---
What's your favorite?
Got a favorite dessert for camping we should try? Leave us a comment and tell us about it … we'd love to hear from you!
---
More Ideas For Awesome Camping Food
Plan an awesome recipe for each meal on your menu.