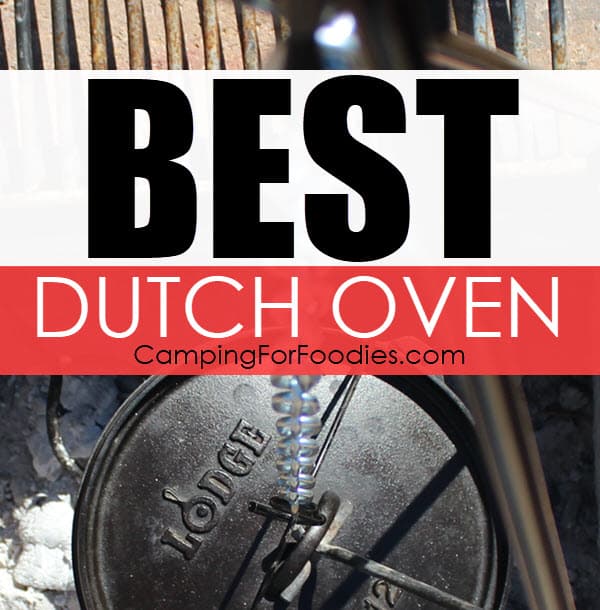 Which oven are you using to make your Dutch oven camping recipes? There are different sizes and styles of camp ovens so we're looking at the pros and cons of various high quality models so you can decide which is the best Dutch oven for camping that is tailored to the way you camp.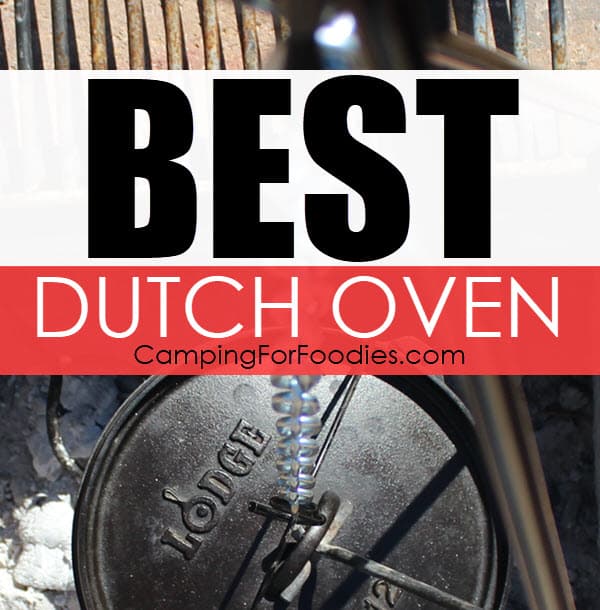 Psst we're compensated…see our disclosures.
---
Handle Styles
High-quality cast iron cookware that is designed for use in a home usually has one or two handles on the lid and two handles on the pot. Cooks are usually handling this hot cooking equipment with hot pads or oven mitts to remove the pot from a residential oven.
Camp cooks are usually making their Dutch oven recipes over a hot campfire and lift the oven using a wire bail handle. Then, they use high-heat resistant gloves or a lid lifter to remove the lid from the pot to prepare and serve the food. That's why you'll find "loop style" handles on most camp gear lids but will often find "knob style" handles on home use classic Dutch ovens, especially the enamel styles.
---
Camp Dutch Oven Lids
Dutch ovens that are designed to be used outdoors have a flanged
lid to keep coals on top and prevent them from falling off of the oven during
the cooking process … especially when you are lifting the lid to stir your food
or check for doneness.
They can also be flipped over so you can use them as a skillet … setting it on a lid stand over charcoal. This is really nice when you are frying eggs that you want to contain in a little "valley" so they don't spread across a flat skillet.
---
Legless Or Legged Bottom Dutch Ovens?
When you cook outdoors with your camp Dutch ovens you can use campfire cooking equipment like a tripod to hang your oven over a fire, a grill grate to hold the oven over the fire … or you can use charcoal in a Dutch oven table or directly on the ground.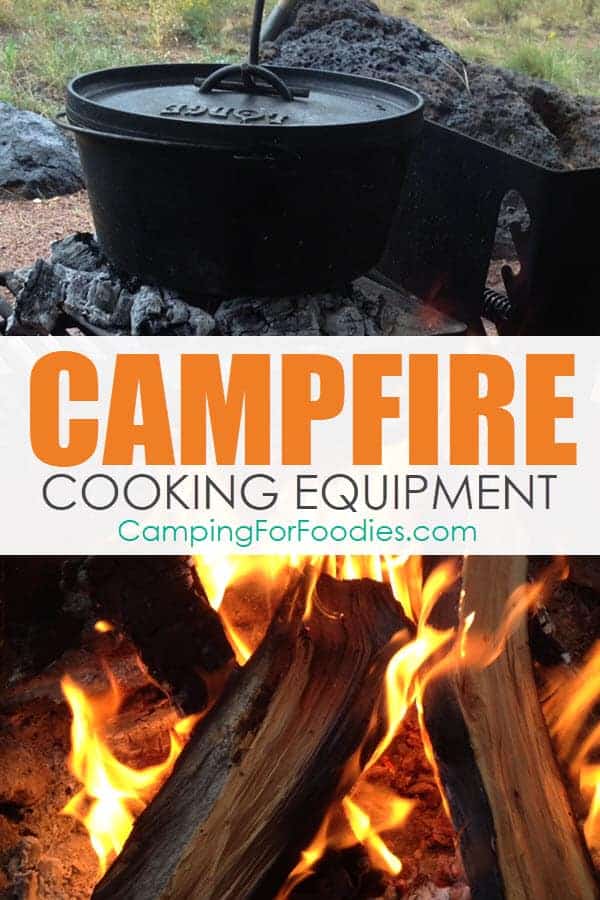 The best cast iron Dutch oven for camping is one that has 3
legs on the bottom so you can set the oven over hot coals without touching them
… this promotes even heating and helps to prevent burning.
---
Camping Dutch Oven Materials
There are two main types of materials used to make camping Dutch ovens: cast iron and aluminum. Here are some things to consider about each type…
Cast Iron Dutch Oven Pros & Cons
Slower heating and cooling

Pros: Once a cast iron pot is up to temperature, it is good at maintaining the heat throughout the cooking process as well as keeping the food warm after the oven is removed from the heat.

Cons: This is bad if you want to get food cooking quickly. It is also undesirable if you want to clean and pack your equipment immediately after you meal is over.

More even heat distribution

Pros: When it comes to baking in your camp Dutch oven, you need consistent heating to evenly bake the food without burning it.

Heavier weight

Pros: Cast iron Dutch ovens are heavier making them more durable which is especially important in rugged camping environments.

Cons: Weight is always a consideration when camping … this factor is more critical when backpacking or car camping but it is also undesirable for RV campers as well.

Maintenance

Cons: Proper seasoning and cleaning of Dutch oven cookware is critical to prevent rust which will reduce the life of this otherwise extremely long-lasting gear. We'll talk more about this in a bit.
---
Aluminum Dutch Oven Pros & Cons
Faster heating and cooling

Pros: It does not take a long time to get an aluminum pot heated to begin cooking. It also does not take a long time for an aluminum hot Dutch oven to cool so you can clean it and pack it away as soon as you are done with your meal.

Cons: You will need to be ahead of the game to maintain a constant set of coals to keep cooking in an aluminum oven because the oven itself does not retain heat as well as a cast iron. On the same token, when you remove this oven from the heat, you'll want to serve the food immediately to avoid getting cold as the oven quickly cools.

Less even heat distribution

Cons: Even heat distribution is more important when baking (versus stewing or simmering) with your camp Dutch oven. More frequent rotating of the oven and lid is required for more consistent baked goods. We have Dutch oven camp cooking tips on rotating during cooking.

Lighter weight

Pros: No matter what type of camping you do, lightweight gear is always a benefit.

Cons: The lighter weight of aluminum makes these ovens less tolerant to extreme heat (like really hot campfires) and less durable to rugged camping environments than cast iron styles.

Low maintenance

Pros: Aluminum does not rust so maintenance of an aluminum Dutch oven is not as critical as cast iron ovens.

Rigidity

Cons: Aluminum is not as strong as cast iron, so it's more prone to warping when it is exposed to stress and heat. If the pot warps, it won't have a tight lid fit which is important with many cooking methods.
---
Cast Iron vs. Aluminum Dutch Oven Weight Comparisons
Aluminum Dutch Oven Weights And Measurements
GSI Outdoors Aluminum Dutch Ovens are rust-free cast aluminum ovens that are the lightest weight ovens for camping. The smaller oven in this model has no legs but the larger one has 3 legs.
GSI Outdoors Aluminum Dutch Oven
10-inch model: Measures 13.5 x 10.7 x 3.6
inches, weighs 3 pounds 11 ounces
12-inch model: Measures 13.5 x 12.9 x 6.5
inches, weighs 6 pounds 1.3 ounces
---
Hard Anodized Cast Aluminum Dutch Oven Weights And Measurements
GSI Outdoors Hard Anodized Dutch Ovens are made from durable, highly conductive cast aluminum. These ovens heat up quickly and won't rust.
GSI Outdoors Hard Anodized Dutch Oven
10-inch model: Measures 11.2 x 10.8 x 3.7
inches, weighs 3 pounds 11 ounces
12-inch model: Measures 13.4 x 13 x 6.6 inches,
weighs 6 pounds 2 ounces
14-inch model: Measures 15.8 x 15.7 x 7.5
inches, weighs 8 pounds
---
Cast Iron Camp Dutch Oven Weights And Measurements
Lodge Cast Iron Camp Dutch Ovens are pre-seasoned with a soy based vegetable oil during the manufacturing process so you don't have to season it before you use it.
Lodge Cast Iron Camp Dutch Oven, 6-Quart
Classic 8-inch / 2-Qt model: Measures 10 x 9.2 x
6.2 inches, weighs 9 pounds
Classic 10-inch / 4-Qt model: Measures 10 x 10 x
3.5 inches, weighs 12.3 pounds
Deep 10-inch / 5-Qt model: Measures 11.8 x 10.5
x 7 inches, weighs 13.1 pounds
Classic 12-inch / 6-Qt model: Measures 13.2 x
13.1 x 7.2 inches, weighs 19 pounds
Deep 12-inch / 8-Qt model: Measures 12 x 12 x
5.5 inches, weighs 20 pounds
Deep 14-inch / 10-Qt model: Measures 14.8 x 14.3
x 8.7 inches, weighs 27 pounds
---
Camp Chef Cast Iron Camp Dutch Ovens have a seasoned finish and have a built-in thermometer notch so you can determine the temperature without removing the lid from the oven during the cooking process.
Camp Chef Classic 10″ Dutch Oven
---
What Size Dutch Oven Should I Buy For Camping?
The most common questions people ask before buying a Dutch
oven have to do with size, weight and capacity.
The most universal size is a 6-quart 12-inch classic depth Dutch oven. It is great for making meals for a family of 4-6.
A 2-quart size is good for solo campers or couples.
A 4-quart size is good for a family of 3-4.
You also need to consider the type of food and style of cooking you prefer. For example, if you like roasting whole chickens or braising large roasts, you'll probably want to purchase something like the 12-inch, 8 quart Lodge deep camp Dutch oven with taller walls that allow larger cuts of meat to fit in the oven under the lid.
If you are a heavy duty baker, you may decide the 12-inch, 6 quart Dutch oven is perfect for you because you need the lid closer to the food so your cakes and breads are nicely browned on the top and not burned on the bottom. The classic depth 12-inch Lodge camp Dutch oven is the one I use for these types of recipes. This is also a great style if you do lots of pan-frying.
---
How Many Quarts Is A 12 Inch Dutch Oven?
Because a 12-inch Dutch oven is the most popular size for camping, people often ask how many quarts it contains.
This chart includes the quart to inch capacities for typical sizes of camping Dutch ovens. We have also indicated how many cups in a Dutch oven of each size.
Cast Iron Dutch Oven Size Capacities
| | | |
| --- | --- | --- |
| 8 Inch Classic | 2 Quarts | 8 Cups |
| 10 Inch Classic | 4 Quarts | 16 Cups |
| 10 Inch Deep | 5 Quarts | 20 Cups |
| 12 Inch Classic | 6 Quarts | 24 Cups |
| 12 Inch Deep | 8 Quarts | 32 Cups |
| 14 Inch Classic | 8 Quarts | 32 Cups |
| 14 Inch Deep | 10 Quarts | 40 Cups |
| 16 Inch Classic | 12 Quarts | 48 Cups |
---
How Much Is A Dutch Oven?
The price of a good camp Dutch oven depends on the size and style you choose. Smaller ovens start around $30 and the larger ovens can exceed $100.
The good news is that your investment in this type of camp
cooking equipment will last a very long time no matter how often you use it.
---
How To Clean Cast Iron Dutch Ovens
You may have heard you should NOT use soap … you should use hot water when cleaning your cast iron cookware. That is true! Use these 4 simple tips for Cleaning And Seasoning Cast Iron Dutch Oven Cookware so it will last your lifetime and for future generations.
---
How To Cook With A Dutch Oven Camping
It is really amazing how many ways you can cook with a camp Dutch oven! Typically, you can find us making easy campfire recipes.
But, we live in Arizona so we are often faced with fire restrictions and unable to use campfires or charcoal briquettes for Dutch oven cooking. In those cases, we make awesome camp stove recipes right on our stovetop!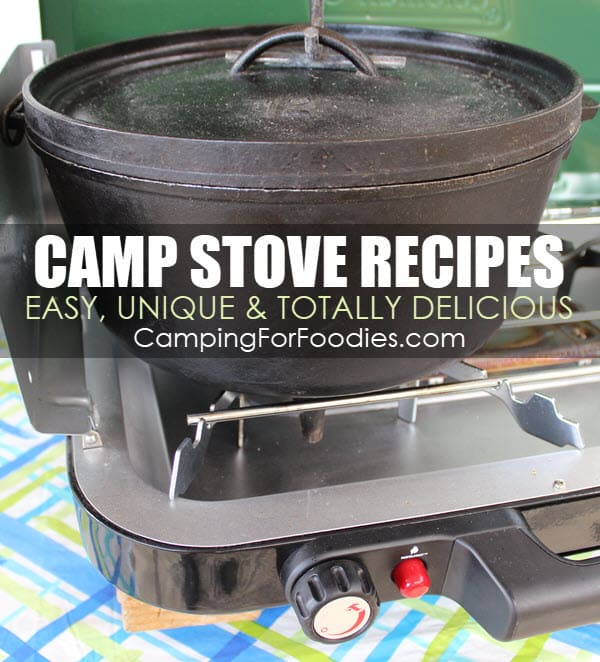 ---
How Many Coals For Dutch Oven?
A more traditional way to cook with a camp Dutch oven is by using either charcoal briquettes or campfire coals. If you don't know how many coals to use, our handy Dutch oven temperature chart will help you cook like a pro!
---
How To Cook On A Campfire With A Dutch Oven
If you prefer direct campfire cooking, you can use Dutch oven accessories like a tripod or grill grate to cook right inside your camping firepit.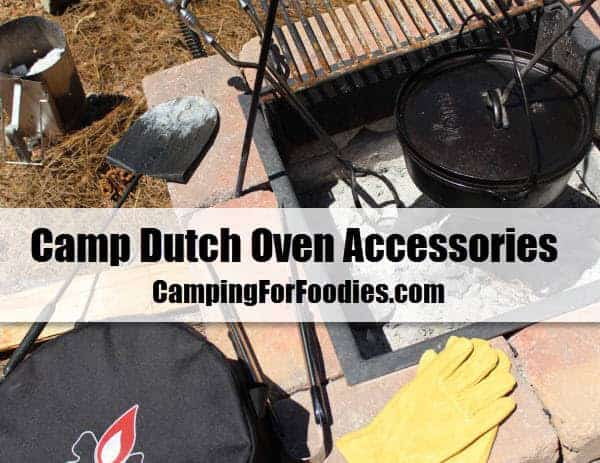 ---
What To Cook In A Dutch Oven
The awesome thing about using a Dutch oven on your camping
trips is that you can make just about ANYTHING in this versatile piece of
cooking equipment! Here are a few ideas…
How To Slow Cook Ribs In A Dutch Oven
If you are enjoying a lazy day around the campsite and are willing to periodically tend to these Camping Dutch Oven BBQ Ribs you will be happy at dinner time!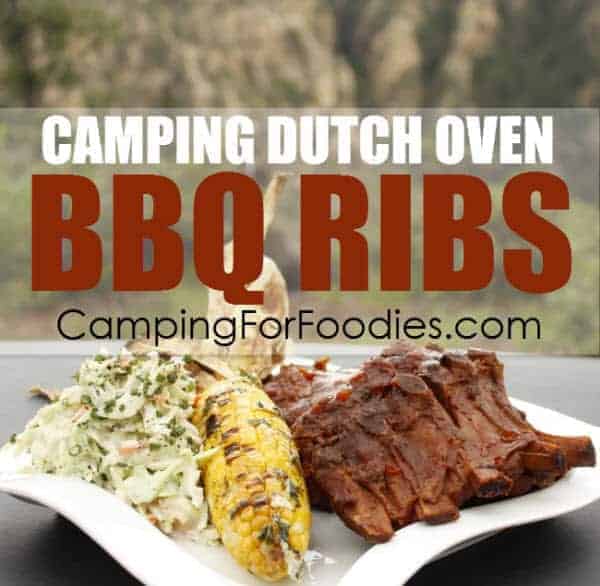 ---
How To Make French Toast In A Dutch Oven
---
How To Cook Chili In A Dutch Oven
---
How To Make Cornbread In A Dutch Oven
---
How To Make Beef Stew In A Dutch Oven
Soups, stews and chilis are popular meals, especially in cold weather. When you want to make a pot of comfort food, this Campfire Stew will hit the spot!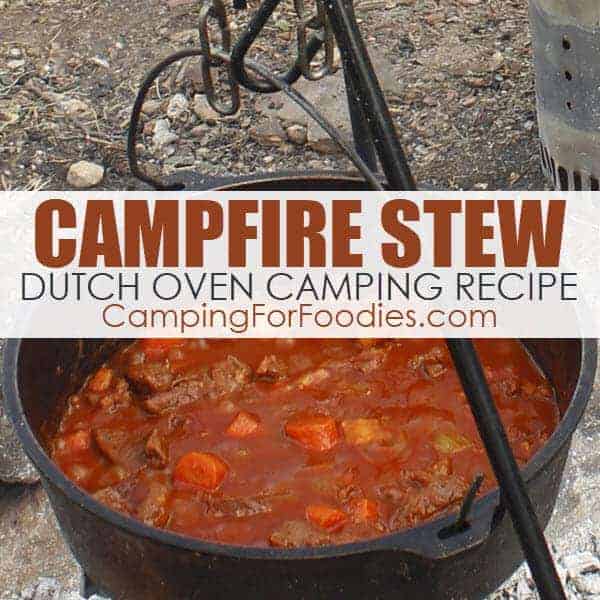 ---
How To Make Pies With A Bottom Crust In A Dutch Oven
The way to make a recipe with a bottom pie crust is to use a pie plate inside your pot. I used a 9-inch ready made pie crust in my 12-inch standard depth Camp Chef Dutch oven to make this Bacon And Cheese Quiche.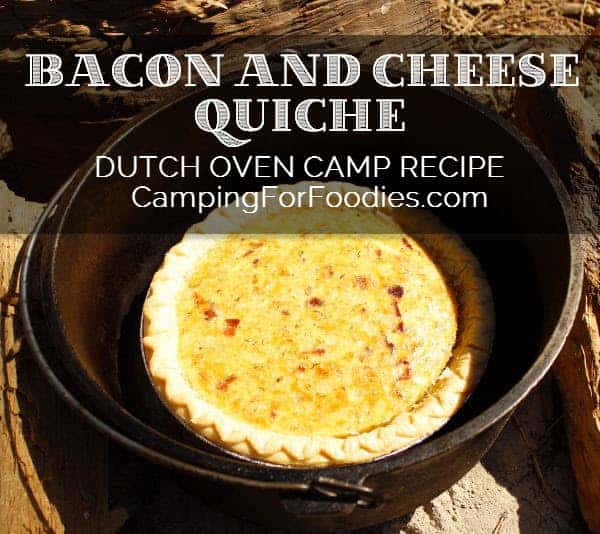 ---
How To Make Dump Cakes In A Dutch Oven
Anytime you are in a lazy mood, make "dump and cook" recipes. This Dutch Oven Apple Dump Cake will satisfy your sweet tooth with almost no effort.
---
Best Dutch Oven Cookbook
So many people are huge fans of Lodge Dutch oven accessories including their cookbooks, hook lid lifters and cleaning equipment! Yes, I am one of them. LOL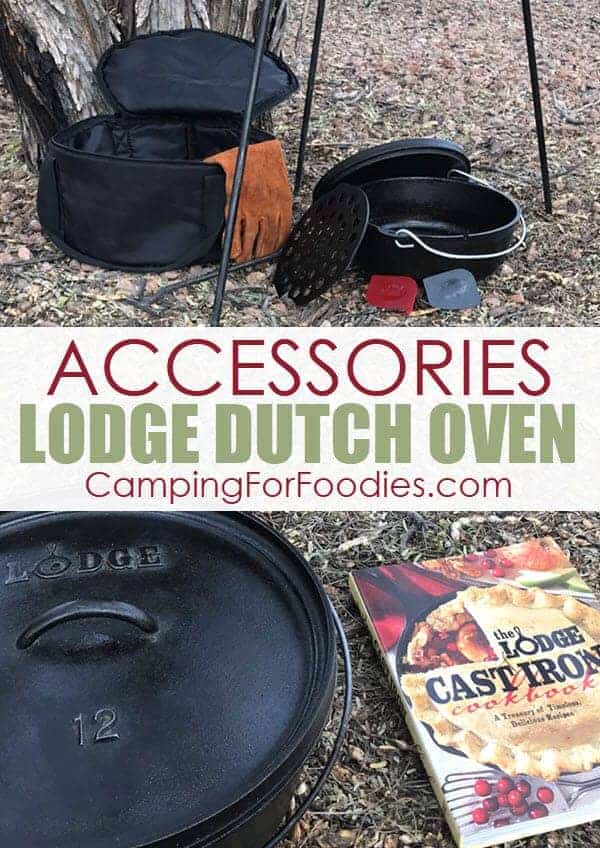 ---
Awesome Camping Gear
Can you say you LOVE any piece of your equipment? Find the best camping gear for every aspect of your trip!
---
Meal Ideas For Your Camp Dutch Oven
After you find the perfect Dutch oven, you need awesome recipes to cook … try some of these!