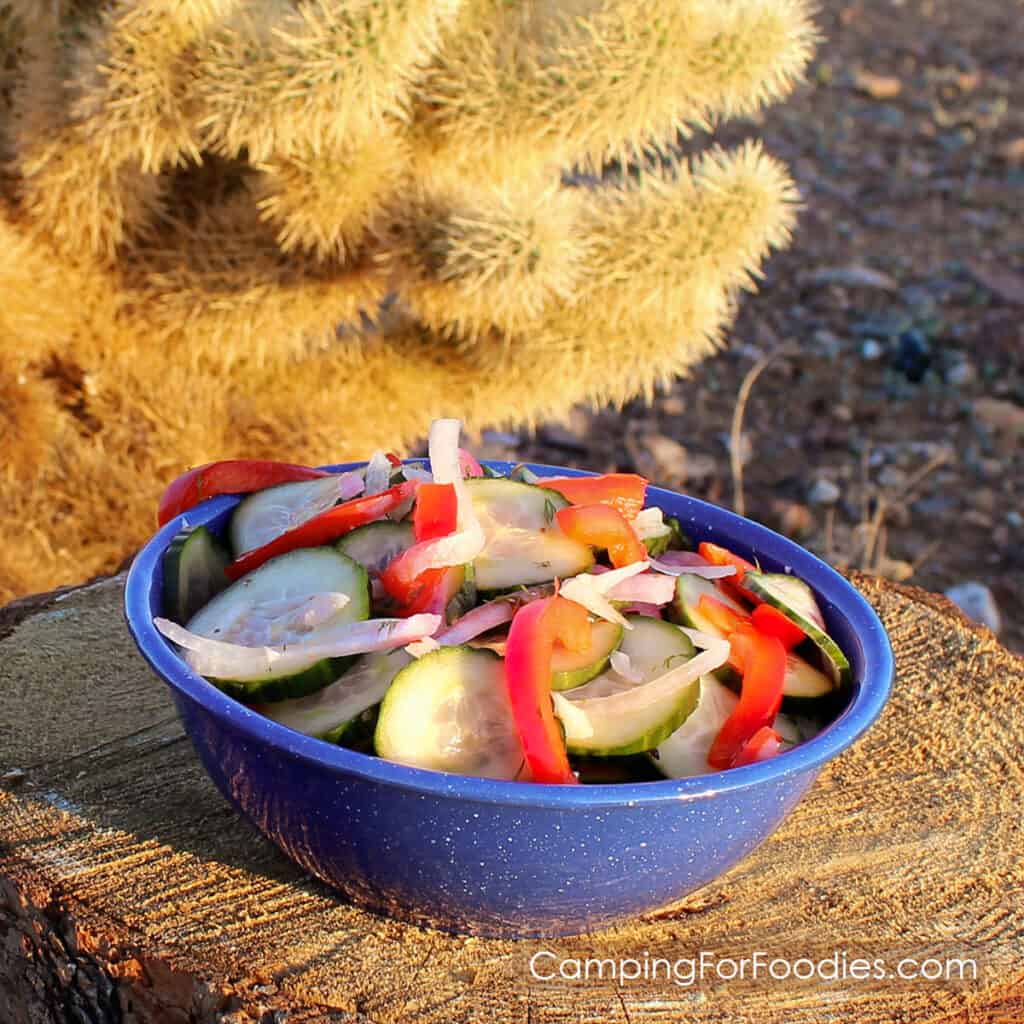 Psst we're compensated…see our disclosures.
What Are Quick Pickles?
"Refrigerator Pickles" also go by the name "Quick Pickles".
There are two basic ways to make pickles:
Quick Pickling: Cucumbers sit in a brine of vinegar, water, salt and possibly sugar. The raw vegetables are placed in the brining liquid and stored in the refrigerator for a few days to complete the pickling process. Keep refrigerated and use within a month or so.
Canning: Boil pickling liquid. Sanitize canning jars in boiling water. Add pickle ingredients to jars, pour in pickle brine, place vacuum lids on jars, seal them and place them in a pot submerged under water and boil for about 10-15 minutes. Let cool and store in a cool, dark place for up to 1 year.
You can see canning is a lot more work than quick pickling. With canning, you can do large batches of pickles that don't need to be refrigerated until after the jar is opened. With quick pickling, you need to refrigerate from the very beginning of the process and keep them refrigerated until you eat them. You'll want to eat them within a month or so.
---
How To Make Quick Pickled Cucumber Salad
Decide if you want to make this salad at home or at camp. Keep in mind 2 things:
It must be kept refrigerated until you eat it.
Fresh cucumbers need time for pickling in the vinegar solution so you'll keep the mixture in a refrigerator or cooler for 6 hours at the least. If you have a day or two for the brining process, that's even better to develop the flavor even more.
---
Recipe Prep
To Make At Camp
Get tips on keeping camping vegetables fresh during your travels.
To make this cucumber salad recipe at camp you'll want to make sure you have plenty of room in a cooler or refrigerator to keep the jar cold for at least 6 hours before serving.
---
Recipe Steps
Step 4. Serve cold and refrigerate leftovers. Some people keep cucumber onion salads in the fridge up to 2 months. We like our pickled vegetables to have a nice crunchy snap, so, I like to use them within a couple of weeks. The longer they sit, the less crispy they become.
---
Variations
You can use the same process and just swap out the veggies to quick pickle any type of vegetable. Try doing a cauliflower salad or use carrots for nice crisp camping side dishes.
---
What To Serve With This Recipe
This salad is a great option when you're making no cook camping meals.
If you're cooking your main dish, consider gluten free camping food with a simple grilled chicken or beef option.
Nothing tastes better than a cold salad with grilled sandwiches and burgers. Here are some of our favorites:
This Chuckwagon Sandwich is the perfect homemade deli sandwich!
Prepared pesto makes this Pesto And Turkey Grilled Cheese easy and provolone makes it cheesy!
This delicious Pastrami Reuben Sandwich will be on your table in minutes!
This Greek Tomato And Feta Camping Pasta Salad can be made in advance and is vegetarian too!
---
---
More Yummy Meal Ideas
Make every meal memorable and satisfying.