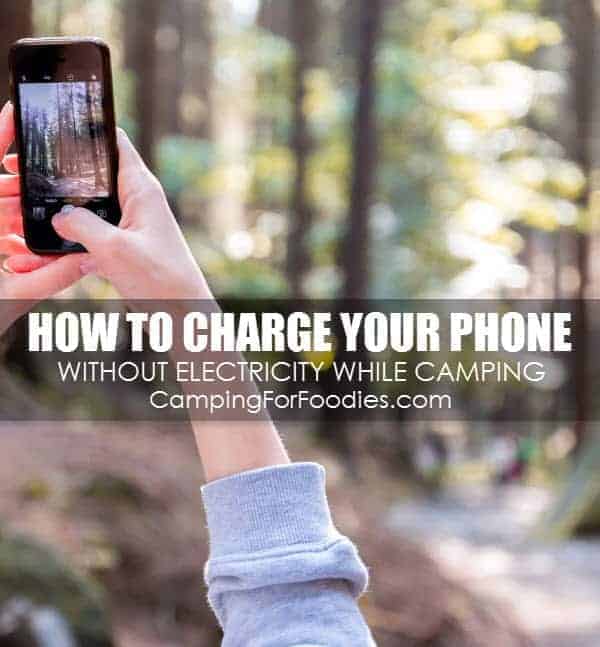 See how to charge your phone without electricity while camping using camp stoves, lanterns, Bluetooth speakers, hand-crank chargers, the sun and more!
Our camping tips usually focus on unplugging … but not this time! When you are boondocking in remote campsites it can be tough to keep your phone battery topped off.
This is a huge problem if you are using some of the best camping apps during your trip for navigating, hiking, fishing, bird watching, weather tracking, first aid and camping safety. Don't despair! These camping cell phone charger options are gonna blow your mind!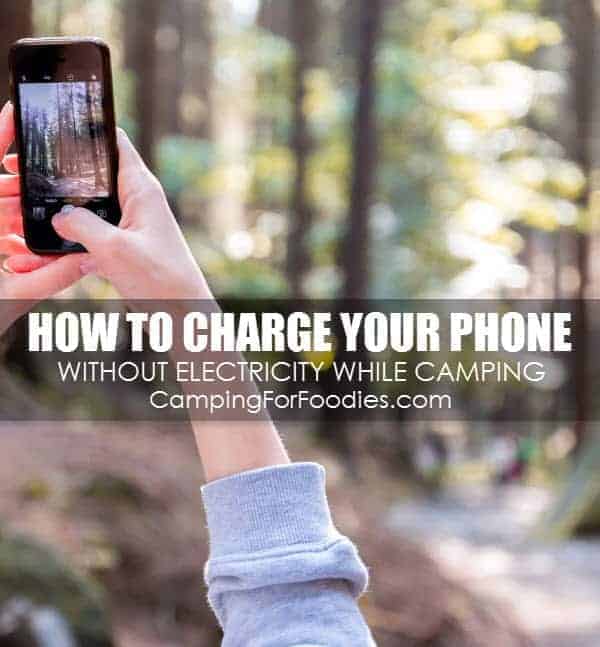 Psst we're compensated…see our disclosures.
How To Charge Phone While Camping (Without Electricity)
Knowing how to charge your phone in the wilderness is good for your personal safety while camping because you never know when you might need to dial 911 or use your device for navigation in an unfamiliar area.
Unexpected Camp Stove, Grill And Campfire Phone Chargers
Some of the best camping gear does double duty, like boil your water and charge your phone!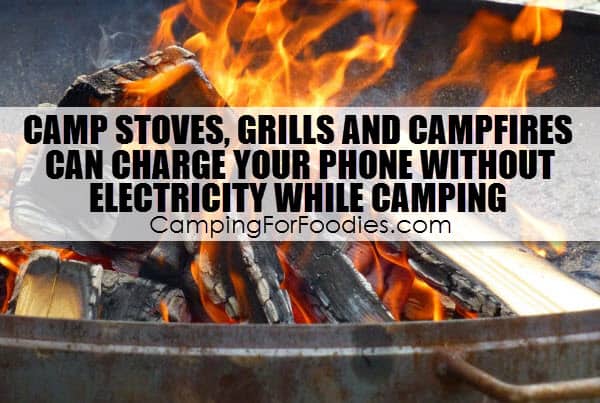 Who would have thought you could charge your phone with your camp cooking equipment or your campfire?
If you prepare simple camp meals, a BioLite Stove might be a great option for you to charge your phone camping in remote areas. But, if your camp cooking is more elaborate, you might want to consider some of the other phone charging solution options we like to use.
BioLite CampStove 2 Wood Burning And USB Charging Camping Stove
This lightweight camp stove is great for backpackers who like to travel light.
In addition to being able to grill, boil and cook with this device, it generates electricity by using burning wood as a power source.
Some benefits:
Fan creates smokeless fire, heat is turned into usable electricity
Generates 3W power to charge devices
Integrated battery
LED dashboard for control and feedback
Burns any renewable biomass such as wood, sticks, twigs, pinecones and crop waste
BioLite Campstove 2 Wood Burning Electricity Generating & USB Charging Camp Stove
---
Awesome Lantern And Flashlight Phone Chargers
Staying illuminated after the sun goes down is easy with camp lanterns and flashlights.
PackLite Hero 2-in-1 Supercharger Portable Solar Phone Charger & Lantern
Portable solar panels don't have to be huge in order to charge your phone or tablet. The LuminAID inflatable lantern doubles as a charging device. It does not have enough capacity to charge a laptop but it can charge a tablet or smartphone via its 5V 2 Amp output port and its built-in lithium-ion 4000 mAH battery.
Some benefits:
Portable power bank with enough capacity to recharge tablets
Inflatable and compact, deflates to 1″ thick, inflates to 6″ cube
Weighs less than 10 ounces
Super bright lantern, up to 300 lumens with 5 brightness settings
Recharges with solar or USB
100% waterproof and dustproof (IP67 rated)
PackLite Hero 2-in-1 Supercharger | Portable Solar Phone Charger & Lantern
---
Goal Zero Torch 500 Multi-Use LED Light
Consider your power preference, many gadgets operate using batteries, some are solar powered devices, some use standard wall power outlets and others can use multiple power methods.
Goal Zero's Torch is an LED light that can be used as a lantern, flashlight, spotlight or floodlight. It has a USB-C Input and a USB-A Output. At 500 lumen, this is one of the brightest lights in one of the smallest packages. The 5200 milliamp hours battery provides enough power to charge phones, headlamps or even a tablet.
Some benefits:
Portable power bank with enough capacity to recharge tablets
Compact size of approximately 9x2x4 inches
Weighs less than 13 ounces
Super bright LED, up to 500 lumens with 3 brightness settings
Recharges with solar or USB cable with a standard block wall plug adapter
Output: USB A Port 5V, up to 2.1A (10.5W max)
Input: USB C Port: 5V, up to 1A (5W max)
Goal Zero Torch 500 Multi-Use Light. Rechargeable, Weatherproof, Portable 500 Lumen LED Light Solar Lantern, Flashlight, Spotlight, Floodlight With Built-in Solar Panel, Phone Charger With USB-C Port
These types of chargers are great when you are playing geocaching camping games and you need to keep your phone charged to navigate to the hidden treasure and you also need a light if your game extends into the evening and you are hiking back to camp in the dark.
We have more tips on lighting options in our Best Camping Lights For Lighting Your Campsite post.
---
Surprising Speaker Phone Chargers
Why get a boring portable phone charger when you can get a portable speaker that can also charge your phone?!?! 
TREBLAB FX100 Portable Bluetooth Speaker
Bluetooth speakers are wonderful for tent campers and RV campers who don't have to listen to poor audio quality that comes from those horrible built-in speakers in their rigs!
Treblab's speaker is a dustproof, weatherproof, shockproof, and IPX4 waterproof travel speaker with a 7200 mAh battery. It is compatible with any Bluetooth device and has a built-in phone charger.
Some benefits:
Wireless Bluetooth 5.0 easily connects to iOS and Android devices
FM radio
Make phone calls with the built-in microphone
Up to 35 hours of playback on a single charge
Built-in 7200 mAh powerbank with battery life indicator
Water Resistance: IPX4
Micro USB charging port and charging cable
TREBLAB FX100 Portable Bluetooth Speaker, IPX4 Waterproof, Metal & Rubber Body, Up To 35 Hrs/Charge
---
Cool Hand-Crank Phone Chargers
If there was a way to "guarantee" power to charge your cell phone it would probably be with a simple but effective hand-crank device. There are lots of options when it comes to hand-crank phone chargers so consider what other features you would like to have in your equipment.
RunningSnail Emergency Hand Crank Radio, Flashlight & Phone Charger
Knowing how to charge phones without electricity in emergency situations is just one thing you may need to do. RunningSnail's emergency hank crank device has a 2000mAh built-in battery and has so many functions that are helpful when a disaster happens.
Some benefits:
The multi-functional compact-sized gear includes functionality needed while camping or in an emergency with a power outage
3 ways to power the device: hand crank, built-in solar panel and micro USB
LED Flashlight
SOS Alarm
Three band radio: AM/FM/NOAA weather channels with latest weather and hazard information for your area (hurricanes, wildfires, winter storms, earthquakes etc.)
2000mAh built-in battery bank charges cell phones via USB port
RunningSnail 2000mAh Emergency Crank Radio, AM/FM NOAA Solar Powered Crank Wind Up Radio with SOS Alarm, Bright Flashlight, Emergency Power Bank for CellPhone, Used for Outdoor & Emergency
---
Amazing Solar Phone Chargers
Camping and solar-powered gadgets are a marriage made in heaven!
Because you are already in the outdoors and under the sun … it is easy to use solar phone chargers to keep your phone battery charged.
Some things to consider include the amount of power you want your solar panels to produce, the number of devices you will be powering and the need for your solar charger to be (or not to be) waterproof.
Camping Tip: When using a solar charging device, keep the solar panel in direct sunlight but keep your phone protected from direct rays. Personal electronic devices can quickly overheat when exposed to direct sunlight for extended periods of time so keep them in the shade as much as possible.
We have great tips on using solar for lighting, cooking, showering and powering all sorts of camping and RV gear in our Solar Products For Camping post.
ROCKPALS 300W Portable Power Station
Portable battery packs are great, especially when you can recharge them without an electrical hookup. Rockpals makes an entire kit so you can safely charge phones, tablets, laptops and other sensitive devices without endangering their microprocessors.
Some benefits:
300W portable power station
60W foldable solar panel
280.8Wh outdoor generator with USB-C PD
110V pure sine wave AC outlet for "clean" power without surging
Charge 8 devices at the same time:

1 pure sine wave AC outlet
1 car outlet
2 DC outputs
1x USB-A QC port
2x USB-A ports
1x USB-C port

4 ways to charge:

Recharge battery to 50% in 1 hour through the wall outlet and 60W PD USB-C port simultaneously
AC adapter at home
Car outlet during a road trip
ROCKPALS 100W Solar Panel
ROCKPALS 300W Portable Power Station with 60W Foldable Solar Panel Included, 280.8Wh Outdoor Generator with USB-C PD, 110V Pure Sine Wave AC Outlet for Camping, RV, Travel Hunting, Emergency
---
Solar Power Bank Phone Charger
The power output levels available with the latest power banks can provide enough energy to charge multiple mobile devices at the same time using USB chargers with USB connectors as well as wireless charging options.
Some benefits:
38800mAh large-capacity power bank with USB port and solar panel
Charge up to 4 devices at the same time

1 Type C input/output
2 USB output charging ports
1 Qi wireless charge, compatible with all Qi-enabled devices

LED flashlight with three modes: strong, flash, SOS
Dustproof, shockproof, waterproof properties, certified IP 66 rating
Solar Power Bank 38800mAh, Portable Solar Charger, Outputs 5V/3A High-Speed & 2 Inputs, Huge Capacity Phone Charger, IP66 Rating, LED Flashlight
---
Powerful Generators & Alternatives
If your power needs go beyond keeping your phone battery charged, you may want to skip the specific camping cell phone charger only gadgets and just use a generator to meet all of your powered-gear needs.
Some run on gasoline and others on solar power.
We've had different generators over the years from different manufacturers. We currently use this Honda EU2200i as a backup to charging our solar panels when we have lots of cloudy days and the solar panels can't keep up with our demands.
---
Use Your Car Battery As A Phone Charger
If you are camping near your car it is possible to use your car battery to charge your phone through the cigarette lighter.
Many car chargers have multiple ports so you can charge more than one device at a time and others are rapid power for fast charging.
---
Use Your RV Batteries To Charge Your Electronics
We've tried different types of portable chargers and we've found the easiest way for us to charge our electronic devices is by using our RV batteries.
We camp in Arizona with abundant sunshine, so for us, the most efficient method to keep them charged is with our suitcase-style solar panels. When we draw power from the batteries we are using DC power so we have charging cords that fit into the cigarette lighter outlets in our camper. You can see our setup and VIDEO on portable solar panels for RV camping.
When we want to use AC outlets to run our coffee maker and TV, we turn on our power inverter. My husband did a DIY installation you can see in our VIDEO with tips on how to install a power inverter in a camper.
---
How To Reduce Your Phone's Energy Consumption
If you are willing to conserve power you can reduce or even eliminate the need to charge your phone while camping without electricity.
Here are a few tips to lower your phone's power consumption.
Update apps. BEFORE you leave home, make sure your apps are all up-to-date so your phone is not trying to do an auto update while you are in the wilderness.
Turn off apps. If you are not using apps … especially your social media apps … you should turn them off instead of letting them run in the background because they are big power drains on your phone's battery.
Turn off notifications. Do you really need to know one of your friends is chatting on Facebook Live when you are trying to unplug? Ummm, no! Notifications demand power so turn them off when you are camping.
Connectivity features … just say NO! The convenience of an electronic map is great until it drains your battery faster than the speed of light. If you are not actively using your phone's Location (GPS), Wi-Fi and Bluetooth functionality you should turn them off.
Don't use your phone as a GPS device. There are some awesome stand-alone GPS devices for camping. Some can be used for navigating roads as well as hiking trails. They work better in the wilderness than a cell phone, can be carried in your pocket and relieve your phone from a power-hungry task.
Use power saving mode. Some phones have "Extreme Power Saving" modes that limit the phone's functionality for the purpose of saving power and extending your phone's battery life. Check out the specifics for your phone for details.
Reduce screen brightness. The brighter the screen, the greater the power consumption. So, lower the brightness level as much as possible to extend the battery life on your camping trips.
Don't use your phone's flashlight. It's convenient to use the flashlight app on your device when you need a quick light in dark conditions. Avoid this power-draining application in the wilderness. Instead, opt for a traditional flashlight or a hands-free headlamp to light your path.
Text instead of call. If you need to communicate while you are camping, try to reduce your talk-time as much as possible. Texting requires much less power than talking on your phone.
Keep phones at comfortable temperatures. Extreme hot or cold temperatures are not good for phone batteries which are designed to perform best at room temperatures. If you're planning winter camping trips in cold conditions, let your body heat keep your phone warmer than the cold outside air temperature. You can use a lanyard to hang it around your neck inside your coat during the day and tuck it under your blanket or inside your sleeping bag at night.
Use airplane mode. In areas with weak cell signals, mobile phones are constantly searching for a signal which drains juice from your battery. When your phone is in airplane mode, it stops searching for the signal which extends the battery life without the need to turn off the phone.
Turn off your phone. If you are camping in a remote area without good cell coverage, your phone will continue searching for a signal … this devours power and rapidly eliminates the battery power. So, only turn the phone on for short periods of time when you are actually using it.
---
If you are RV camping without electricity, we have tons of RV tips and hacks to help you keep your devices charged and anything else you want to power up!
---
Camping Trip Planner
---