Why would you want to know how to install a power inverter in a camper?
When your RV travel takes you camping to remote locations that are off the grid without a campground external power source, there are a few different methods to power your recreational vehicle's electrical system.
You can run off of your RV's battery system, but, that only provides 12-volt DC power (direct current).
It powers things like house lights, cigarette lighter outlets, USB ports, cooling fans, water pumps, stereo systems, as well as circuit boards for your propane refrigerator and hot water heater. These items are protected by fuses located in your RV's fuse box.
The 12-volt DC power system won't operate AC appliances or electronics like coffee pots, blenders, standard electric blankets, televisions or personal electronic devices that plug into your 110 volt RV outlets.
If you want to power AC equipment in your travel trailer, you can either power the entire electrical system with generator power by plugging the generator into the RV's 30 or 50
amp receptacle, usually located on the outside of your camper.
Otherwise, you'll need to use an RV power inverter to convert the DC power from your 12v batteries into AC power that runs to your RV's 110 volt existing outlets.
This is one of my favorite RV tips and hacks because it allows me to enjoy a cup of coffee brewed in our Keurig coffee maker.
Psst we're compensated…see our disclosures.
---
Types Of Inverters
Before you begin your inverter installation, you need to determine the best RV inverter that will meet your power needs for the types of appliances you'll be operating.
There are three basic types of units:
Pure Sine Wave Inverters

Most expensive
Provides "clean" consistent power without surging
Good for powering sensitive devices with microprocessors like laptops
Most efficient
Generally more quiet

Modified Sine Wave Inverters

Mid price range
Provides "choppy" power that surges
Good for powering non-sensitive small appliances like lights, power tools and fans
Less efficient
Generally nosier, can produce a buzzing sound

Square Wave Inverters

Least expensive
Older design not used much today
---
Choosing The Right Inverter Size
Your batteries may store enough power to meet your demands, but the inverter output must be large enough to handle the amount of power the equipment requires.
For example, an air conditioner requires a lot of power to start the compressor but less power to continue operating after the initial surge. The difference between start-up (peak) demand and running (continuous) demand is important.
On the other hand, coffee makers require the same surge/startup watts as running watts. Here are some examples of standard camping equipment along with typical start-up and running watts.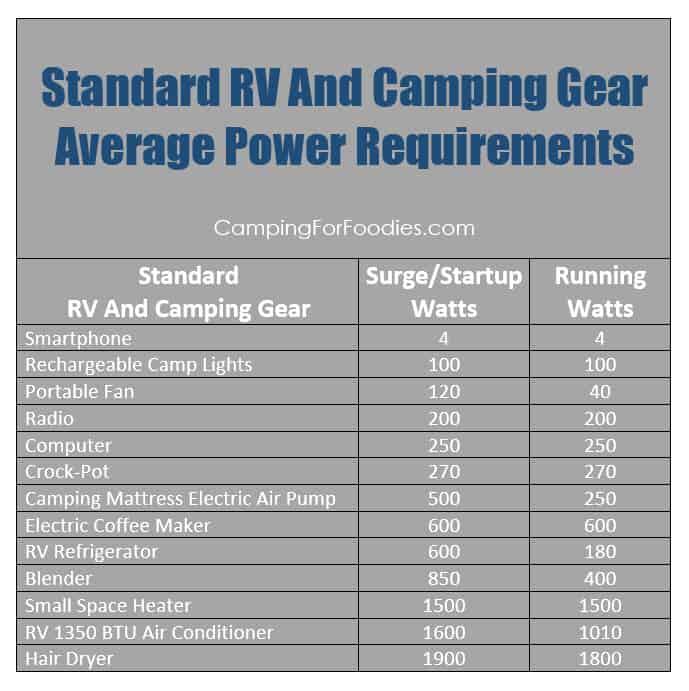 Rule of thumb for new RV inverter sizes
1000 watt inverter: This is a small inverter that is great for weekend campers. A smaller inverter will power things like TVs but not equipment with bigger power requirements like microwaves and hair dryers. You'll probably only be able to power one piece of equipment at a time.
2000 watt inverter: This is a lower-mid sized inverter that is perfect for conservative power usage full time campers who are willing to manage their power consumption as to not use multiple pieces of high-draw equipment at the same time including equipment like a hair dryer, microwave, coffee maker, TV and laptop.
We determined 2000 watt sine inverters would fit our needs. Ultimately we purchased a Hiplussun 2000 watt pure sine wave inverter that is able operate our Keurig coffee maker and our 43″ smart TV at the same time.
3000 watt inverter: This is an upper-mid sized inverter that is perfect for full time campers who want to be able to use multiple pieces of high-draw equipment at the same time including equipment like a hair dryer, microwave, coffee maker, TV, laptop and air conditioners.
4000 watt inverter: This is a large inverter that has the ability to handle large demands. Full-time RVers with this size unit can power large devices at the same time including equipment like a hair dryer, microwave, coffee maker, TV, laptop, air conditioners and induction burner.
---
Determining Your Power Requirements
The best way to determine how much power your new inverter will be required to manage is the same process that you need to determine how much demand you put on a solar power supply. We have a solar calculator with instructions to help you answer the question: How much solar power do I need for my RV?
The important thing to note is your maximum wattage demand when you're putting the biggest load on your system. The best approach is to purchase an inverter with a rating of at least 15% higher than your maximum load (or 115% of your anticipated highest load).
---
Difference Between Simple Installation vs Split Distribution Panel Installation
There are two main ways to install an inverter in your RV.
Our first method of choice was the simplest method. The inverter directly connects to the 30/50 amp shore power connector via an extension cord.
PROS:
Simple installation
Less expensive, less components
CONS:
Manually connect inverter to shore power outlet via an extension cord when you want to use the inverter.
Manually turn off the converter when using the inverter.
Manually turn on/off the inverter. If inverter is located in an exterior compartment, you have to go outside to turn on the switch unless the system has a FOB-controlled remote switch.
Our last method of choice was the more complicated method that connects the inverter to the RV's electrical wiring AC distribution box through an automatic transfer switch relay.
PROS:
Inverter is permanently connected to the RV's electrical system. There is no need to manually run the extension cord between the inverter and the shore power outlet.
The converter is automatically disabled when the inverter is on.
CONS:
More expensive, more components
More extensive installation process
Our decision: Use the simple, less complicated and least expensive installation method. We minimized the manual operation by choosing an inverter with a wireless remote FOB to turn the unit on and off from inside the RV.
---
Simple RV Inverter Install: Equipment, Tools & Supplies
Our simple DIY installation process requires an inverter along with some tools and supplies. Here are the main items we used:
Tools:
Screwdriver
Drill (Needed if holes need to be drilled to run wire through bulkhead etc. This may not be necessary for your installation.)
Crimping tool
Hammer
Wire cutters
Heat shrink gun
Supplies:
2000 Watt Inverter Pure Sine Wave Power Inverter With Wireless Remote
Victron Energy SmartShunt 500 amp Battery Monitor (Bluetooth)
AWG Cable 3/8″ Battery Lugs
4 Gauge 4 AWG Pure Copper Flexible Cable Wire
300 Amp Fuse
Master Battery Switch Kit
90 Degree USA Canada Male Plug
15 Amp, 125 Volt, PVC Grounding Cord Outlet
Power Cord Plug Adapter 15 amp male to 50 amp female
Mounting Cord Fastener Clips
Zipties
Mounting screws
2000 Watt Inverter Pure Sine Wave Power Inverter, Hiplussun Inverter 12v to 110v/120v DC to AC with Wireless Remote and Display and Dual AC Outlets and USB Port
Victron Energy SmartShunt 500 amp Battery Monitor (Bluetooth)
TKDMR 10pcs 2/0 AWG-3/8
4 Gauge 4 AWG 15 Feet Red + 15 Feet Black (30 Feet Total) Welding Battery Pure Copper Flexible Cable Wire – Car, Inverter, RV, Solar
InstallGear 0/2/4 Gauge AWG in-Line ANL Fuse Holder with 300 Amp Fuse
Master Battery Switch Kit with Screws 12-48V – Power Cut-Off Switch – Battery Isolator Disconnect for Cars, Trucks, RV, Campers, Boats – Waterproof On Off Function Automotive, Marine Switch
90 Degree USA Canada Male Plug Nema 5-15P 3 Pole Angle DIY Plug, 15A 125V USA 3Pin Right Angle AC Plug, Nema 5-15P Angled Rewireable AC Plug,12 Direction Male US 3Pole AC Connector
Leviton 515CV-OR 15 Amp, 125 Volt, PVC Grounding Cord Outlet
Leisure Cords Trailer dogbone power cord plug adapter 15 amp male to 50 amp female locking connector with LED Indicator (15 Male – 50 Female Twist)
Swpeet 60 Pack Black 5/8 Inch Nylon Plastic R-Type Cable Clips Clamp Kit, Nylon Screw Mounting Cord Fastener Clips with 60 Pack Screws for Wire Management
Towmavin Cable Crimper Tool Hammer Crimper for Crimps Battery and Welding cables 8 AWG TO 4/0 Wire Gauge
---
RV Inverter Installation Steps
CAUTION: Practice electrical safety tips when handling electrical systems and components. NEVER attach the positive (red) battery terminal until the total install is complete and ready for testing.
Diagram a layout for your specific installation based on your camper design. Paying close attention to:

Determine where the components will be mounted including:

Inverter
Battery/Batteries
Victron Shunt
300 amp Fuse
Battery Disconnect Switch
Verify internally-mounted batteries are properly vented per RV manufacturer, make adjustments if necessary

Determine where the wiring will run including:

From Negative Battery Terminal to Input Side of Victron Shunt

NOTE: If you have more than one battery in your camper, you only have to connect one battery to your new inverter because the other battery/batteries should be already connected in parallel (from the factory) and therefore will be automatically part of the new system you're installing. The battery you choose to connect to the inverter should be the one located in the position that is most convenient for the installation.

From Output Side of Victron Shunt to Negative Terminal on Inverter
From Positive (red) Battery Terminal to 300 amp Fuse
From 300 amp Fuse to Input Terminal of Battery Disconnect Switch
From Output Terminal of Battery Disconnect Switch to Positive (red) Terminal on Inverter
From the 120 volt AC Outlet on Inverter to 30/50 amp shore power adapter

NOTE: Some people use a normal extension cord for this connection. We chose to customize our installation because we wanted to eliminate cluttering the space in our basement with a standard extension cord. We also didn't want to leave the access door open to the basement. Instead, we wanted to run the exact amount of extension cord we needed along the unused top structure of the basement and eliminate excess cord in our storage areas.

Gather all supplies and tools.
Disconnect terminals from all batteries while doing the installation.
Mount the components.
Crimp terminals on wiring and run wires to connect components according to your diagram.

CAUTION: It is a good idea to follow DC electrical wiring best practices wiring convention: red wires carry the positive voltage, and black wires carry the negative voltage (circuit ground).

BEFORE connecting positive (red) battery terminal, do the following:

Ensure the 300 amp Fuse is in place
Ensure Battery Disconnect Switch is in the OFF position
Ensure the Inverter Switch is in the OFF position

When all components are installed properly, connect the Positive (red) Battery Terminal to the Positive (red) Post on the Battery.
Turn ON the Battery Disconnect Switch.
Turn ON the Inverter.
The final step is to test for proper operation according to the inverter user manual.
---
How Much Does It Cost To Install An Inverter In An RV?
The total cost of our supplies was a little over $500. We did the entire project ourselves so we didn't have any labor costs.
---
After Adding Inverter To RV
There are a few things you need to know to get the best performance out of your new inverter system.
DO keep your RV batteries charged throughout the day
We keep our batteries charged with solar panels. We use one portable 100 watt suitcase style folding solar panel set that connects to our batteries through a portable solar panel connection built in to our trailer as well as a 190 watt roof-mounted solar panel.
DO monitor your electrical usage
One of the things we really like about the Victron SmartShunt is the ability to monitor the demand from our appliances. The smart shunt connects to your mobile device via bluetooth. It displays the amount of the electrical current that is flowing into (or out of) your house batteries.
DON'T charge your house batteries with your inverter
Before you turn your inverter on, turn off the converter circuit breaker, located in your RV's circuit breaker panel, because you don't want to be charging the RV batteries with the inverter. You just want to power outlets on the interior and exterior of your camper.
DON'T use electric to power your refrigerator and hot water heater
Run your refrigerator and hot water heater in gas mode so you are not using battery power … unless … you have a larger inverter and larger battery bank. If your system is big enough, you can run all those appliances on electrical power but we chose a more moderate system and continue to use propane to operate those devices.
---
More Camping Tips
See our VIDEO that shows you how to set-up, monitor and use Portable Solar Panels For RV Camping.
Find the Best Quiet Generators For Camping.
Learn How To Choose, Use And Maintain The Best RV Battery.
Get our FREE Printable RV Tool Kit Checklist.
Get more camping tips to have safe, fun, stress-free camp trips in the great outdoors!