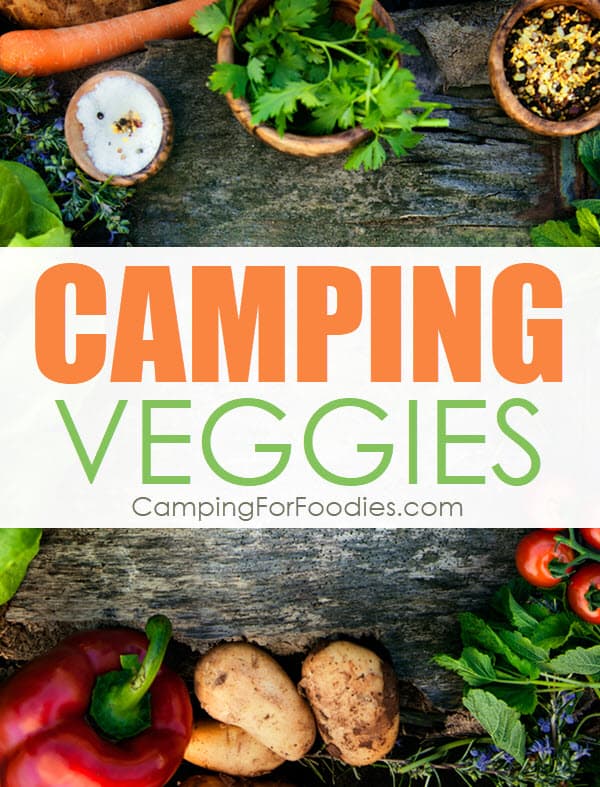 Psst we're compensated…see our disclosures.
How Do You Eat Vegetables While Camping?
It is easiest to bring canned or frozen vegetables to the campsite … but … if you want fresh veggies, you have a bit of work to do. Follow these tips for keeping your camping veggies fresh and fabulous!
---
Pack Under-Ripe Produce
Buy produce that is slightly under-ripe if you are eating it later in your trip. The goal is to give it time to ripen so it is at its prime when you are planning to eat it.
---
Use Most Delicate First
Plan your camping menu so you are eating the most delicate vegetables first. Leafy green vegetables will not last as long as carrots and potatoes.
---
How To Keep Food Fresh While Camping
Using good camping food storage techniques is important for all of your food … but it is critical to extend the life of fresh veggies and fruit.
---
9 Tips To Make Your Produce Last Longer
Camping Food Storage Tip: Think about your grocery store's produce department.
If you pick up an item from a refrigerated case (lettuce, cucumbers, cherries, berries etc.) … you need to keep it cold on your camping trip.
On the contrary, if you pick up an item from a non-refrigerated case (potatoes, tomatoes, apples etc.) … you need to keep it at room temperature on your camping trip.
Tip 1. Keep room temperature produce in a cool area that is dry and well-ventilated.
Tip 2. Fruits and vegetables break down faster when they are stored in sealed bags.
DON'T store room temperature produce in plastic bags or in airtight containers.
Tip 3. Don't store sensitive fruits and veggies in a super-cold part of your RV refrigerator or cooler … it can wilt or even freeze … don't ask me how I know that. LOL
Tip 4. On the flip side, don't store sensitive fruits and veggies around hot surfaces like stoves and campfires.
Also, don't store it on counters and tables in direct sunlight.
Tip 5. Mold needs moisture, so wash your produce when you are ready to eat it.
If you want to pre-wash your fruits and veggies at home, make sure you thoroughly dry them before packing.
Tip 6. Separate and layer leafy greens with paper towels to absorb moisture, prevent wilting and premature decay.
Tip 7. Choose longer shelf life varieties of veggies. For example, green bell peppers tend to stay fresher longer than red, orange and yellow varieties. Kale, spinach, cabbage and iceberg lettuce last longer than romaine, arugula or spring mixes.
This is why I use spinach instead of regular lettuce in my BLT camping wraps.
Tip 8. Don't purchase bruised produce.
Tip 9. Ethylene accelerates the ripening process of produce. Store ethylene-producing produce separately from ethylene-sensitive produce.
Ethylene-PRODUCING Produce
Ethylene-SENSITIVE Produce
---
How Do You Eat Healthy When Camping?
You can add lots of fresh fruits and vegetables to your camping menu for healthy well-rounded meals.
---
Recipes For Camping Veggies
---
---
---
---
Try some new camping dinner ideas on your next trip!
---
This simple one pot dinner combines can be cooked in a cast iron skillet or Dutch oven. Dried farfalle pasta is cooked in beef broth and combined with steak, prepared pesto sauce, garlic, grape tomatoes and Parmesan cheese for an amazing meal ready in about 30 minutes.
We have amazingly tasty one pot camping meals you need to try!
---
---
Who puts veggies in their oatmeal for breakfast? I do! This recipe uses shredded carrots, raisins and spices for the base. The "cream cheese frosting" is made with honey and yogurt then topped with walnuts and coconut! It sure is better than a bag of trail mix to start your day. Try it on your next camping trip!
Get new and exciting sweet and savory camping breakfast ideas!
If you want to avoid meat entirely, you can make these yummy vegetarian camping recipes.
---
What Food Do You Bring On A Camping Trip?
---
Non-Perishable Camping Food Storage
Eating the most delicate food toward the beginning of your trip will make it easy to enjoy fresh food without the worry of trying to make it last longer than is possible when you are camping in less-than-ideal conditions.
---
Get Meal Ideas
Veggies might be your main dish or a side dish, here are some awesome recipes you should try on your next trip.