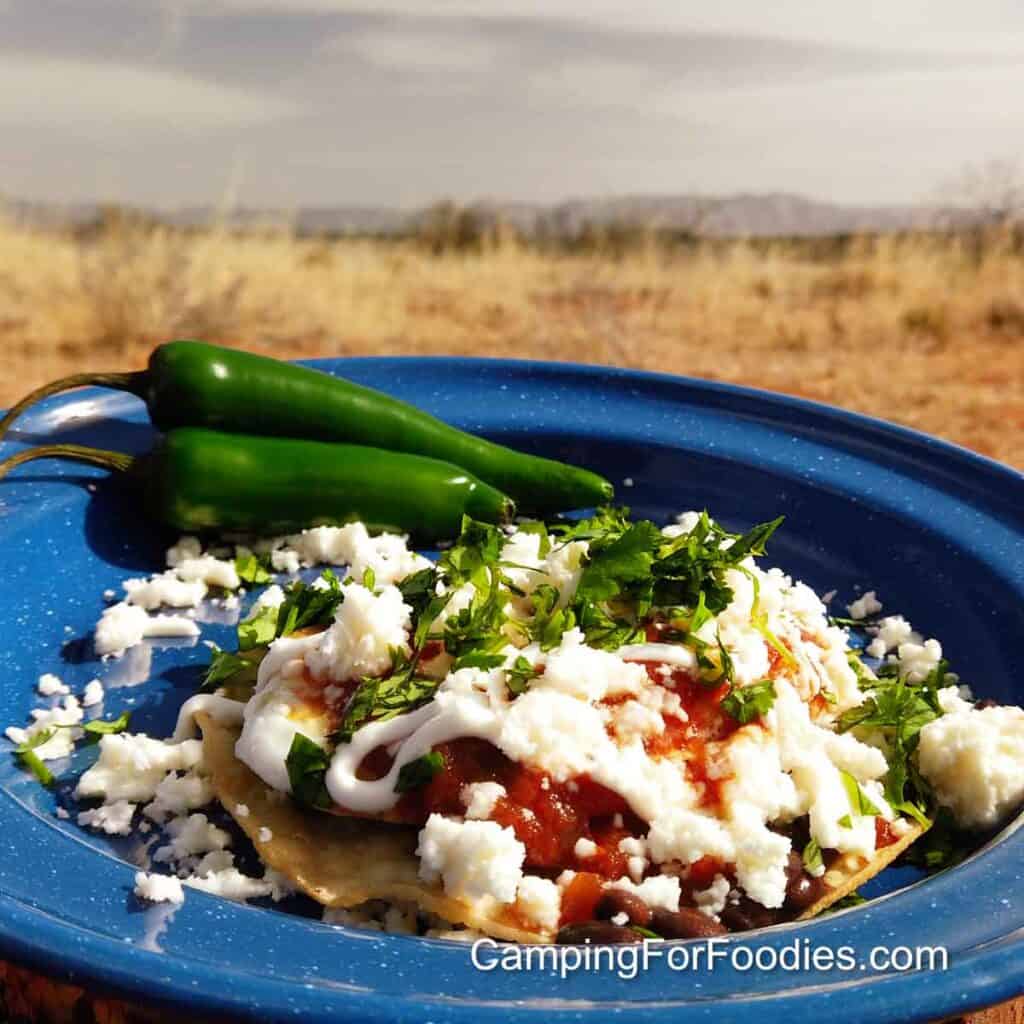 Psst we're compensated…see our disclosures.
How I've Made It Easy
This classic Mexican breakfast is commonly served on Mexican farms. The dish's name, rancher's eggs (huevos = eggs and rancheros = rancher or ranchman) is typically a simple but hearty breakfast featuring a fried egg on a corn tortilla and topped with warmed salsa.
An authentic Mexican recipe usually starts with a homemade New Mexico red chile sauce that combines tomatoes, white onion and garlic in a food processor or blender to make a smooth tomato sauce. Flavors are added by stirring in spices like cumin, red chile powder and oregano.
A typical breakfast at camp doesn't include ingredients requiring the use of electric appliances. So, to make this easy huevos rancheros recipe at the campsite, I'm using a prepare picante sauce. I love homemade corn tortillas but I'm using a store-bought prepared soft corn tortilla to keep it simple.
---
Recipe Prep
One of the great things about this breakfast is that no chopping is required! You'll just need to get your ingredients and cooking equipment ready.
Camp Cooking Tip: I like making all of the components of ranch-style eggs at the same time so I use 4 pans and serve directly out of them. Traditionally, the tortillas are fried in about one inch canola oil then removed. The ranch eggs are fried directly in that oil. I prefer cooking the eggs in butter so I use a separate pan.
---
Cooking Methods & Equipment
If you have a 2-burner stove and you want to make this as one of your camp stove recipes, you'll be heating the beans and frying the tortillas first, then warming the sauce and frying the eggs last.
If you have a large enough grate and you want to make this as one of your campfire recipes, you can have all of the elements of this dish cooking at the same time.
---
Recipe Steps
Step 1. Prepare your ingredients, heat source and equipment as directed.
Step 2. Heat the beans. Place a large saucepan over medium heat to warm the beans.
Step 3. Heat the sauce. Pour picante sauce in a medium saucepan and cook till warm over medium low heat.
Step 4. Fry the tortillas. In a small skillet, heat oil over medium-high heat and fry tortillas. Remove from pan, let drain on paper towels. Set aside and keep warm.
Note: This is a great gluten free camping food option that uses corn tortillas. If you substitute a different type of tortilla, you may be adding gluten to this dish.
Camp Cooking Tip: Use a cast iron skillet or Dutch oven when frying. It's a great way to keep your equipment well-seasoned and in good condition.
Step 5. Fry the eggs. Melt butter in a frying pan, crack eggs into pan and season with salt and pepper.
Camp Cooking Tip: Traditionally this dish is served with sunny-side-up eggs with runny yolks. But, cook them to your likeness. You can even do a version with egg whites without without yolks if that's your preference.
Step 6. Assemble the dish. Layer the ingredients in this order: tortilla, beans, egg and warm salsa. Add optional toppings, if desired.
---
Substitutions
Corn tortillas are smaller than other types of tortillas. If you substitute a different type, make sure you are using the street taco size.
---
What To Serve With This Recipe
This dish is an entire meal on its own so you really only need to add a beverage on the side. I like serving a small cup of coffee. Here's tips on how to make coffee when camping.
If you have meat eaters in your group, you may want to serve a side of bacon or breakfast sausage with this meal. Bottom line is, you've gotta keep your campers happy!
---
Scaling Servings
For serving larger groups of people, you'll want to start an assembly line. It's easy to keep the beans and sauce warm but you'll have to keep doing the tortillas and eggs as you serve people.
---
---
More Yummy Meal Ideas
There's a first time for everything. The first thing you need to do is find some new recipe ideas for your next trip!