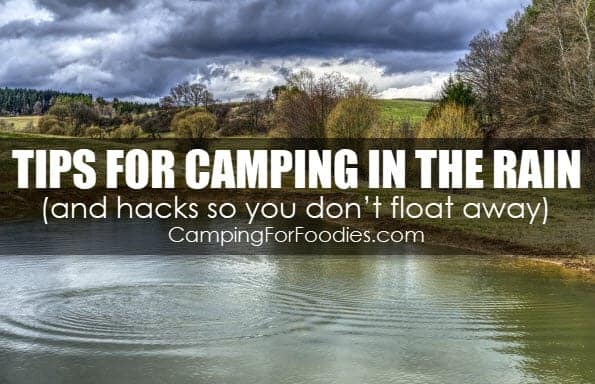 One of the most useful camping tips is how to deal with rainy camping trips! So, the weather forecast calls for a chance of rain and you have a trip planned packed with camping fun! What do you do? You pack a few wet weather camping essentials and you go camping in the rain!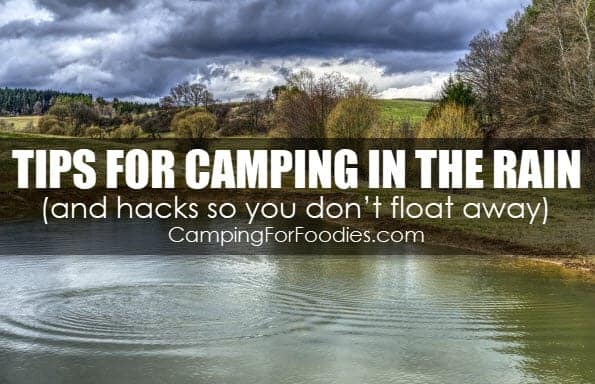 Psst we're compensated…see our disclosures.
Camping In The Rain Hacks
Execute our camping in the rain hacks, use our cooking tips for camping in the rain, plan a couple of camping rainy day activities, and GO ON YOUR CAMPING TRIP … WITHOUT FEAR!
You may want to grab your FREE copy of our checklist for camping, Ultimate RV And Tent Camping Checklist so you can jot down notes as we go through this list of tips for camping in the rain.
Before Leaving Home
Tip #1: Watch The Weather.
Anticipating and preparing for the rain is half the battle when it comes to camping. You should watch the weather forecast and track storms in real-time.
That is easy when you are using the best camping apps in advance of … and … during your trip. They are awesome and they are FREE!
---
Tip #2: Waterproof Your RV, Awnings And Tents.
Camping in the rain has different challenges if you are tent camping or RV camping.
If you'll be using a new waterproof tent, you should be good to go.
If your tent is a bit worn, you should prepare it by applying a heavy duty water repellent and sealing the seams with a waterproof seam sealer.
Heavy Duty Water Repellent
Waterproof Sealant Adhesive
The waterproofing spray is also great for applying to ski and rain jackets, boots, hiking gaiters, backpacks etc.
Even when we are camping in our RV, we still have the need to treat the fabric and seams of our Coleman 13×13 Instant Pop-Up Canopy.
While on camping trips, we have enjoyed lots of rain showers under the protection of this camping rain canopy. We love ours and have had it for years. It is durable, vented at the top and stores easily.
It's great for protection from the sun too! In Arizona we do need RV tips and hacks for sun protection! LOL
If you are RV camping in the rain, before you leave home, you need to remove old/cracked sealant and apply new waterproof caulking around windows, vents, air conditioning units, doors and anywhere there is a seam.
You also want to check your RV awning and repair minor rips with RV Awning Repair Tape before they become major tears!
In order to prevent damage to awnings in rainy and windy conditions in the first place, you should secure them so they don't flutter and eventually tear.
If you don't know how to keep RV awnings from flapping, make sure you check out our video and print the instructions to do this DIY hack. 
Use temporary fixes when needed.
If you happen to spring a leak around one of the roof vents while camping in the rain, a quick, easy, temporary fix is to take a handful of plumbers putty and press it into the leak area and … BINGO … the leak is stopped until you can get home and make a permanent repair.
It doesn't harden which makes it easy to remove when you get home.
---
Pack Your Camping Rain Gear
Tip #3: Pack Rain-Resistant Clothing And Footwear.
One of the biggest camping tips for a rainy day … Don't run out of dry clothes!
Make sure you have enough camping rain gear for everyone in the family.
Hooded ponchos or rain coats are wet weather camping essentials.
It is important to have waterproof shoes or rain boots too.
The easy-on handles and fun patterns available in kids rain boot styles will make them want to wear their rain gear even after the sun comes out!
Waterproof Rain Poncho
Rain Boots
Kids Rain Boots
If you forget to pack these items, use one of the age-old camping hacks to stay as dry as possible: use large plastic garbage bags as a poncho by turning them upside down and cutting holes for your head and arms to poke through. Wear it over your dry clothing. It'll look like a giant plastic t-shirt and will help you from getting completely soaked.
---
Tip #4: Store Gear In Waterproof Containers.
If it rains too much and the conditions remain wet, it will be next-to-impossible to dry towels, clothes, socks and shoes/boots … so, don't let them get wet in the first place.
Use waterproof bags or plastic containers to protect your gear from getting wet.
If you are camping near your parked vehicle, you can use it to shield your gear from the rain by placing your waterproof storage containers under the vehicle.
But, make sure your gear is elevated off of the ground. Rocks and dead tree branches are usually good sources of "elevators" you can easily pick up around the campsite.
Store dry clothes in a waterproof container that is protected from the rain.
Waterproof Dry Bags are great because they are flexible and Clear Storage Boxes are nice because you can easily see the contents and they are stackable.
Waterproof Dry Bag
WeatherShield Clear Storage Boxes
---
Tip #5: Your Stuff Got Wet, Now What?
Pack a clothesline or other hanging apparatus in your gear before leaving home!
So, when camping in the rain, if your clothes or shoes get wet, hang them in an area protected from the rain and allow them to dry.
Portable Travel Elastic Clothesline
If you are lucky enough to have a fire going in a location that is protected from the rain, you can use the heat of the campfire to dry your wet clothing items … just make sure you don't catch anything on fire in the process!
If you are tent camping, string a clothesline under a tarp and hang your wet items to dry. In a worst-case scenario, your body heat inside a sleeping bag will be sufficient to dry a few damp items you place in the bag with you overnight.
If you are RV camping in the rain, you can usually find a spot inside your vehicle to hang wet clothing to dry.
The shower area is our personal favorite … the wet clothes are out of the way and hanging over the drain so there is no mess to clean up afterwards.
---
Remember To Pack These Wet Weather Camping Essentials
Tip #6: Use Towels For Wiping Surfaces.
There is nothing worse than being in relatively dry clothes and then sitting on a rain-soaked chair!
Use a water-absorbing, fast drying cloth to wipe down picnic tables, chairs and other wet gear.
Wring out the towel and hang it to dry so it is ready for the next use.
If you are tent camping, you'll want to wipe accumulated moisture from inside your tent too.
---
Tip #7: Protect Electronics In Zip Lock Bags.
As much as we all like to unplug and do a digital detox when we are camping, we do use electronic devices that hate water … not to mention, they are expensive to replace!
So, protect your electronics from the rain by sealing them in a heavy-duty zip lock bag.
Most personal electronic devices fit easily in quart sized Ziploc bags but you will need gallon size for larger devices.
Ziploc Food Storage Freezer Bags
---
At The Campsite: Tips For Camping In The Rain
Tip #8: Set Up Camp: Location Is Everything.
Location, Location, Location!
This is one of the most important camping safety considerations during rainy camp trips.
DO set up camp on high ground … avoid low-lying areas.
This is true of tent camping, as well as RV camping in the rain.
We have fish-tailed our way out of a muddy campsite while pulling our travel trailer.
We thought we were going to get stuck in the mud.
I looked like I was watching a horror movie as I white-knuckled my ride from the passenger seat.
DON'T set up camp under a tree … DO find a clearing when you are camping in the rain.
Thunderstorms can accompany rain and that means trees can become lethal weapons!
At worst, trees can act as lightning rods … at best, they might only produce falling branches.
In either scenario, you want to avoid camping under a tree!
---
Tip #9: Which Are The Best Tents For Camping In Rain? Solid Ones!
The flimsier the tent, the more likely you (and your stuff) will get wet when camping in rainy conditions.
Using a sturdy waterproof tent is the foundation for tent camping in the rain.
Construct an overhang above the top of your tent by suspending a tent rain tarp and a firmly fastened rain fly to take the brunt of the rain.
Make sure they extend beyond the tent without touching the tent itself, that way you can keep your tent windows open for proper ventilation to avoid condensation inside as well as keeping the rain out.
Waterproof Rain Fly Tent Tarp
Waterproof Multi-Purpose Poly Tarp
Another tent alternative for camping in the rain is to use a Truck Bed Tent.
If your tent is off the ground, you don't have to worry about water coming in from the ground. With extra insulation and good quality sleeping pads, the bed of a truck can be a really comfortable place to camp in wet conditions.
Full Size Standard Bed Truck Tent
These tents keep you off the wet ground and have water resistant fabric, tape sealed seams and a rainfly.
The downside is that they only sleep 2 adults but for camping couples, they are great!
These truck tents are cool gifts for people who camp and live in climates that are typically wet and experience rain on a regular basis during their trips.
---
Camping Rain Canopy & Other Shelters
Tip #10: Protect Gear From Getting Wet In The First Place.
Most camping gear is designed to be stored and used outdoors.
That means you need to protect it from getting wet when camping in the rain.
Bring extra tarps and plastic trash bags to cover fabric gear like backpacks and folding camp chairs.
Also, don't forget to protect the gear you use for fires and cooking, like matches, charcoal, tinder, firewood as well as the campfire pit itself.
When the raindrops disappear, you are probably going to want to start a nice campfire to warm up after the temperature drop from the rainstorm.
---
Camping In The Rain Hacks
Tip #11: Keep The Campfire Burning!
If you are lucky enough to have a healthy campfire burning before the rainstorm moves in to the area, you may be able to keep it going throughout the rainy period by placing big logs on top of the fire but leaving enough gaps for oxygen to keep the fire burning.
Your goal is to have a layer of logs and coals under the protection of the top layer so even if the logs on top are drenched and extinguished, you still have a robust fire below.
The first time we did this, we were amazed at how the fire was able to continue burning in heavy rain … that experience gave us tremendous insight to the colossal strength of wildfires.
---
Tip #12: Use Fire Starters.
Keeping your campfire wood dry is important but you have to create the flame to get everything going in the first place.
We have a couple of camping in the rain hacks specific to campfires! Have a few sources available to start the flame like a Stormproof Match Kit With Waterproof Case and a Ferro Rod Fire Starter which works in all weather conditions and at high-altitude.
Once you have the tinder lit, it is really handy to have a little Collapsible Pocket Bellow Fire Tool to add oxygen and get the fire rolling.
Stormproof Match Kit
Ferro Rod Fire Starter Sticks
Collapsible Pocket Bellow
This is what I call a 2 for 1 … fire starters are really great no matter if you are camping in dry or wet conditions … and you may need a fun activity for kids on soggy camping days … so, why not make your own fire starters as an indoor project when camping in the rain?!?
Check out our post How To Make Homemade Fire Starters Using Dryer Lint Easy DIY Camping Project for easy instructions!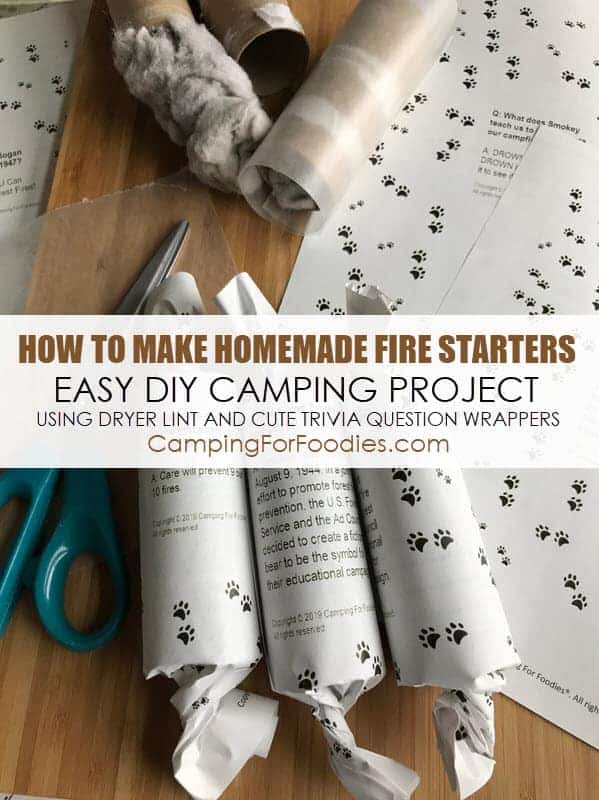 ---
Tip #13: Dig A Trench To Divert Water When Camping In Heavy Rain.
We try to avoid this at all costs because (1) digging a trench is like work and when we are camping we are trying to relax from working, and, (2) we live by the "leave no trace" motto of camping.
BUT, there are times when a downpour causes unwanted puddles and streams and you have to DO SOMETHING so you DON'T FLOAT AWAY!
We have dug trenches to divert water from flowing into our tent and campfire pit.
We have also dug trenches to drain puddles that blocked dirt roads making them non-passable when we were trying to leave the campsite for our scheduled trip home (and we had to get back to work)! LOL
Here's how to divert rain water that is flowing along the ground in order to avoid a flooded campsite:
DON'T try to dramatically re-engineer the natural drainage of the area.
DO dig a small diversion channel away from your campsite working with the natural drainage pattern of the land.
Extend the small channel beyond the area you are trying to protect from flooding.
Here's how to divert rain water that is standing in a puddle:
At the lowest point of the puddle, dig a small channel allowing the water to flow out and drain the puddle.
Now, gather organic matter from the area to stabilize the drained puddle so it can be driven over without sinking into the mud.
Look for dead and down small tree branches, pine needs and dead leaves to fill the hole.
---
Rainy Day Camping Meals And Cooking Hacks
Tip #14: Cooking Rainy Day Campfire Food.
Because we live in Arizona and we often have fire restrictions on our camping trips, we have learned to be prepared with alternate methods of cooking that don't require campfires.
These lessons come in handy when we can't have campfires because of camping in the rain too!
Our Camping Recipes List is organized and indicates cooking method so you can easily find recipes specific for camp stove cooking, no-cook (raw) or Dutch oven cooking!
Many campfire Dutch oven recipes can be made using a propane stove as a heat source.
That makes it easy to prepare your camp meal under the protection of an awning or tarp.
If you followed Tip #10 for camping in the rain by keeping your charcoal from getting wet, you can also use charcoal briquettes as a heat source with your Dutch oven, just be sure to place the coals on some sort of pan (like an old cookie sheet) so they are not extinguished by the rain-soaked, wet ground.
---
Camping Rainy Day Activities (for kids and adults)
Tip #15: Play Rainy Day Camp Games And Activities.
When a family camping trip turns soggy … it's no problem (if you are prepared.)
Camping in the rain with kids can be challenging because so many camping activities are centered on a campfire!
But, when you are camping in the rain, you may not be able to enjoy your normal events.
Plan ahead with rainy day camp games to enjoy.
Consider small and portable board games, card games, puzzles and books.
The best board games for camping are actually tons of fun rain or shine!
We've got lots of ideas in our 10 Fun Activities And Campfire Games For Families With Kids post is filled with fun activities that don't actually require a campfire!
---
How To Camp In The Rain And Safely Hike Too
Tip #16: Hike Carefully.
Most people don't put hiking on the top of their list of camping in the rain activities.
But, we all go camping to get outside! Being sheltered under an awning or inside a tent or RV can actually drive you crazy if you get stuck there for an entire camp trip!
IF, you decide to brave the elements and hike in the rain, be super careful and pay extra attention to fast running water crossings, flash flood conditions in canyons, lightning and slippery hiking trails.
Your inner and mid layers should be made with polyester or wool because of their moisture-wicking characteristics. Avoid cotton because it absorbs and holds moisture and is difficult to dry after it gets wet.
For your outer layer, make sure you wear waterproof clothing like rain pants and jackets that don't absorb and hold moisture. Your goal is to keep your base layers dry.
Carry a few bandanas in case you need to wipe away some mud or water, wear good waterproof hiking boots and use trekking poles (even if you don't normally use them).
Lightweight Quick Dry Waterproof Hiking Pants
Glow In The Dark Stargazer Bandana
Waterproof Hiking Boots
Trekking Poles
No hike is worth landing in the hospital where you'll wish you were back at a soggy campsite staying put and sipping a nice warm cup of Campfire Hot Cocoa!
---
Tip #17: Air Out Your Gear.
When your trip of camping in the rain is over, and you get back home, be sure to clean and fully dry your gear before packing it away.
If you don't, you will probably be faced with disgusting moldy gear on your next trip and you really don't want that!
For RV campers, roll out the awnings and slide outs to make sure they are thoroughly dry too.
Don't forget about your rugs!
We love our RV Patio Mat Rug because it folds up to store nicely.
The tough nylon material is easy to clean and water won't puddle on it.
It just takes a few minutes to sweep it off and dry it out in the sun when we get home so it is ready for our next camping trip.
Outdoor RV Home Patio Reversible Mat
---
No time to look for recipes, create a menu and write a grocery list? No Problem! Get our 3-Day Dutch Oven Camp Menu Plan here!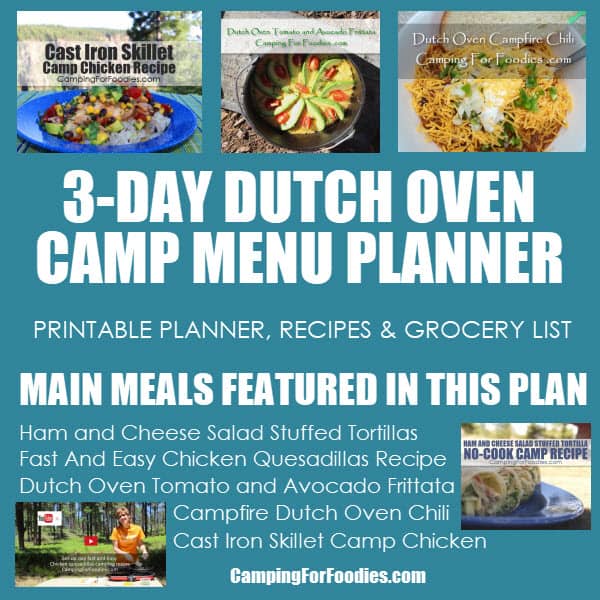 ---