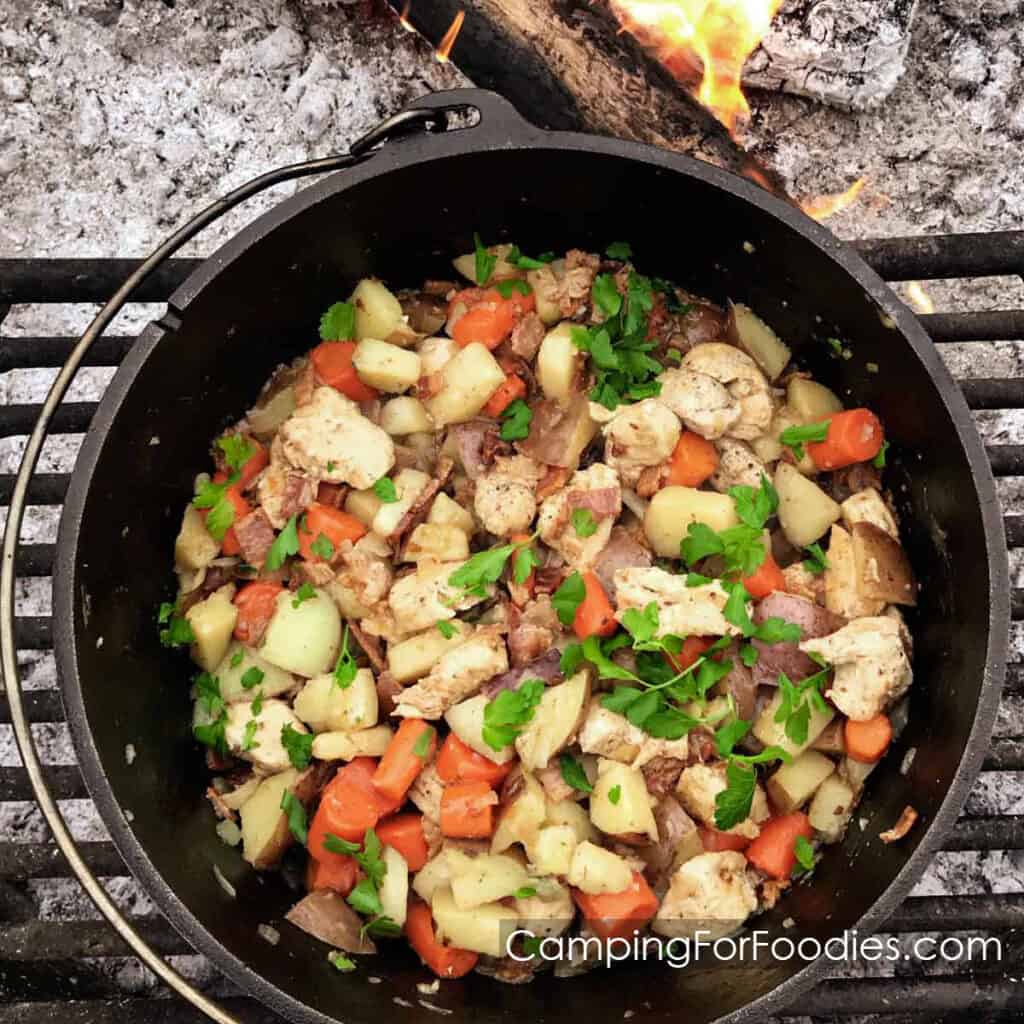 Our family enjoys Dutch oven camping recipes that are easy to prepare and quick to cook on busy camp days. This Dutch Oven Chicken And Potatoes dinner uses simple ingredients to make a hearty supper of chicken, potatoes and carrots. Best of all, this is one of my scrumptious one pot camping meals that will be on your picnic table in about 30 minutes.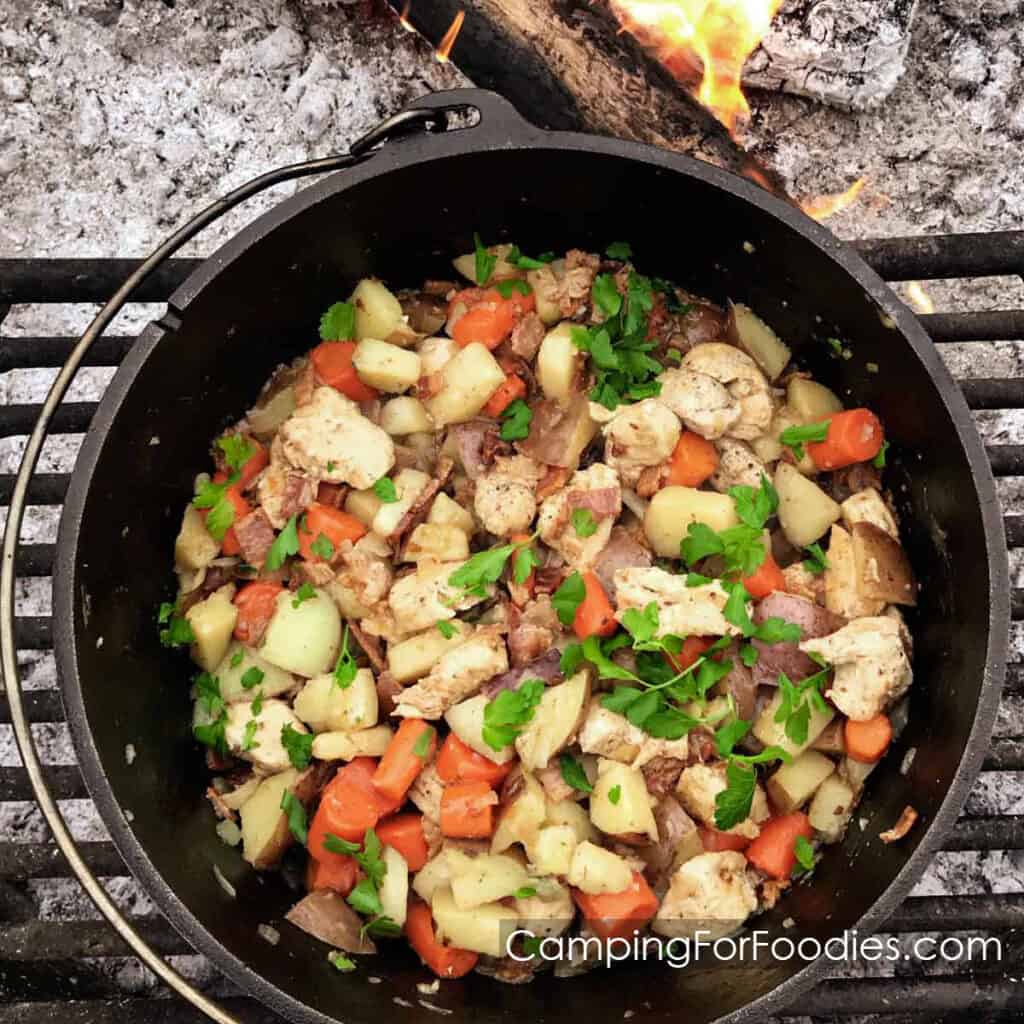 Psst we're compensated…see our disclosures.
Prep To Make Loaded Chicken And Potatoes
The secret to making easy camping meals is to use really tasty ingredients so they do the heavy-lifting when it comes to flavoring your food … we use bacon in this dish to add instant seasoning and texture to this recipe.
You'll need to chop some bacon, chicken, onion, garlic, potatoes and carrots for this recipe. You can prep all of it at home or just do it all at the campsite.
---
Camp Cooking Tip: I keep bags of cubed chicken in my freezer at home so they are ready to go whenever we want to take a quick camp trip. I label the bag with the date, contents and weight so I know exactly what is in the bag. It is a good idea to freeze 1, 1.5 and 2 pound quantities for different recipes.
---
Methods Of Cooking Chicken With Potatoes
This is one of my favorite easy campfire recipes … if you are cooking with coals from your campfire or charcoal briquettes, you need to get that heat source going early so it is up to the level you need it to be when you are ready to cook so plan for about 30 minutes of cooking time.
This recipe uses only bottom heat so it is perfect to add to your list of camp stove recipes which is especially helpful when campfire restrictions don't allow you to cook with an open flame. Get your stove ready to cook on a level surface.
---
Steps To Make Chicken & Potatoes In A Dutch Oven
Step 1. Prepare your ingredients as directed.
Step 2. Prepare your equipment and heat source. I recommend using a 12-inch cast iron standard-depth Dutch oven for this recipe. You'll be cooking over medium heat.
Step 3. Brown the bacon. You'll be using the meat and the fat from the bacon in this recipe. Add it to the pot, stirring occasionally until the bacon is browned. Leave the grease and bacon in the pan.
Step 4. Brown the chicken. Season the chicken with salt and pepper and add it to the pot, stirring until it is browned.
Step 5. Add the aromatics, veggies and broth. Now you'll add the onion and garlic … let it soften a bit then add the chicken broth, potatoes and carrots.
Step 6. Simmer and serve. Place the lid on your Dutch oven and adjust the heat so the pot is gently simmering. This is where you are actually cooking the chicken and vegetables. Then, you'll remove the lid and continue cooking until it reaches the consistency you desire.
Some people like the texture of a chicken stew with potatoes (which will be ready to serve right away), we prefer a less-soupy consistency so we continue cooking until almost all of the liquid is gone and we eat this meal with a fork.
Camp Cooking Tip: The nice thing about using cubed chicken is that you don't have to use a meat thermometer to check the internal temperature like you do when you making a whole chicken or turkey. If you want to do a whole turkey or roasted chicken recipe where you spread a butter blend under the skin and stuff the inside cavity of the chicken or turkey with aromatics like onion, orange and lemon, try our Grilled Thanksgiving Camping Turkey Recipe that we make on a modified Smokey Joe grill.
Step 7. Garnish and serve hot. I like topping meals with fresh herbs, parsley is my choice here. It finishes the dish nicely but it's totally optional.
---
What To Serve With This Meal
This is one of those awesome winter camping recipes that doesn't need anything else on the side but if you want to add extra carbs to keep you warm, serve a nice crusty bread with this meal.
If you are enjoying this gluten free camping food and want something on the side, serve it with a simple dinner salad.
---
Similar Camping Recipes
If you like this meal, you should also try these camping dinner recipes too!
Let this Dutch Oven Lemon Chicken recipe do the work for you by making its own pan sauce with the garlic, onion, fresh rosemary and lemon.
This Camp Oven Chicken Curry has chicken, carrots and potatoes in it too but that's where the similarities end because coconut milk, curry paste and curry powder provide an amazingly delicious Thai flavor profile to this meal.
Looking for potatoes and carrots with beef instead of chicken? Try this fantastic Campfire Stew that uses beef chuck that is made fork-tender by simmering in a rich tomato sauce.
It only takes 15 minutes to prep this Dutch Oven Chicken And Rice Camping Recipe that uses frozen vegetables to make prep-work simple and cream cheese to provide a thick and creamy texture.
---
Print This Recipe
Dutch Oven Chicken And Potatoes Camping Recipe
Camping For Foodies Dinner Camping Recipes: Dutch Oven Chicken And Potatoes Camping Recipe
6

slices

thick bacon

cut in bite-size pieces

1.5-2

pounds

boneless skinless chicken breasts

cubed into bite sized pieces

Salt and black pepper

to taste

1

medium onion

chopped

2

cloves

garlic

minced

1

(14 oz)

can chicken broth

2

pounds

red potatoes

washed and cut in 1-inch cubes

1

pound

carrots

peeled and cut in 2-inch pieces

Fresh parsley for serving

optional
Heat a 12-inch Dutch oven over medium heat (campfire, charcoal briquettes or camp stove all work fine.)

Add the bacon to the pot, stirring occasionally until the fat is rendered and the bacon is browned, about 5 minutes. Do not drain the grease.

Season the chicken with salt and pepper, then place it in the pot and cook until it is browned on all sides, stirring occasionally, about 5 minutes.

Add the onion and garlic to the pot and cook stirring continuously until softened, about 2 minutes.

Now, add the chicken broth, potatoes and carrots.

Cover with the Dutch oven lid and simmer gently until the potatoes are tender and the chicken is cooked through, about 20-25 minutes.

If you enjoy a stew-like consistency, serve immediately. If you prefer less liquid in your meal, turn the heat to medium high, remove the lid and boil for about 5 minutes so the broth is reduced and the meal can thicken slightly

Top with parsley, if desired, and serve hot.
Serving: 1gCalories: 713kcalCarbohydrates: 57gProtein: 83gFat: 15gSaturated Fat: 4gPolyunsaturated Fat: 9gCholesterol: 211mgSodium: 858mgFiber: 8gSugar: 9g
---
More Yummy Camp Meal Ideas
You can make a magnificent meal every day of your camping trips with these fun and simple recipes for breakfast, lunch, dinner and dessert!