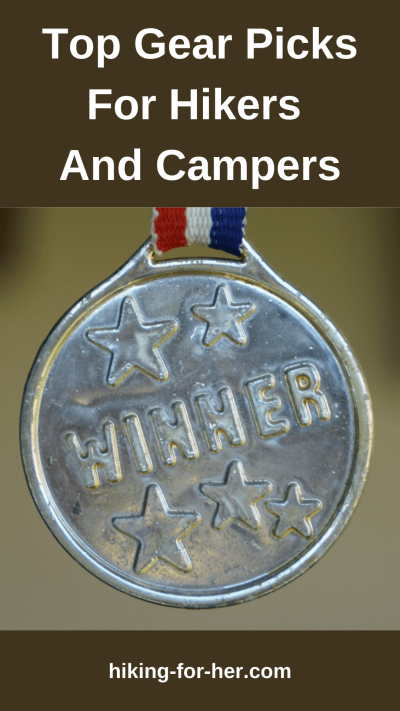 by Diane Spicer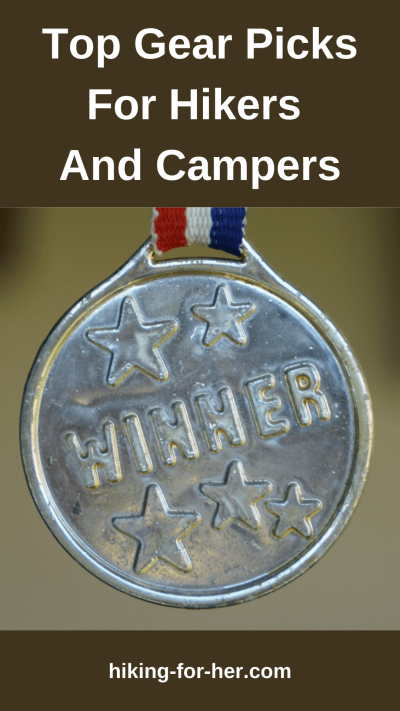 In order for the top gear picks for hikers and campers to make it onto this page, they have to win awards.
And then pass the Hiking For Her sniff test.
Big hurdles, to be sure.
That's exactly what you have in front of you: top gear picks for your favorite hiking and camping adventures.
Use this page as a gear list for yourself, or a wish list for next season.
You can also dip into it as a gift guide for holiday and special occasion gift giving to your favorite hikers.
It's all good (gear), right?
How the list of top gear picks
for hikers and campers came to be

REI Co-op has been around a long time, offering great outdoor gear at reasonable prices. (I've been a member since 1977. Read about the benefits here.)
And that's why I pay attention when they release their Editor's Choice awards each year.
They consider several important factors for each piece of gear:
performance in actual field tests
environmental impact of producing the product
customer feedback
That's why I always spend time on a close look at their top gear picks for hikers and campers.
Here, I'd like to share what I believe to be the best of the best in two categories for outdoor adventures:
As an REI Co-op affiliate, I earn a small commission if you purchase using my links, at no extra cost to you.
You can access the entire list of award winning gear here.
Now let's take a look at the award winners that made my list of Top Picks for hikers and campers, shall we?
They went through a lot to get here.
What are the top gear picks
for hikers this year?
Here's the short list of gear for hikers. Drop down fast to each one with these links:
First up on our top gear picks for hikers and campers:
Lowa Renegade GTX Mid boots
Looking for a boot that can stand up to moderate backpacking, yet be comfortable enough for day hikes?
Take a look at these Lowa mid rise boots.
Lowa Renegade GTX Mid Hiking Boots
Here's what to love about these hiking boots:
Sizes 5.5 through 12, with wide and narrow width choices
Color choices galore, something not every brand offers women hikers
Gore-tex liners, so both waterproof and breathable
Over the ankle style gives support and stability
Fun fact:
Lowa is the official boot sponsor of the American Hiking Guides Association (AHGA), so they are giving back to the hiking community.
More info on boots for you:
REI Co-op Traverse hiking poles
REI Co-op Traverse Trekking Poles
So if you haven't jumped on the hiking pole bandwagon yet, you're missing out!
These particular poles are really nice things to give your favorite hiker.
Here's why:
Ergonomic cork grips
Lightweight aluminum
Adjust the length easily and lock things down fast
Two sizes to choose from
Snow as well as trail baskets are included
Nice design, good price point, reliable REI-Co-op name behind them… grab a pair!
They're one of the top of the top gear picks for hikers and campers.
Topo Athletic Trailventure boots
Here's another boot choice, for those who have hard to fit feet.
The design accommodates a wide toe box with a more narrow mid and heel area, keeping your toes happy and the boots firmly in place.
Topo Athletic Trailventure Hiking Boots
I like the minimalist look of these boots.
And the navy or raspberry color choices are unusual enough to stand out on the trail, if you're concerned about good looks.
These boots will be a good choice if you hike in rocky terrain, with the rear rock plates and rubber toe caps to help you out.
Traction aplenty with Vibram soles.
And the drainage ports that release water after a stream crossing are a nice touch.
Outdoor Research Crocodile GORE-TEX gaiters
Outdoor Research Crocodile GORE-TEX Gaiters
Not very often does Hiking For HER recommend a men's choice of hiking gear.
Here's an example of an exception.
These gaiters are designed by a rock solid company, and have really nice features:
Gore-tex nylon uppers paired with coated Cordura nylon lower panels for durabiity and waterproofing
You can use these gaiters on both summer and winter hiking boots, thanks to the two inch wide hook-and-loop closure at the bottom
Buckles both top and bottom for closure, for ease of use
Boot lace hooks and a tapered design to keep them in place no matter what your feet are doing
Gaiters are such an important part of your hiking gear list, and I explain why right here.
That didn't take long!
We're through the hiking section of our top gear picks for hikers and campers.
Can you ever get gear gazing fatigue? Nah!
Onward!
---
Top gear picks for hikers and campers,
emphasis on the camping

Camping is such a great way to explore an area. You have home, sweet home each night after a day hike, and this gear is aimed at making it even sweeter.
Here are the top REI gear picks that also made it onto Hiking For Her's list of top gear picks for campers:
Ready to set up a cozy camping spot? Let's do it!
Goal Zero Lighthouse 600 lantern
Goal Zero Lighthouse 600 Lantern
Here's why you should nab one of these lanterns for car camping:
As the name implies, 600 lumens will bathe your campsite as you set up your tent, do camp chores, and relax
Multi-directional illumination up to 360 degrees, as well as adjustable light levels
Easy to transport, thanks to collapsible legs and the top handle
USB, hand crank or solar recharging options – wow!
Lithium ion battery can power your phone or other small USB electronics as you enjoy your campsite (Example: Kindle camping and hiking)
Look at the entire selection of Goal Zero devices to find exactly what you need for your next camping trip.
Or for home, when the power goes out.
NEMO Roamer sleeping pad
NEMO Roamer Sleeping Pad – XL Wide

Are you a thrasher after you fall asleep?

Do you roll and toss and scrunch up during the night in your sleeping bag?

You need this sleeping pad to keep yourself off cold, damp ground!
It's built extra wide, with over four inches of padded perfection.
Packs up small, surprising for its size: visualize a shoe box.
NOTE: A heavy shoe box (5 pounds), so camping only.
Fast self inflation and deflation saves you time.
And its durability is backed up with a life time warranty.
Sweet dreams on this pad, camper!
Big Agnes Echo Park 20 sleeping bag
Big Agnes Echo Park 20 Sleeping Bag

Need a roomy sleeping bag to go with that spacious NEMO sleeping pad?

This one has plenty of room for a restless sleeper.

Or someone who likes to spread out and relax at night.

Or a camper who shares a sleeping bag with a furry friend or toddler.
Double zippers give you a wealth of options for draping, joining to another bag, or whatever spells comfortable sleeping for you.
It even has a hood to keep your noggin toasty.
The synthetic fill is temperature rated to 20 degrees F, making it a good choice for three season camping adventures.
You can also secure a sleeping bag liner inside, to boost the warmth rating.
Bedrock Cairn Adventure sandals
Bedrock Sandals Cairn Adventure Sandals
After a hard day of whatever it is you like to do on a camping trip (I hope you say hiking!), your feet need a breather.
These sandals are just the ticket.
Are they going to win fashion awards?
Probably not, as they have a bit of a clunky, utilitarian look.
But that's not what you're going for at a campsite.
You want durability, a secure fit, and lightness on your feet. These sandals deliver!
Use them at trailheads, at the beach, in your backyard, strapped to your backpack for water crossings, they're going to be around for a long time.
Camping goes hand in hand with hiking
So many top gear picks for hikers and campers, we've just scratched the surface here.
Plenty more Hiking For Her tips for you:
Top gear picks for hikers and campers:
The End

Or is it?
Not really!
There is so much great gear out there, waiting for you and your outdoor adventures. These eight top gear picks for hikers and campers barely scratches the surface.
Here are more ways to get in on the goodness, from the Hiking For Her perspective:
Thanks for dropping by to peruse the top gear picks for hikers and campers!
Have you signed up for the free monthly newsletter yet?
Please do. It's my chance to share all the latest news with you, including new gear releases, month after month.
It's an easy way to keep yourself thinking about hiking, even when life conspires to keep you off the trail 🙂
Home page > Best Hiking Resources >
Top Gear Picks For Hikers And Campers
Hiking For Her: Hiking tips you can trust!
As an Amazon Associate Hiking For Her earns from qualifying purchases.
This article was printed from Hiking-For-Her.com
Print Article