My Hot Italian Sausage Campfire Soup Recipe is the perfect meal to enjoy while sitting around a roaring campfire. It's warm, creamy and a little spicy with hot Italian sausage as a main ingredient.
This simple one-pot recipe makes for easy clean-up too. When the weather is a little chilly, having easy campfire recipes to make quick and hearty camping soups is essential.
Psst we're compensated…see our disclosures.
How To Make Hot Italian Sausage Camping Soup
This hearty and satisfying soup is one of our favorite winter camping recipes that keeps us warm while we are cooking it over our campfire!
---
Tips For Making Campfire Soup In Dutch Ovens
Camp Cooking Tip: You want to cook your campfire recipes over the part of the fire ring that has the hot coals rather than the campfire flames.
Start your campfire early so you have time to develop the coals.
Then, move them off to one side for cooking and keep the other side for the burning wood because you will be increasing the temperature from medium to medium-high heat during the cooking process for this Italian sausage Dutch oven soup.
When preparing your campfire for cooking, I like to use "tweezers" to arrange the campfire logs and coals, they provide more control than just using a fire poker or shovel.
You'll want to keep your campfire flames roaring to keep you warm and your Dutch oven soup recipe on schedule for your hungry campers.
Are you a pro when it comes to getting your campfire started? Or, are you like most people who can't seem to get the flame started no matter how hard they fan the spark? Actually, no matter which group you fall within, you will love our tips in our post, Fire Starters Camping Enthusiasts Must Have.
Camp Cooking Tip: Whether you are cooking on a campfire grill grate or using a camp Dutch oven tripod, you want to make sure your oven is stable and safe. You also want to point the handle away from the fire so when you reach for it, you are as far away from the heat as possible.
If you are cooking this campfire soup in a remote camping environment without amenities like campfire rings with racks, don't worry, you have options.
Using a camp Dutch oven tripod allows you to easily cook over a campfire by hanging your oven right over the hot fire.
Lodge Adjustable Camp Tripod, 40 to 60-Inch Tall
Camp Cooking Tip: A hanging oven can have a tenancy to swing a bit while you are stirring so be cautious when cooking hot liquids over a hot campfire. Don't burn yourself while stirring and checking on your Dutch oven soups … If you don't already have a lifter, you will want to get one! These things are awesome! A Dutch oven lid lifter allows you to stay a safe distance from the hot campfire while removing the hot cast iron lid from your Dutch oven while it is still cooking over the campfire.
Camp Cooking Tip: The easiest and safest way to remove a lid from a Dutch oven that is sitting over a campfire is to use a camp Dutch oven lid lifter. It allows you to stay a safe distance from the hot campfire while you cook.
Lodge Camp Dutch Oven Lid Lifter
---
Timing & Knife Cuts For Cast Iron Dutch Oven Soup Recipes
We like a rustic chunky soup so we cube our potatoes into large bite-sized pieces, but that also means it takes a little longer to get them to the fork-tender consistency. 
Don't add the rest of the ingredients before the potatoes are done cooking; there is no room for "crunchy potatoes" in the best campfire soup recipes.
A Dutch oven lid stand is handy for keeping your lid clean during the cooking process.
When you remove your Dutch oven lid to stir your camp soup recipes, have a "landing pad" ready for the lid.
There is nothing worse than setting it directly on the ground and picking up dirt and rocks.
Using a camp Dutch oven lid stand allows you to keep you hot cast iron Dutch oven lid off the ground and clean while cooking your camp meals.
4-in-1 Cast Iron Folding Finish Camp Dutch Oven Lid Stand
---
Scaling Servings
Chili, stews and soups are easy camping meals for large groups. Just scale up the servings and get big batches cooking to feed as many people as you have in the crowd.
---
Pairings With Hearty Camping Soups
If you want to serve this as a starter course, you won't need anything heavy for dinner. Try something like our Campfire Grilled Fish In Foil Packets With White Wine And Garlic Sauce.
This soup is a GF recipe which is fantastic for gluten intolerant campers so to keep the meal free from gluten, you can serve it with these easy Chicken And Veggie Camping Kabobs as a main dish or just serve a simple dinner salad alongside this soup. See all of our recipes to make amazing gluten free camping food.
We love eating this campfire sausage soup as a main course with crusty bread and butter on the side. It really is that hearty and filling (and that is saying A LOT with my family who typically believes a meal is not complete without a big piece of meat as the centerpiece on the dinner table!) It is one of our favorite one pot camping meals on cold-weather trips.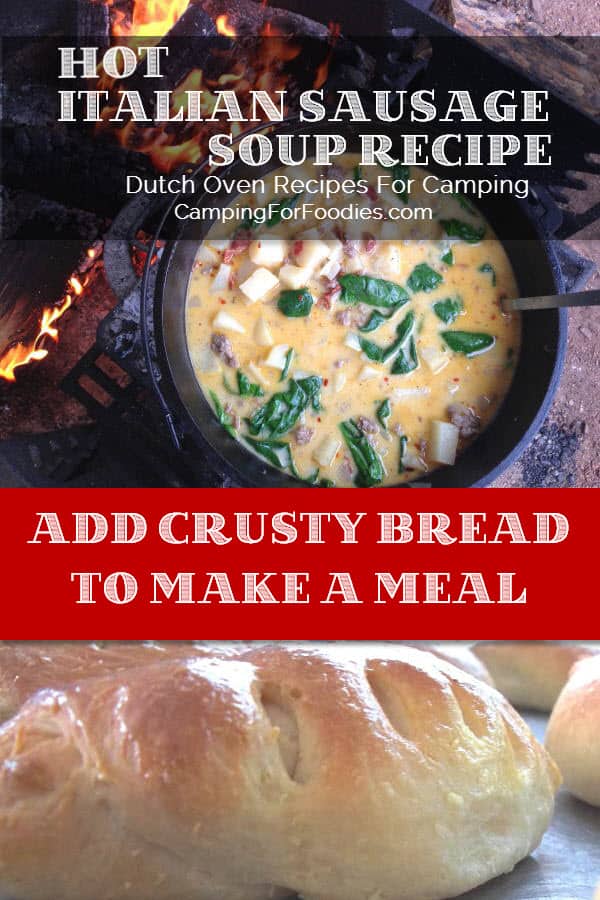 ---
Substitutions
For a milder flavor, instead of hot Italian sausage, use mild Italian sausage, ground beef or ground chicken. If you use beef or chicken you will need to add a little olive oil to the bottom of the pan before browning the meat. Also, Italian sausage has lots of flavor in it so add a few dried herbs and spices to your meat like dried oregano, basil, rosemary and cayenne pepper.
8 cups vegetable broth or beef broth can be substituted for chicken broth. If you prefer to use bouillon cubes, dissolve them in 64 ounces or 8 cups of water.
To reduce the carbs, swap out the potatoes and replace with cauliflower.
---
Similar Camp Recipes
If you like this soup, you'll love this Dutch Oven Chili that was a secret family recipe until recently when my brother-in-law decided it was too good to keep to himself. It has a simple but amazingly tasty homemade spice blend that is cooked with beef and pork to make a yummy meal that is perfect for cold weather camp trips! His secret ingredient: a splash of beer!
We have two different beef camp stew recipes. Our Campfire Stew is another scrumptious hot Dutch oven dinner. The beef chuck gets fork-tender after simmering in the rich tomato sauce with carrots and potatoes.
This Campfire Hobo Stew Recipe In Foil Packets uses beef chuck instead of stew meat for a more tender quick-cooking beef stew. I set up an ingredient bar so each camper can build their own packet to include ingredients they like and omit those they don't. The most popular choices include onions, carrots, peas, mushrooms, garlic, cherry tomatoes, baby potatoes and fresh rosemary sprigs.
You've gotta try this Dutch Oven Cowboy Stew on your next camping trip! In addition to the typical ingredients, this recipe uses andouille sausage, pinto beans, green beans, corn and green pepper chilies, then, the sauce is thickened with a bit of flour.
See all of our yummy breakfast, appetizer, dinner, side and dessert Dutch oven camping recipes!
---
Print This Recipe
Hot Italian Sausage Soup Campfire Recipe
Camping For Foodies Dinner Camping Recipes: This Hot Italian Sausage Soup Campfire Recipe is the perfect dinner for serving at the campsite on cold weather trips.
1

pound

bulk hot Italian sausage

(substitute mild Italian sausage or 1 lb ground beef for a less spicy flavor)

4

slices

bacon

diced in 1/2 inch pieces

1

medium

onion

diced

4

cloves

garlic

minced

2

(32 oz)

cartons chicken broth

6

medium sized potatoes

cubed to rustic bite-sized pieces (see * Note)

1

cup

heavy cream

2

cups

packed fresh spinach

stems removed

Salt

to taste at serving

Black pepper

to taste at serving
Prevent your screen from going dark
Get the campfire going to cook over medium heat.

If you don't have a campfire grill grate, you can use a Dutch Oven Tripod to hang your oven over the fire to cook this Hot Italian Sausage Soup Campfire Recipe.

In 12-inch DEEP camp Dutch oven (the size for soups and stews, not the regular depth oven), brown the sausage until no longer pink, breaking it up with a wooden spoon as it cooks.

Remove the crumbled meat to drain on paper towel lined plate.

If there is a lot of grease in the Dutch oven remove most of it, but if your sausage is relatively lean, you can skip removing the grease.

Now, add the diced bacon to the Dutch oven and cook until crisp. Same thing here with the grease, if there is a lot of it, remove some of it … you want a fair amount to coat the bottom of the Dutch oven for cooking your onions and garlic.

Just before the bacon is crisp, add the onions and garlic, sauté them until softened.

Add the chicken broth and bring to boil.

Raise campfire to high heat, adding more firewood if necessary. Place lid on the soup pot to bring the liquid to boil faster.

Now, remove the lid from the cast iron pot and add the cubed potatoes, then, recover with lid. Bring mixture back to boil cooking the vegetables until they are tender.

When the potato chunks are tender, add the hot Italian sausage back to the pot along with the heavy cream. Continue cooking at a simmer with the pot uncovered until those ingredients are heated through and the soup thickens slightly.

Just before serving, stir in the fresh spinach then use a ladle to portion the sausage and potato soup into sturdy bowls.
Serving: 1gCalories: 434kcalCarbohydrates: 31gProtein: 13gFat: 29gSaturated Fat: 13gPolyunsaturated Fat: 3gMonounsaturated Fat: 11gCholesterol: 77mgSodium: 440mgPotassium: 912mgFiber: 4gSugar: 3gVitamin A: 1144IUVitamin C: 36mgCalcium: 62mgIron: 2mg
---
More Camp Food Recipes
Get more inspiration for your next camping meal plan!