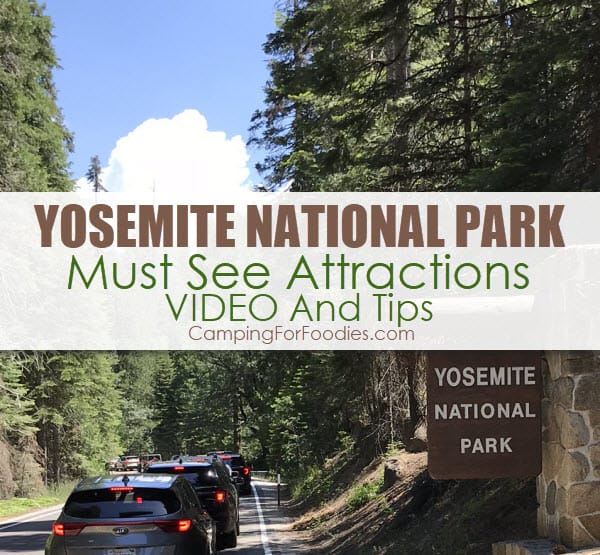 Whether you need a 1, 2 or 7-day Yosemite itinerary, we've got you covered with our VIDEO that highlights the must-see attractions, plus, tips for your excursion to Yosemite National Park and interactive maps.
We have been asked, "What should we see when we visit Yosemite National Park?"
Our answer … it depends on how much time you have, the time of year you'll be there and your personal interests!
One of the most important camping tips is to just GO! The sites in YNP are jaw-dropping! Everywhere you turn there is something to experience that will absolutely take your breath away!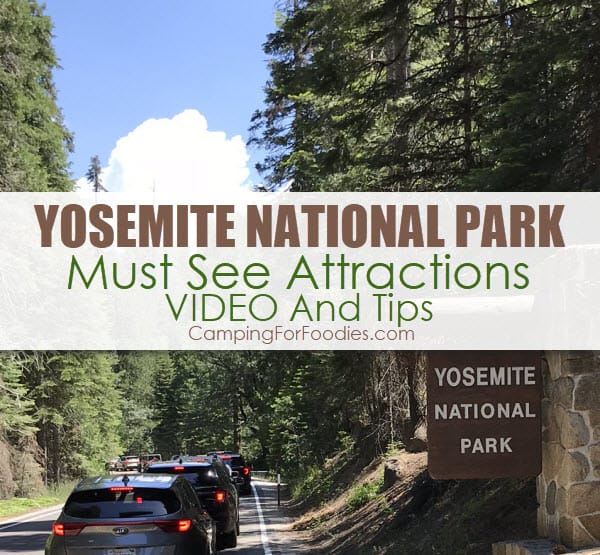 Psst we're compensated…see our disclosures.
Yosemite National Park Must-See Attractions VIDEO And Tips
Note: This video is compatible with Chrome, Firefox and Safari browsers without ad blockers enabled. If you are having trouble viewing this video, please disable any ad blockers and switch to a compatible browser. Thanks!
Entrance Reservations Needed Just To Enter Yosemite National Park (2022)
From the website: A reservation will be required to drive into or through Yosemite National Park from May 20 through September 30, 2022, for those driving into the park between 6 am and 4 pm. Driving through the park will also require a reservation if entering between 6 am and 4 pm. If you are planning to visit after peak hours, please do not arrive before 4 pm; vehicles blocking roads will be cited. The temporary reservation system will help manage congestion and provide a quality visitor experience while numerous key visitor attractions are closed for critical infrastructure repairs. Learn more about Yosemite's entrance reservations.
---
Our Top 10+ Yosemite National Park Must-See Attractions
Yosemite National Park includes almost 1,200 square miles so you won't be able to see it all!
NOTE: Our most recent visit to Yosemite National Park was in July of 2018 so our tips are based on a summer busy season visit to the Park when the waterfalls are abundantly flowing along with the crowds! LOL
Most of us were doing the "first time visit to Yosemite National Park thing" (I was in this group) but one was happily visiting again. ALL of us had a great time!
Our personal favorite experiences & popular destinations.
We spent a week camping inside the park in our RV so we had plenty of time to experience this special place. We think staying inside the park is the best option to get the most out of your visit because you won't spend extra time waiting in the lines with all the other visitors just to get through the entrance gate.
1. Tunnel View.
Our RV camping trip to Yosemite National Park included entering Yosemite's south entrance and continuing on State Route 41 through the Park.
We heard about the tunnel years ago and the long-awaited experience did not disappoint!
Upon exiting the dark tunnel, the iconic and expansive views filled our windshield … WOW!!!
Just be careful as you drive because the small parking area requires pedestrians to cross the road to get to the overlook.
There is a bit of a traffic bottleneck with lots of people, vehicles and views that don't quit!
The viewpoint is at the east end of the Wawona Tunnel and has views of El Capitan, Bridalveil Fall and views of Half Dome in the background. This is usually the first stop for visitors coming into the park from the south and a mandatory stop if you're just visiting on a day pass.
---
2. Merced River.
This river is soooooo clear you can't believe it is real!
You'll find it a refreshing place to cool your feet during summer visits to Yosemite.
In addition to cooling your feet, you can cool your beer in the water!
That is just one of our 19 hacks we share on how to keep drinks cold when camping!
The Merced is also a great place for people watching as they float down the river on tubes, inflatable rafts and paddle boards … or you can partake yourself!
We set up our camp chairs in a location where the water was a little low and the rocks created an obstacle course for the unsuspecting floaters.
Come to think of it, the people who are experiencing the Yosemite National Park attractions are actually attractions in and of themselves!
Don't forget to bring a pair of water shoes because the rocks in the river are really hard to walk on!
---
3. Mariposa Grove.
There are several locations in Yosemite National Park to see the giant Sequoias but Mariposa Grove has the most trees in one place.
You'll see the famous Grizzly Giant, the California Tunnel Tree and more!
A free shuttle provides service from the Mariposa Grove Welcome Plaza (where you will need to park your vehicle) to the Mariposa Grove.
If you have limited time in Yosemite, Mariposa Grove definitely qualifies as one of those "Yosemite must see one day" type of attractions!
---
4. Glacier Point.
You can get to Glacier Point by hiking (if you are in good enough shape and have the time), driving your personal vehicle (and fighting the traffic on the roads and in the parking lot) or taking a tour bus (which requires advanced reservations and the best way to go during the busy summer season.)
Whatever way you get there … go to Glacier Point!
You'll experience mind-blowing 360 degree views including Yosemite Valley, Half Dome, Yosemite Falls (the highest waterfall in North America) and Yosemite's high country.
You'll have to visit Glacier Point on cross-country skis if you are there in the off-season because Glacier Point Road is closed November to May.
Glacier Point is one of the most popular places in Yosemite so bring your patience and be ready for the crowds.
If you are looking for a little solitude, we have 12 Tips To Avoid Crowds In National Parks So You Don't Go Crazy! 
You might be surprised to know that Yosemite National Park is NOT the busiest Park in the country … see which one tops the list in that blog post too!
---
5. Waterfalls.
Some of the most famous waterfalls in Yosemite National Park include the Upper Yosemite Falls, Lower Yosemite Falls, Sentinel Falls, Bridalveil Falls, Nevada Falls and Vernal Falls.
The falls don't run all year … so, if you are really anxious to see these magnificent thunderous bodies of falling water, you'll need to be there before they dry up for the season.
Snowmelt creates runoff and the falls begin flowing in the spring with the peak runoff usually happening in May or June … most are dried up by August.
You can check the Yosemite National Park Webcams for real-time views including the Yosemite Falls webcam and other iconic landmarks within Yosemite.
Our personal favorite waterfall experience at Yosemite was hiking the Mist Trail … and yes, you really do hike through the mist generated by the waterfalls!
It's a great way to refresh yourself on a hot summer Yosemite hike.
Make sure you have good socks, hiking poles and comfortable hiking boots before attempting Yosemite's hiking trails … especially those that have wet rocks!
---
6. Wildlife.
Critters are EVERYWHERE in Yosemite! You'll see tons of birds, squirrels, deer, fish, ducks and an occasional bear!
It is obvious the wildlife is protected because the animals act more like house pets than wild beasts.
There are signs posted throughout Yosemite National Park and the rangers do their best to educate people … but … unfortunately, some people think the rules don't apply to them and they feed the animals in spite of the instructions to the contrary.
Because the wildlife is used to being around humans and eating from the treats thrown to them, you don't have to earnestly look for the critters, they are roaming out in the open and almost pose for pictures!
The bears are some of the most famous … and infamous … residents within Yosemite National Park!
Yosemite's campgrounds provide bear-proof food storage boxes at the campsites. Using them protects you, your food, your neighbors and the bears.
It's easy to look at them and think they are cute and harmless but they are wild animals and need to be treated with respect.
Check out our Safety Tips While Camping In Bear Country post for helpful information about camping in bear country!
---
7. Climbers.
If you are not into rock climbing yourself, you'll want to take some time to catch a glimpse of the CRAZY people who are ascending the shockingly steep monolith rock formations throughout Yosemite National Park.
These climbers look smaller than ants when they are hanging on the side of massive stone faces!
It's even hard to see them with the naked eye!
So, when you encounter a group of people standing on the ground and gawking at a formation off in the distance, you can join them and eventually you will see the climbers moving ever-so-slowly up the stone.
It makes my heart race just thinking about it!
---
8. Visitor Centers & Museums.
The Valley Visitor Center is the best place to visit in Yosemite National Park BECAUSE you can get a quick overview of the Park and talk to rangers to determine which attractions are most interesting to you personally … which ones you have to see … and … which sites you may make it to "IF" you have enough time.
There are so many options to experience Yosemite National Park through arts and culture.
Our personal favorites were the Spirit of Yosemite film shown in the Valley Visitor Center (it was so moving I almost cried and I am NOT one of those people who cries at the drop of a hat)!!!
We also loved the little walk between the Happy Isles Art & Nature Center and the Happy Isles (yes, they really are islands!)
I felt like I was receiving a great big hug as I was completely surrounded by the rushing water and astounding beauty of Yosemite!
There are so many things to do and see in the areas of visitor centers and museums … kids can shoot off into a crowd before you know it.
Our Camping Safety Tips For Families post has tons of valuable information to keep your entire camping group happy, safe and having fun!
---
9. Attractions Along Biking Trails.
We can't even begin to list all of the cool views and best things to see throughout Yosemite while riding a bicycle!
There are over 12 miles of paved bike paths in Yosemite Valley!!!
You can rent bikes in the Park or bring your own (which is what we did.)
Think about this … You can drive your own vehicle inside the Park but the traffic congestion and parking options will give you a headache!
The free shuttle buses that run in Yosemite Valley are super crowded in the summer and it is not uncommon to hear the bus driver shout out the door "You'll have to wait for the next bus because this one is full!"
Walking gets you around but you can only cover so much ground on your own two feet.
All of that is why we are sooooo glad we brought our own bikes because we used them for sightseeing as well as an alternative mode of transportation that moved us around Yosemite Valley … quickly, efficiently and safely.
We just loaded them on our bike rack that mounts to the back bumper on our RV as we traveled from our home in Phoenix to Yosemite. 
We used a bike lock to secure our bikes to the racks that were at the trailheads, shops and restaurants throughout Yosemite Valley.
Our bikes were the BEST transportation … and part of our camping fun too!!!
Want more tips on keeping your valuables secure? Check out our post: A Secure Campsite Protects Valuables From Theft.
---
10. Valley Floor Tour.
This open-air tram tour is the only formal tour we took on our week-long camping trip in Yosemite National Park.
It was AWESOME!!!
Our only regret is that we waited a few days before we took the tour … it would have been better to start our week with this tour because it gives a great overview of things to do in Yosemite.
It tours Yosemite National Park at the Valley Floor level.
You can make note of the places you want to experience later during your visit.
After the tour was finished, we created our own personal Yosemite vacation guide to make sure we had time to do and see everything that appealed to us before we ran out of time (did I mention a week goes by in a flash when you are in Yosemite?!?)
Our tour was led by a knowledgeable park ranger who shared the history, flora, and fauna as we were driving and stopping for photos throughout the Valley.
The tour runs in the winter but the vehicle used is a heated bus rather than an open-air tram.
---
11. Camping.
You know we love camping … wherever the camping location happens to be … BUT … not all campsites are created equally!
If you are planning to see all of the iconic attractions in Yosemite National Park, we have one really strong recommendation … YOU HAVE TO CAMP INSIDE THE PARK IN ONE OF THE CAMPGROUNDS IN YOSEMITE VALLEY!!!
There is nothing like waking up to the sights and sounds of Yosemite.
It is impossible to experience all 761,266 acres of Yosemite in one visit and the most iconic spots are located in the Yosemite Valley.
The traffic congestion at the Park entrance gate and on the roads within the Park is heavy during the busy summer months.
Even though it is really difficult to get a reservation at one of the Yosemite Valley campgrounds, we are really happy we did not settle for anything less!
Don't give up!
You can book directly on the Recreation.gov website or use the app which is one of the best camping apps for planning and booking your campsite and activities.
Keep trying and eventually you will get a spot inside the Park at the campground of your choice … You will make the most of your visit to this magnificent place on earth called Yosemite National Park!
Stay tuned … we have a blog post in the works to give you the inside scoop in camping inside Yosemite National Park!
---
3 Areas Of Yosemite
Because the park is so large, almost 1,200 square miles, you'll want to think of it in three areas with the valley being in the center with the most attractions and people:
Yosemite Valley:
Main Roads: Tunnel and Glacier Point Roads
Between the north and south sides of the park
Main Attractions:
Yosemite Valley Visitor Center and Theater
Yosemite Museum
Valley Wilderness Center
Happy Isles Art and Nature Center
The Ansel Adams Gallery
El Capitan Meadow
Yosemite Chapel
Yosemite Valley Lodge
Cook's Meadow: Located between Yosemite Village and Yosemite Valley Lodge
Sentinel Meadow: Located west of the chapel
Stoneman Meadow: Located across from Curry Village
Leidig Meadow: Located west of Yosemite Valley Lodge
Sentinel Bridge: Views of Half Dome, the reflection in the Merced River and Yosemite Falls
Four Mile Trail: One of the best hikes for views but you need an early start and good conditioning for this 9.6 mile round trip strenuous hike beginning at the trailhead near the base of Sentinel Rock and climbing to Glacier Point with a 3,200 foot elevation gain. This trail provides some of the best views of Yosemite Falls, Yosemite Valley and a panorama of Half Dome and Sierra mountain peaks.
Sentinel Dome and Taft Point Trails can be combined into a 4.9 mile loop trip hike with a 1,000 foot elevation gain with views of El Capitan, Yosemite Falls and a 360-degree view of the park (Sentinel Dome is a great spot to see the sunrise or sunset but you'll need a flashlight for the portion of the hike in the dark.)
Mirror Lake Trail: 2 mile round trip easy hike with only 100 feet elevation and views of Tenaya Canyon, Mount Watkins and Washington Column.
South of Yosemite Valley:
Towards Fresno via Route 41
Main Road: Wawona Road
Main Attractions:
Wawona Visitor Center
Yosemite History Center
Mariposa Grove of Giant Sequoias
Chilnualna Falls Trail: Strenuous hike providing many locations with views of the cascades
Bridalveil Creek
North of Yosemite Valley:
Towards San Francisco via Route 120
Main Road: Tioga Road
Main Attractions:
Tuolumne Meadows Visitor Center
Tuolumne Meadows Wilderness Center: Wilderness permits, bear canisters, maps, and guidebooks
Tuolumne Meadows
Hetch Hetchy Valley
Tioga Pass Road: 47-mile scenic drive between Crane Flat and Tioga Pass
Parsons Memorial Lodge: Easy one-mile (30 minute) short walk from Lembert Dome parking area or from the Tuolumne Meadows Visitor Center
Siesta Lake
White Wolf Campground
Yosemite Creek Picnic Area
Olmsted Point
Tenaya Lake
Soda Spring
Lembert Dome: Steep but short hike to the top of the dome with view of Tuolumne Grove Meadows
---
FREE Trip Planner
---
Yosemite Itineraries
Don't miss these spots while visiting Yosemite National Park.
1-Day Itinerary
With only one day in the park, you'll want to spend the entire time in Yosemite Valley. Spots to see on day 1:
Tunnel View: Drive into Yosemite National Park from the south entrance gate and stay on Wawona Road until you go through the tunnel and pull off into the parking lot. Get out of the car to experience the views from the Tunnel View lookout.
Bridalveil Falls: Continue on the main road and take the short drive to the Bridalveil Falls parking lot. There is a short hike to the Bridalveil Falls Viewpoint. This is a half-mile round trip hike on a paved trail that is relatively flat. It is considered an easy hike that only takes about 20 minutes to complete. Bridalveil Fall is one of the first waterfalls you'll see when entering Yosemite Valley. Be careful because you'll find wet conditions at the base of the falls, so, in the winter you should be prepared for possible icy and very slick conditions.
Four Mile Trail: Continue on the main road and veer onto Southside Drive. In about 4 miles you'll come up on the Four Mile Trail. If you're up for a strenuous hike, hit the trail. The 9.6 mile trip hike provides some of the best views of the park. You only have to go about halfway up the trail to get views of Upper and Lower Yosemite Falls. If you don't want to do the entire 9.6 mile round trip, the halfway point is worth the time and energy.
Yosemite Valley Chapel: Continue driving along the road and make a stop at the chapel which was designed by the accomplished church architect, Charles Geddes. It is the oldest structure in Yosemite Valley and is listed on the National Register of Historic Places.
Sentinel Bridge: Continue driving along the road until you get to the parking area for Sentinel Bridge. The area is near Cook's Meadow and the shuttle stop. Here, you'll be able to enjoy a fantastic view of Half Dome and you'll see its reflection in the Merced River.
Yosemite Valley Visitor Center: Continue along the road, and follow it as it starts a loop in the opposite direction near Curry Village (if you're hungry you can find a bite to eat in Curry Village.) At this point you'll be on the Northside Drive which will lead you to the parking area for the visitor center. Make sure you watch the Spirit of Yosemite film and stroll through the exhibit hall.
Yosemite Valley Lodge: Continue along the road and stop at the lodge. There are a few dining options here and this is where you'll find a schedule with the current calendar programs you may want to see during the late afternoon or evening hours.
El Capitan Picnic Area: As you continue your drive along the North Drive, you'll work your way back toward Tunnel View and will pass the El Capitan Picnic Area. It is a great spot to reflect on your day as you sit at the picnic tables below El Capitan's massive cliff wall. Grills are available in this area which is open from dawn to dusk.
---
2-Day Itinerary
With two full days in Yosemite you can explore Yosemite Valley on the first day then head to the area to the south on your second day.
Enjoy the day 1 itinerary and rest up to see more exciting sights on your second day in the park. Spots to see on day 2:
Swinging Bridge Loop Hike: Park in the Wawona Store parking lot and walk to the trailhead to experience this easy 4.8 mile loop. You'll cross Swinging Bridge and will follow the path back to the Pioneer Yosemite History Center and its covered bridge before returning to the Wawona Store. NOTE: If you prefer a more strenuous hike, do the Chilnualna Falls Trail and enjoy many locations with views of the cascades.
Yosemite History Center/Museum & Wawona Visitor Center: Drive down Wawona Road and park in the History Center/Visitor Center parking lot. You'll have already stopped here while on the Swinging Bridge Loop Hike but if you skip the hike, don't miss the History Center.
Wawona Hotel & Thomas Hill Studio: Continue along Wawona Road to the Wawona Hotel and park there to see the Victorian-era hotel and its beautiful property. Don't miss the Thomas Hill Studio while you're there. The hotel dining room serves breakfast, lunch and dinner as well as evening musical performances in the lounge.
Mariposa Grove of Giant Sequoias: Continue driving down Wawona Road and park at the Mariposa Grove Welcome Plaza. There you'll take the free shuttle bus to the Mariposa Grove of Giant Sequoias. There are actually 3 different groves of giant sequoias within Yosemite with Mariposa Grove being the largest. The other two smaller groves are Tuolumne Grove and Merced Grove. Take one of the 4 hikes to experience these awesome giant trees:

Big Trees Loop Trail (easy)
Grizzly Giant Loop Trail (moderate): I recommend taking this one so you can see the Bachelor and Three Graces, the Grizzly Giant, and the California Tunnel Tree.
Guardians Loop Trail (strenuous)
Mariposa Grove Trail to Wawona Point (strenuous)

If you have extra time: Wawona Stable Rides offer a unique view of Yosemite. You can ride mules or horses and if you take the 2-hour ride, you'll be following the historic wagon road used by the early pioneers and you'll see the Wawona Hotel, the Wawona Meadow Loop, a former Miwok encampment, Wawona Dome, and lush forest. These rides require advanced reservations and an additional fee.
---
7-Day Itinerary
Many families take their summer vacations in Yosemite and are able to add the north part of the park to their list of things to see. That also means you can do more hikes and activities in each section of the park.
Enjoy the day 1 and day 2 itineraries then use day 3 to relax a bit with some local activities. Take time to note the places you enjoyed the most that you may want to see again, or, those you were unable to see yet.
On day 4 head to the north side of the park and spend the day exploring. This day you'll be traveling along Tioga Road which is located in the high Sierra Nevada area and is only open to vehicles from late May or early June to sometime in November, weather permitting.
Services are limited in this part of the park so make sure you have plenty of fuel in your vehicle and pack a lunch, snacks and drinks for a wonderful picnic along the route.
This day starts near the east entrance gate to the park on Highway 120 also known as Tioga Pass. This road is a 47-mile scenic drive between Crane Flat and Tioga Pass. Spots to see on day 4:
Tuolumne Meadows Wilderness Center: Drive along Tioga Pass Road and stop at the wilderness center if you need any type of wilderness permits, bear canisters, maps or guidebooks.
Tuolumne Meadows/Tuolumne Meadows Visitor Center: Continue down Tioga Pass and pull off at the scenic spots to enjoy the views of Tuolumne Meadows which is one of the largest in the Sierra Nevada. As you continue down the road you'll get to the visitors center.
Tenaya Lake: Continue your drive on the main road until you get to the largest lake in Yosemite National Park. Tenaya Lake has spectacular blue water set against a backdrop of granite domes and the expansive Sierra Nevada sky. You can just enjoy the views or stop for a picnic or swim.
Olmsted Point: Keep driving on Tioga pass until you reach Olmsted Point where you'll stop and see views of Half Dome, Tenaya Lake and Clouds Rest.
Yosemite Creek Picnic Area: Drive along the main road and stop to rest at one of the picnic tables while you enjoy your packed lunch under the shade trees along Yosemite Creek.
Siesta Lake: Continue driving down Tioga Pass and stop to view, swim, picnic or take a nap at Siesta Lake.
Tuolumne Grove: Keep driving down the main road until you get to the Tuolumne Grove parking lot. In the grove you'll see about two dozen giant sequoias. There is a moderate hike and an easy, half-mile, self-guiding nature trail in the grove.
Hetch Hetchy Valley: Drive further down Tioga Pass to the northwest corner of the park where you'll find Hetch Hetchy Valley. During the spring months you'll find flowing waterfalls and vibrant wildflowers. The area is known for impressive peaks, secret canyons and remote lakes.
On day 5 take a break and make a list of the places you want to revisit, or those you want to see for the first time before your trip ends.
On day 6 revisit the parts of the park you enjoyed the most or those you have not yet seen. Pack a picnic lunch so you can leisurely take-in your favorite sites and sounds.
On day 7 get your last glimpses of the park and get ready to head home or wherever your trip takes you next.
---
Yosemite Camping
Find information about campsites within Yosemite at Recreation.gov.
Campgrounds In Yosemite Valley: Upper Pines, Lower Pines, North Pines, Camp 4.
Campgrounds South Of Yosemite Valley: Wawona, Bridalveil Creek
Campgrounds North Of Yosemite Valley: Hodgdon Meadow, Crane Flat, Tamarack Flat, White Wolf, Yosemite Creek, Porcupine Flat, Tuolumne Meadows
Backcountry Campgrounds (require a wilderness permit): Glen Aulin, May Lake, Sunrise, Merced Lake, Vogelsang
During the busy season it is difficult to get a camp spot inside the park. You can usually find a spot in nearby Sequoia National Park and Kings Canyon National Parks. There are also many private campgrounds and RV parks in the area.
---
Yosemite Lodging
There is a wide range of lodges, cabins and camping across the entire park.
In Yosemite Valley:
The Ahwahnee (formerly known as The Majestic Yosemite Hotel): Upscale hotel with impressive interior design and architecture. Recognized as a crown jewel of the national park lodges.
Yosemite Valley Lodge: Popular with families and large groups.
Curry Village (formerly Half Dome Village): Various lodging choices.
Standard hotel rooms
Wood cabins
Canvas tent cabins
You'll also find multiple dining options, a gift shop, bar, mountaineering school and an outdoor swimming pool.
South of Yosemite Valley:
Wawona Hotel (formerly Big Trees Lodge): National Historic Landmark, Victorian-era hotel standard hotel rooms with private or shared baths.
North of Yosemite Valley:
Tuolumne Meadows Lodge: Canvas-tent cabins popular with visitors starting or finishing an extended backpacking trip.
White Wolf Lodge: Remote lodge with canvas-tent cabins and traditional wood cabins with private baths.
---
Best Time To Visit Yosemite National Park
Determining your schedule has a lot to do with the weather and the types of activities you want to experience as well as the availability of accommodations and the size of the crowds.
---
Weather
There is a wide range of weather patterns in Yosemite because there is a huge range between the lower and higher elevations. The lowest points in the valley are approximately 2,000 feet MSL while the highest peaks on the mountains rise up to approximately 13,000 feet MSL. That being said, the annual weather reported for Yosemite National Park is as follows:
| | | |
| --- | --- | --- |
| Month | Average High | Average Low |
| January | 48° F | 28° F |
| February | 53° F | 30° F |
| March | 58° F | 33° F |
| April | 65° F | 37° F |
| May | 73° F | 44° F |
| June | 82° F | 50° F |
| July | 90° F | 56° F |
| August | 90° F | 55° F |
| September | 84° F | 50° F |
| October | 72° F | 41° F |
| November | 57° F | 32° F |
| December | 48° F | 27° F |
Yosemite National Park Annual Average Temperatures (Source: NOAA)
---
Crowds
The peak season with the most visitors in Yosemite starts in early summer and runs through early fall when 75% of people come to the park. The two highest months are July and August.
| | | |
| --- | --- | --- |
| Month | % of Visitors | # of Visitors |
| January | 3% | 108,026 |
| February | 3% | 112,897 |
| March | 4% | 153,289 |
| April | 6% | 224,276 |
| May | 10% | 353,062 |
| June | 13% | 488,594 |
| July | 16% | 592,990 |
| August | 16% | 600,349 |
| September | 13% | 465,231 |
| October | 9% | 327,667 |
| November | 4% | 158,278 |
| December | 3% | 118,889 |
Yosemite National Park Average Visitation (averages from 2001-2016, Source: National Park Service)
---
Entrance Fees
There is an entrance fee to get into the park in addition to the cost of camping, lodging,
guided tours and other fee-required activities. Rock climbers and backcountry backpackers are often subject to special use permits obtained through a lottery system. Learn more about Yosemite's fees and passes.
Yosemite is the perfect place to hike two of the most iconic trails in the country. Portions of the John Muir Trail and the Pacific Crest Trail run through Yosemite. Learn about Yosemite's John Muir and Pacific Crest Trails fees and rules.
Discounts are typically available to holders of one of the America the Beautiful – The National Parks and Federal Recreational Lands Pass Series.
---
Fuel Availability
You may not think about fueling your vehicle … but you should.
Gas is available at Wawona, Crane Flat, and El Portal 24 hours per day with a credit card.
Gas is not available in Tuolumne Meadows or in Yosemite Valley.
Electric Vehicle (EV) Charging Stations are available in Yosemite National Park. See the Electric Vehicle Charging Station Locations provided by the Alternative Fuels Data Center.
Get additional driving information.
---
The Best Guide Book For Visiting Yosemite National Park
There is no doubt that if we did not research Yosemite NP before we arrived at the entrance gate, we would have felt completely overwhelmed!
I am a planner and I get more than a little uneasy when I go into information overload! LOL
So, in advance of our trip, we bought many books to get a general idea of what we wanted to see and do during our Yosemite camping trip.
BY FAR, this Yosemite: The Complete Guide: Yosemite National Park book was our favorite guide book.
Yosemite: The Complete Guide: Yosemite National Park (Color Travel Guide)
It covered adventures, hiking, history, wildlife and waterfalls (the things we were most interested in) and the full-color photos were fantastic!
---
You'll have such a great time in Yosemite, I'm guessing you won't want to stop after that visit! May we suggest heading off to the Canyon?
Check out our The Grand Canyon – There's No Better Place To Get Edgy And Go Camping! post for more information.
---
More Camping Ideas